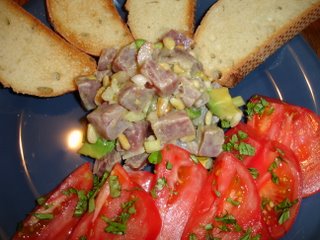 Wednesday nights are my night to experiment with different ingredients within a similar dish. I get Ahi at the farmers market and see what I can dice together. All the ingredients except the salt, pepper, pine nuts and nanami togarashi are from the farmer's market or my garden.
Tonight:

Ahi (obviously)
1 clove garlic
1 medium shallot
1 avocado
1/2 of a cucumber
a handful of toasted pine nuts
juice of one lemon
4 baby green onions
a handful of basil from the garden
a few sprigs of parsley (also from the garden)
yummy olive oil
salt and pepper to taste
nanami togarashi sprinkled on top
Everything minced or diced accordingly.
Mix, eat on toast and love life.
September 24, 2008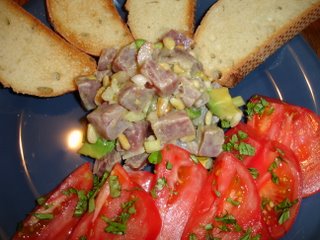 This week, and didn't realize that I didn't have many crunchy things to mix into my tartare. So what I put in it this week where shallots, avocado, celery, pine nuts, and of course olive oil, salt and pepper, and I topped it with nanami togarashi as usual. What I did have this week was another Brandywine tomato from the garden to accompany the ahi. Wednesdays are yummy.