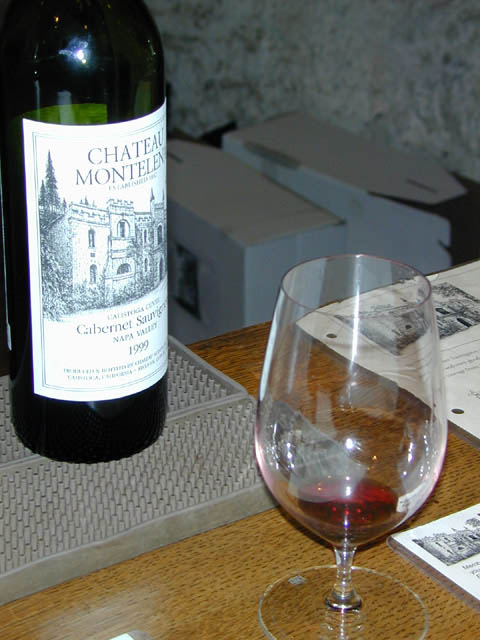 Day 1
The adventure begins at the Calistoga Inn. I've always stayed there in Calistoga because it's right on the main street so I can stagger back from dinner or the spa easily. It's got an on-premises brewery so I can stagger without even leaving the hotel and it's got a fantastic restaurant. It was also the cheapest place to stay (cute rooms, "European-style" or in other words you share a bathroom). They unfortunately just raised their rates which I'm very sad about but I still enjoy staying there.
Our first evening was spent in the Calistoga Inn Restaurant. Our waiter, Laurence, brought us the beer sampler: Wheat Ale, Pilsner, Red Ale, Porter and the seasonal Blitzen IPA. Brewer Randy Johnson knows how to make a good beer. My favorite was definitely the Blitzen; it's a mouthful of flavoring hops, not overly bitter, a very smooth finish, so tasty. As far as their standard fare, the Red Ale topped my list. It's a gorgeous deep red-caramel color, lighter on the hops, obviously, than the IPA but still full of hoppy goodness, overall a very smooth-drinking beer. The Porter was mocha-y goodness without a lingering aftertaste like most dark beers leave. The Wheat and the Pilsner are less my style than the others, I'm not one to go for lighter beers, but they were still well done. We enjoyed an order of oysters with the beer and they were just ENORMOUS! Luckily they had really good flavor and no oceany taste because big oysters really gross me out. But it was still good to have the oysters and beer together.
Next we had a bottle of the 1999 Limerick Lane Collins Vineyard Zinfandel. It was full of Ranier cherries (not Bing), a little softer than Zins I usually drink but it still had a mid-palate bite.
I got the Fall Greens with shaved dry jack, cherry tomatoes, cucumber and green goddess dressing. The dressing was really yummy and it wasn't drowning the greens. My hubby got the Dungeness Crab Cakes with cole slaw and tartar sauce. They weren't fired as much as most crab cakes so they were lighter and less burger-like. Overall quite good.
For the main course I had the Grilled Sterling Salmon with a Blood Orange, Comice Pear and Pickled Ginger Relish. The pairing of the pears and the salmon was wonderful and the ginger bridged the two flavors together. The salmon was perfectly cooked and moist and it was served with super-ripe butternut squash with orange and brown sugar added (yum) and Roasted Winter Veggies with Cinnamon which I had just seen in the February 2003 issue of Food & Wine that same day! It's a very tasty way to serve a medley of squash and root veggies.
Husband got the dish full o' stuff I hate but he enjoyed it: Vegetarian Cazuela with Swiss Chard, green beans (yuck), mushrooms, green olives (yuck) & aromatic vegetables paired with Laura Chenel goat cheese (yuck) & queso Manchego (yuck) with a Roasted red pepper-toasted almond sauce (yuck). He said it was salty and flavorful and rich which isn't always associated with vegetarian dishes. It was a comfort food dish and dialed right into the Vegetarian's salty-fatty cravings.
For dessert: Something Chocolate. It was a scoop of vanilla ice cream with brownie smushed into it and topped with hot fudge. Talk about a comfort food! It was tasty tasty tasty and I was so happy :)