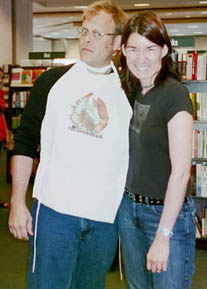 Alton Brown
Barnes & Noble
San Jose, CA
June 15, 2002, 3pm

The bookstore was PACKED by the time I got there…I knew my little clique of friends like Alton, but I didn't realize there were soooo many fans!
I got a spot towards the back where I could see but my camera didn't have a zoom so pictures were almost pointless…I took one anyway.
He was really witty and funny even without a script. He had a copy of his own book that he was forced to purchase from the bookstore in LA because he'd signed the wrong name in it for a woman there…so he was having all the people at the signing autograph it for him as a sort of "annual" for the tour. Great idea and a lot of fun.
He told us that there will be 2 more books over the next 2 years. One book about baking, calledI'm Just Here for More Food and one on Kitchen Tools. Can't wait! He also said he's talking with Food Network about a "Good Eats" book. It would contain scripts of episodes that didn't air and recipes that got cut out of the show. Another one to look forward to!
He spent most of the time answering audience questions. I, unfortunately, didn't record the talk so don't recall most of them but one man asked what Alton recommends for someone (a friend) who can't eat salt or fat. Alton recommended Suicide ;-)
Someone asked where he was planning on eating while he was out here and he said he was going to try to fenagle his way into Chez Panisse.
When the signing finally started and we all got in line, it seemed to take an eternity to get to the front but it was about 2 hours. When I finally got there, I told Alton that I requested and interview with him and was ignored. But if I would have gotten a response, I would have taken him to Chez Panisse for the interview…oh well. He said his publisher was probably put off by the word "porn" in the URL…whatever ;). He signed my book and I gave him an apronwith the image of his lobster dish and he posed with me…he's a complete goofball. It was a fun afternoon and he even asked if he could contact me through the site…no word yet but you can Alton!
Can't wait for the next books…Who else would tell you to BBQ ice cubes? Sound crazy? Get a copy of I'm Just Here for the Food: Food + Heat = Cooking…it'll explain!