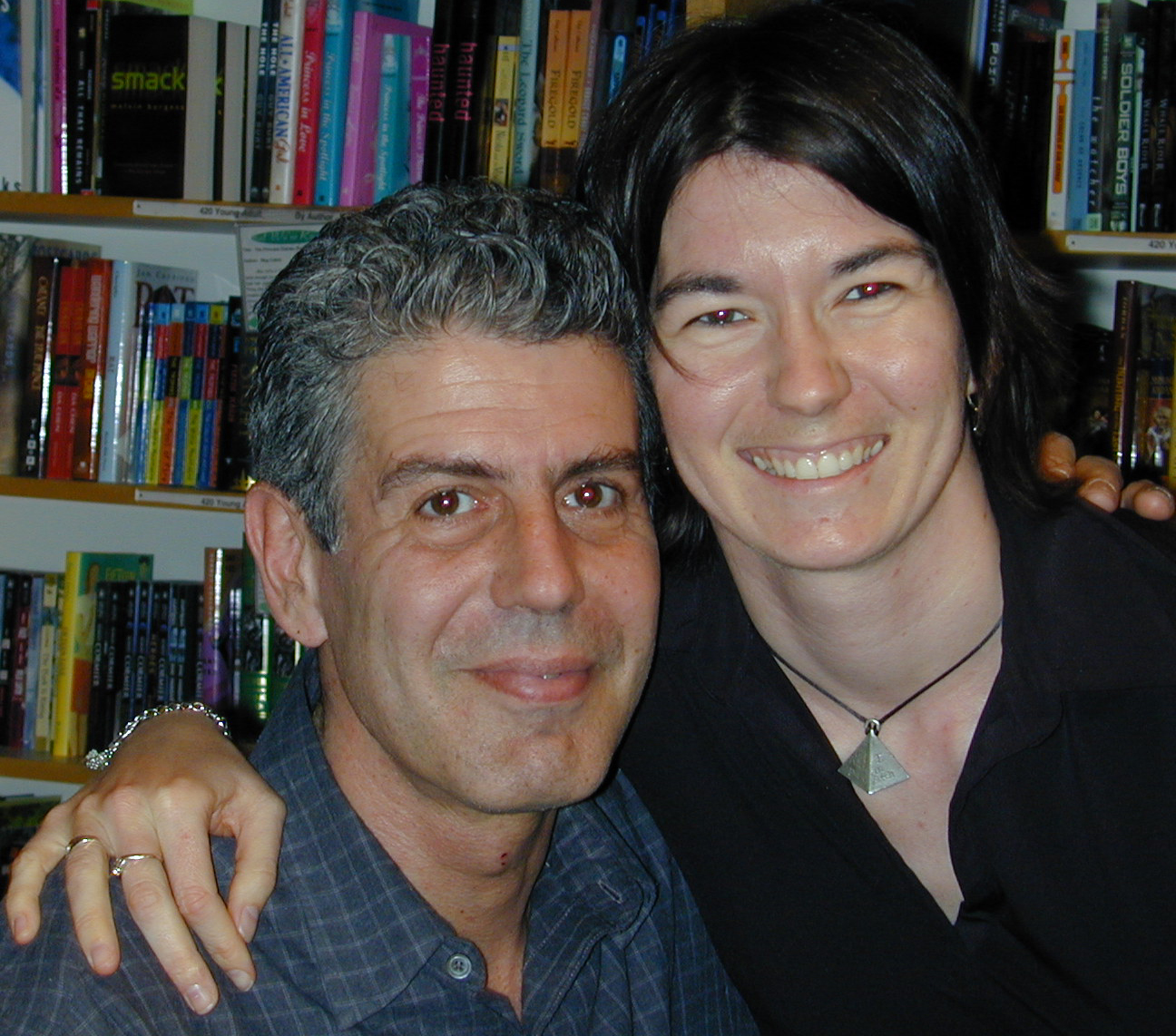 Anthony Bourdain
Kepler's Books
Menlo Park, CA
May 28, 2003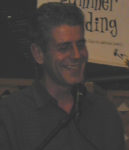 Tony Bourdain is out in support of his new book, The Bobby Gold Stories. He says it came from a "BBQ Epiphany." Basically, he was BBQ-ing for his brother's kids and getting way too much enjoyment out of it. Not to mention the fact that he painted the walls and sanded the floors of his apartment for the first time since 1977 and has caught himself thinking, "Does the couch really match the chair?" He needed some seediness back into his life. So he went back to what he knows best and misses most: the sex, drugs, crimes and underbelly of New York City.
With the success of Kitchen Confidential and A Cook's Tour, Hollywood knows who Anthony Bourdain is and they've already picked up Bobby Gold as a movie and cast Adrian Brody as Bobby—not bad for an "old fry cook."
The majority of the event at Kepler's wasn't about Bobby Gold though, it was a Q&A with the audience. There were of course the expected Emeril questions, and Tony's response: "Everyday [Emeril] is in business, I'm making money off people who can't stand his show." And what about the Emeril show? "That show makes me want to gouge out my eyes, blow out the pilot light and stick my head in the oven." Looks like Tony's more secure in his FoodTV position since last year when he was here; he actually tip-toed around saying negative things about other FoodTV personalities then. Not this time. On A Cooks Tour what you see is what you get. If Tony looks happy on camera, that's real. If he eats something gross he's going to tell you, "Not like that lying piece of shit on 'The Best Of'…Every word out of that guy's mouth is a lie. He's sitting in the Best Western in Cincinnati eating what looks like smegma going 'mmm, this is great…LIAR!!!" Tell us what you really think Tony!!
Who does he like though? Mario Batali. He's an amazing cook—he gets to cook things and get people to eat dishes he truly cares about…and he's a "Party Animal to extreme proportions!" He apparently gets away with things Tony would end up in jail for and when they're out drinking Tony always ends up going home first.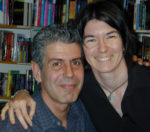 It's not like Tony's an amateur drinker either. A Cook's Tour has alcohol involved every step of the way. He's spent "quality time in the fetal position on a cold tile floor" sometimes from alcohol, sometimes from food. He never turns down a dish it it's offered to him with enthusiasm. If you think it's good, he'll try it. "It's a small price to pay for many fully magical moments." The sickest he's been was in France. The worst meal though was the twelve-course vegan meal in Berkeley. Why didn't the go to Millenium for his vegan experience I'll never know!
A Cook's Tour may or may not get picked up for another season, he'll find out in July, but either way he's going to El Bulli in Spain and filming it. FoodTV can decide if they're funding the project or not. He'll continue to do the TV thing for as long as they'll let him and he gets to do what he wants to do. He's also in the process of putting together a cookbook Bourdain-style—pre-stained with food and blood— a book you can actually take into the kitchen. And a collection of essays called "The Nasty Bits."
When I got my book signed, I just had to ask, "What kind of water did you get at the French Laundry?" When I told him we got reamed by the bubbly water he laughed at me, "Just get the tap water at restaurants!" And when we thought about it, the French Laundry could probably bottle and sell their water—if they aren't already!
Thanks for visiting us again Mr. Bourdain, maybe someday I'll get an interview.