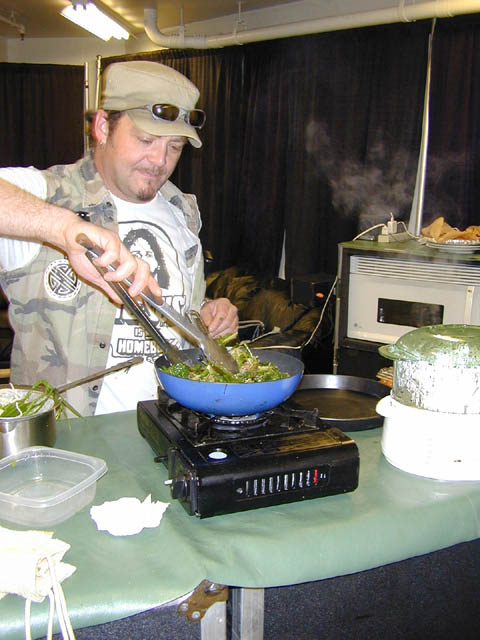 How does Tori Amos play 127 shows in 185 days, 6 shows a week for 9 months? Well, by somehow being a superhuman goddess is one guess. The more true-to-reality answer though is by taking a talented chef on the road with her and eating fabulous meals every day. Duncan Pickford works wonders whether he gets to shop at Whole Foods or Wild Oats and get all organic, produce, seafood and poultry or if he has to go to Super Target in North Dakota. I had the unique opportunity to shadow Duncan for a day before Tori's show at the Chronicle Pavilion in Concord on the Lottapianos Tour (the final leg of the hectic touring she's been doing since for the last few years).
I have to say, I want a Duncan. He's not only an extraordinary chef, he's just a doll and so much fun to be around. He welcomed me in like we were old friends and I spent 7 hours backstage chatting with him about everything from the types of greens he was steaming to the Lenny Henry show, Chef!, to Tori mistaking lipstick for lip gloss…what a mess that could be!
The typical tour-day starts with a runner showing up for Duncan at the hotel around 10am. If things go well, they take him to the finest grocery store in town (i.e. Whole Foods or Wild Oats) and he gets the staples for the day's meals. That was pretty much how the San Francisco food run went. That's not always the case. Sometimes the runner doesn't know what a "fine-foods grocery store" is and takes an hour and a half driving around trying to find one. Or in another case they leave with a list of five simple items, one of which is a chicken, and come back three-and-a-half hours later with the wrong items and a rock-hard frozen chicken. As I said, Duncan is a complete doll, but don't bring him a frozen chicken three hours after he's expecting you to show up with a fresh chicken so he can make Tori some soup. He'll lose it, really—don't do that, the man's got knives.
Duncan: "What's this?!? WHAT *IS* THIS?!?"
Runner: "It's a chicken"
Duncan: "It's not a chicken—This is NOT a chicken! It's a f*!king frozen chicken! What do you expect me to do with this?!"
Runner: "I don't know, I'm not a chef!"
Duncan: "Well you're not a runner either—just go!"
That's not the usual day in the life though. He is normally a calm, lovely creature—just don't bring him a large piece of ice to turn into soup! If you don't watch it, he could turn into Gareth Blackstock.
Today's grocery run was not so dramatic. It's a lovely time to come to the Bay Area for produce and seafood. He picked up some divine California Sea Bass filets, greens for steaming, lemon cucumber, and some mixed greens for salad.
So…to work. He's cleaned and slivered lemongrass into long skewers and proceeds to thread it into
the fish. "It infuses the fish with flavor. Like the traditional recipe of spiking lamb with rosemary and garlic. It's easy to do and quite decorative as well." While at home, he uses some expensive Japanese knives but on the road for the last three years he's been using a set of Wüsthof knives that have worked quite well and aren't as expensive to replace if anything happens to them! He places the fish on a roasting pan that he's wrapped in foil (for easy cleanup) and then covered with parchment paper (to avoid Alzheimer's worries). The marinade is a simple but tasty:
1 inch cube of fresh ginger, grated finely (he uses Microplane graters, they work very well)
1 t. sesame seeds
a smidgen toasted sesame oil
juice of 1/2 a lime
1 dessert spoon of honey

Mix and spoon over fish. Place is fridge uncovered so as to dry out the fish a bit and the marinade will "stick" to the fish more. (not a vital step but a good tip).
The fish will be served over a pile of wilted greens and he puts them into the electric steamer now so as to have them prepped for later. Word hasn't come yet as to when Tori wants to eat today. Normally dinner is served before soundcheck, between 3 and 4pm. While the greens are steaming, we have a snack of some crusty bread dipped in L'Olivier EV Olive oil (available at iGourmet.com), Balsamic, salt and pepper. Tori isn't eating many carbs these days so bread and pasta aren't staples on the tour menu anymore, so Duncan and I just gorge ourselves on starch while prepping the non-starchy meal ;-) The oil is so tasty: flavorful but not bitter, it's woody and light with no bite or spice. We tried a bit of the Trampetti Olive Oil a bit later and it couldn't have been more opposite; it was green, peppery and strong but still quite good on it's own completely different way.
Served with the fish will be a salad with Tori's favorite dressing. She's not a big fan of vinegar so dressings and marinades have lemon juice, vermouth, or other acidic flavor components instead. This has to be one of the best dressings I've ever had. It was loosely based on a dressing at Nobu New York. The record company took about twenty of the band and crew after the '99 tour and had a luxurious feast (and saw Madonna—star-sightings are old-hat to Duncan now I'm sure but it was quite a first sighting!)
Tori's Favorite Dressing:
1/2 c. grapeseed oil
juice of 1/2 a lime
1 clove garlic finely grated
1 t. sesame seeds
6 inches green onion (the part between the really green and the white part)
1/2 inch chunk of ginger – grated
small t. sesame oil
1/2 t. fish sauce
a pinch of wasabi powder
2 T. water
1 t. honey
zest of 1 lime
1-2 T. chopped cilantro
black pepper to taste

Mix with a hand blender (Duncan uses Braun hand blenders).
The recipe also usually has soy sauce in it, but I sure didn't miss it. At this point the greens are tender, he shocks them in some ice water and we're at a stopping point for the moment. We set out into the heat of the afternoon to find Tori and get an approximate dinnertime.
I remain calm. We walk outside. There's Tori…she's walking up to us…oh my god! Remain calm. "Hi, I'm Tori" …in my brain, 'I know who you are silly!!'…Instead I managed, "Hi, I'm Robyn." We chat for a very short while, she mentions Neil has said nice things about me (THANK YOU NEIL!!), but before a show she has many things to do including putting together the setlist. I remained in journalistic form and didn't make a request and, like a ding-a-ling, didn't get a picture with her either. I hang back in the shade while she visits with her daughter, Tash, and Duncan goes to get her some applejuice and check on a few other things. Tash is an absolute doll!! My brief brush with the beautiful Tori in the really cute blue, fitted, off-the-shoulder shirt and fabulous strappy platforms ends too soon but it was charming and unforgettable.
We find out that dinner will be served later than usual, between 5:30 and 6pm after sound check. Duncan and I have some yummy Dragon Pearl tea (which is full of woody-saffron flavors) and visit a while. Growing up, Duncan's mom was actually a good cook—something that surprises me since I don't associate good cooking with England. She didn't boil everything although she did like her vegetables "tender, shall we say." His dad was quite the adventurous cook; they were the first family around (in the middle of England in the '60s) to have Chicken Con Carne—bold, bold dish for the time and area! But nowadays English culinary skills are improving a great deal due to TV Chefs—I point out that it's the same here in the states. His culinary career began as a summer job in Greece working for a friend's moped business. One summer he returned to Greece to once again rent out those motorbikes and instead the job had been given away. Having no money and only having bought a one-way ticket to Greece (a 3 1/2 hour bus ride for 30 quid), he found his way to a luxury hotel kitchen that needed help and couldn't believe how happy he was. The career spawned from there, working London hotel and bar kitchens. A friend who was a tour bus driver gave Duncan some catering company numbers, knowing he needed a change, he was stuck in a rut. The friend actually dialed the number and handed the phone to Duncan and the woman needed a caterer for a touring boy band. He had found his calling. After about five years of catering for various bands, he was on tour with a group that he just wasn't clicking with. The catering company called and needed a chef at a Studio in Cornwall for a couple of weeks but he'd have to leave the current tour. He did, it was—guess where?—Tori's studio. After cooking for her, he asked Tori:
"How long do you want me for?"
And a classic, vague Tori response, "'Til the end."
"End of what? Month? Week? Day?"
"'Til the end."
That was over four and a half years ago when he thought he was just getting two weeks work.
While on tour, Duncan gets to sample food fare around the planet. While in New York he popped in on Il Buco and was "romanced" (culinarily of course) by, we'll call him Mario since his name has since slipped Duncan's mind. Mario must have realized that the group had some sort of food consciousness because they were styled out. In Milano, the runner showed up (about 22 years old and impeccably dressed of course) to take Duncan to the grocery store and the venue and Duncan went into his usual spiel about how he wanted good food, money is no object, yada yada yada. The runner looked at him, perplexed, and said, "Wherever you go the food will be fantasteek!" And it was—he took Duncan to what looked like a regular, low-end supermarket (similar to a Safeway or Albertson's here). The fish was all shrink-wrapped in styrofoam containers and Duncan couldn't resist, he poked his finger through the wrap and smelled the fish—it was fresh! It didn't smell fishy at all…something that tends not to happen in a large US chain where the fish reeks of fishiness. And it was cheap cheap cheap. On the flipside, at a posh, hugely expensive Dallas, TX hotel, jacket-required restaurant, filled with oil barons and high-powered medical executives, Duncan dropped $200 on a meal that was decimated by ego. The chef was overenthusiastic and everything was a mish-mosh of flavors. "I should have just gone to McDonalds [chuckle]."
Back to the present, before having to prepare the dinner, Duncan concocts the magical potion that Tori drinks onstage. It's a rehydrating drink not unlike a certain store-bought electrolyte replenisher in purpose but very different in taste. It's the "Duncanade" that keeps Tori drooling throughout the show:
Start w/ 2 L. water

2 lemons, chopped, seeded and pithed (1 whole lemon per L. of water)
Blend with1 1/2 L. water
Strain and discard pulp
Blend that with 10-12 oz. honey that's been blended w/ 1/2 L. water
Add the remaining 1 L. water
Add ~ 4 pinches of salt (1 pinch for every 1/2 L. water—more if you sweat a lot)
24 drops of essential lemon oil (6 for every 1/2 L. water)
1/4 t. cinnamon
Strain again (to get rid of the "scummy scum scum")

Enjoy!
Now with Tori finishing sound-checking Pancake in the background, preparations begin. Duncan puts on his kitchen soundtrack (consisting of some ethereal chants, The Chieftans, and Skunk Anansi, among other things I'm unfamiliar with), pulls out the fancy plates—even on the road you have to present in style—and begins to assemble tonight's meal. He thinly slices some lemon cucumbers, arranges them on the plate with some cherry tomatoes and will cover that with his yummy, yummy dressing; next to that is a mix of salad greens on a bed of endive also to be drizzled with the dressing.
For the main course, presentation is not ignored. Duncan braids 3 strands of chives into a lovely little braid that will top the fish. The call comes in, we're 20 minutes from dinnertime. The bass gets basted to go in the oven and half way through the cooking it will get basted again. The greens are warmed, arranged on the plate, the fish placed on top, decorated with the chives and viola! Dinner is served.
Tori gets her food, Duncan is thrilled that she likes it. He still gets nervous with every meal. She never says she doesn't like it but sometimes she just nibbles. This times she gobbles it up and I can see why. It is DELICIOUS! The salad dressing really is the best dressing EVER! Greens and fish are one of my favorite combinations and these don't disappoint.
Time is running down, the show is going to start soon so Duncan makes his delectable "Not the Original Slippery Elm Tea":
6-8 slices of fresh gingerroot
Slice of lemon
1/4 t. slippery elm
3 drops each of peppermint, eucalyptus, and fennel oil (*new and improved*)
2 dessert spoons honey
Hot water
Believe me, if you're sick, if it's a cold night, if you have to do a lot of speaking or singing, drink this. It's tasty and just feels good going down your throat.
With the meal served and Tori's throat-coat tea made, you'd think the chef's job would be complete. But as soon as we're finished with our dinner, Duncan has to move on to get the setlist and put together the essential oils to accompany the show's theme (For external use though! They just smell lovely!). Into the oil mix go Myrrh for God and Crucify; Rose (at $130/ounce!) for Riot Poof and Vincent; Bergamot also for Riot Poof; Sandalwood and Lavender for Amber Waves. It smells divine. But time's up! I've got to get shuffled out to watch the show so Duncan can take Tori her elixirs to entertain, move and inspire the crowd.
She didn't disappoint. Of course how could she after the scrumptious meal, smelling the beautiful elixir and drinking the yummy tea? I want a Duncan!!
Alas, now the tour is over, the crew is back in Cornwall and Duncan is now cooking for six instead of just Tori—who would guess he'd be busier off tour than on! And soon he'll have his Web site up and running to help you get in the phenomenal shape that Tori is in by eating good food…that's my kind of workout! :)
Oh, almost forgot, what does Duncan think is the sexiest food? It's a tie between Italian and Tapas. Italian is full of rich roasted vegetables: the garlic, the oil. But Tapas is sexy because it's fingerfood and you can just crunch and bite. It's all bitesize and you can taste so many more things. "When you really love good food, it always comes to you somehow." For me, I got it backstage at a "rock" concert!
Bookmark DuncsDiner.com, good things will happen there.