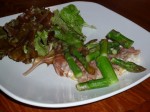 I had some cod I picked up from the Farmer's Market. It's not rock cod, it's a local Monterey Bay cod that is small and thin. The name has escaped me. But it's a light, white fillet. This recipe serves 2.
3/4 lb white fish fillet
2T butter
2 garlic cloves, finely minced, mushed with 1/2 t. salt
1 lemon (juice and zest)
2 slices prosciutto
10 spears asparagus cut into 1 inch pieces
Melt butter in small saucepan. Add garlic/salt mixture and cook until golden. Turn off heat and add juice and zest from lemon. Set aside briefly.
Blanch asparagus for about 2-3 minutes. I didn't and had to remove and cook the asparagus a little more before serving.
Tear off 2 pieces of parchment or foil large enough to wrap fish. Pour a little olive oil in the bottom of the foil/parchment. Place fish fillets in parchment or foil. Top with melted butter concoction. Cover with a slice of prosciutto. Top with asparagus.
Bake in 450° oven for 12-15 minutes, until fish is flaky and cooked through.
To plate I removed the fish from the foil and poured a little of the juicy-butter-yumminess over the top.