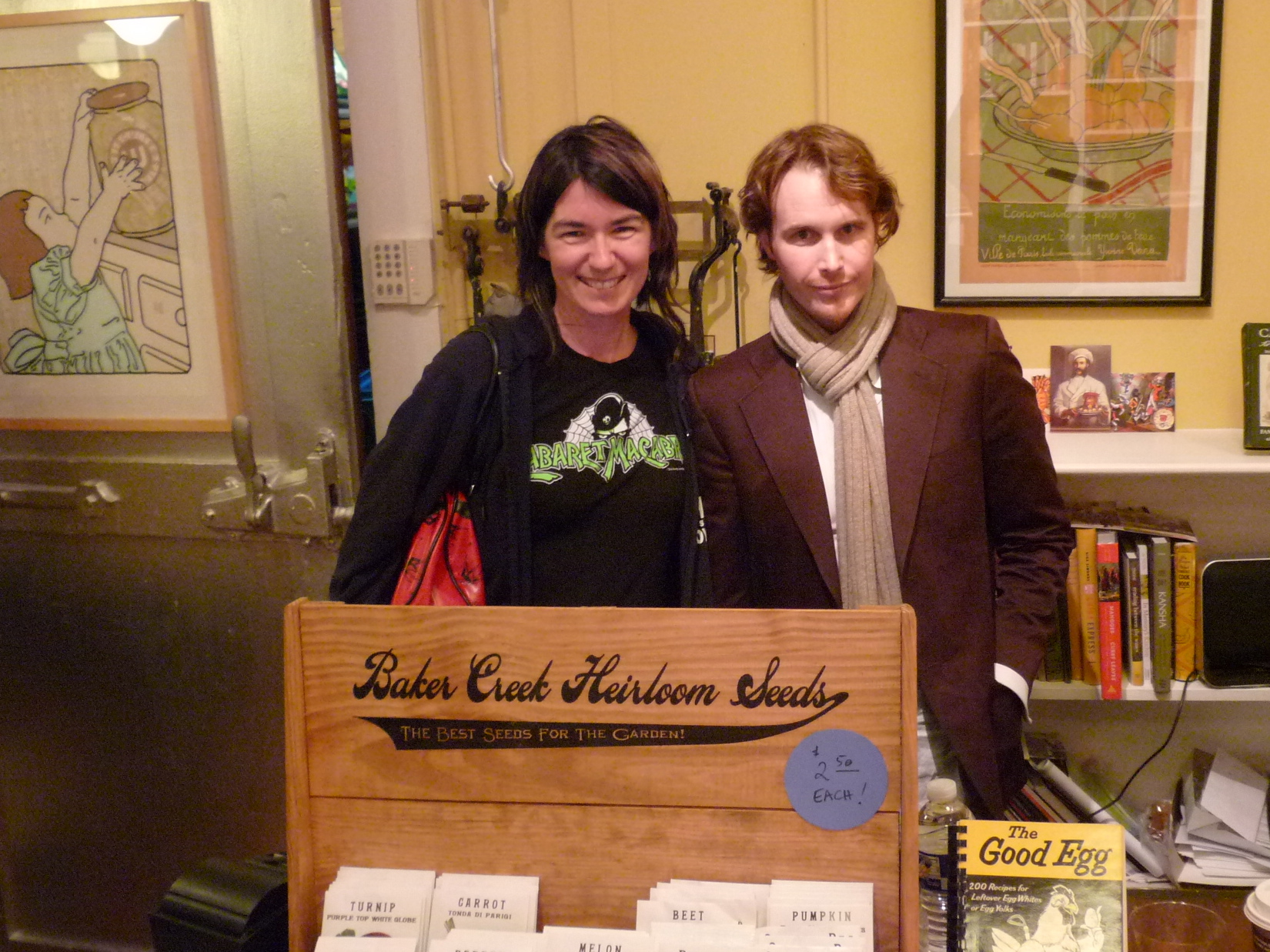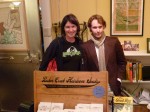 Every time we go to Chicago I try to go to Alinea. My in-laws live there so we go at least once a year. Every time, something gets in the way. The first time we had reservations and I got sick, my husband went with his dad and they had an amazing meal. The trips since then we seem to always be in town on a Monday or Tuesday, the days they are closed!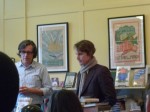 Even without having dined there, I'm a huge fan of Grant Achatz. The more I get into his book (I'm about half way through it now), the bigger fan-girl I become. I went to see him at Omnivore Books with his business partner, Nick Kokonas. They were both wonderfully nice, entertaining, genuine and all-around good guys.
They started the talk by pointing out the elephant in the room and explained that yes, Grant's got his sense of taste back, it was gone for over a year. I can't imagine what that would be like. It's unreal that it could happen to a chef like Grant. We're the same age, he's actually about 3 months younger than me I think. Not only is he one of the best chefs in the country, he almost died. That's a real seize-the-day kind of eye opener if there ever was one. What is on my to-do list?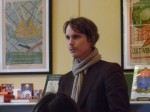 Nick and Grant told an amazing story about being insistently-invited to dinner at Spago in LA. Grant hadn't yet eaten a full solid-food meal. He was regaining his sense of taste but wasn't nearly back to 100% as far as eating normally. He said to Nick, "I hope you're hungry" because he didn't want to let on that he couldn't enjoy this food, it's not good for a chef's reputation, so Nick was going to have to eat Grant's portion as well. As it turns out, he didn't have to. Grant ate and truly loved every course. It was a huge milestone….oh, and they got seated in front of a very annoyed Don Johnson. LOL!
One of the questions that came up was what would Grant have done if his sense of taste hadn't returned. One of the things he pointed out was that so many of the dishes at Alinea aren't initially inspired by taste. They come from a smell (which he didn't lose his sense of) or a visual concept. It would be difficult, but at least for a while, he would have continued to cook.
I am looking at when I can make it to Chicago again. Right now they're working on launching Next and Aviary. Next is a completely insane concept that will either take off and revolutionize prix fixe menus or totally bomb. Next is selling tickets in advance. You pay for your whole meal, alcohol and gratuity up front. I think it's genius. They are also changing the menu every 3 months–completely. The first menu is Early-1900's France. The second is Thailand. Yeah, I meant COMPLETELY.
I had a great time listening to Grant and Nick's stories and getting to chat with them afterwards. I hope to get to try Grant's food now more than ever. I have such a tremendous respect for the risks he has taken and the amazing adversities he's overcome both personally and culinarily. Now, to get back to the book….