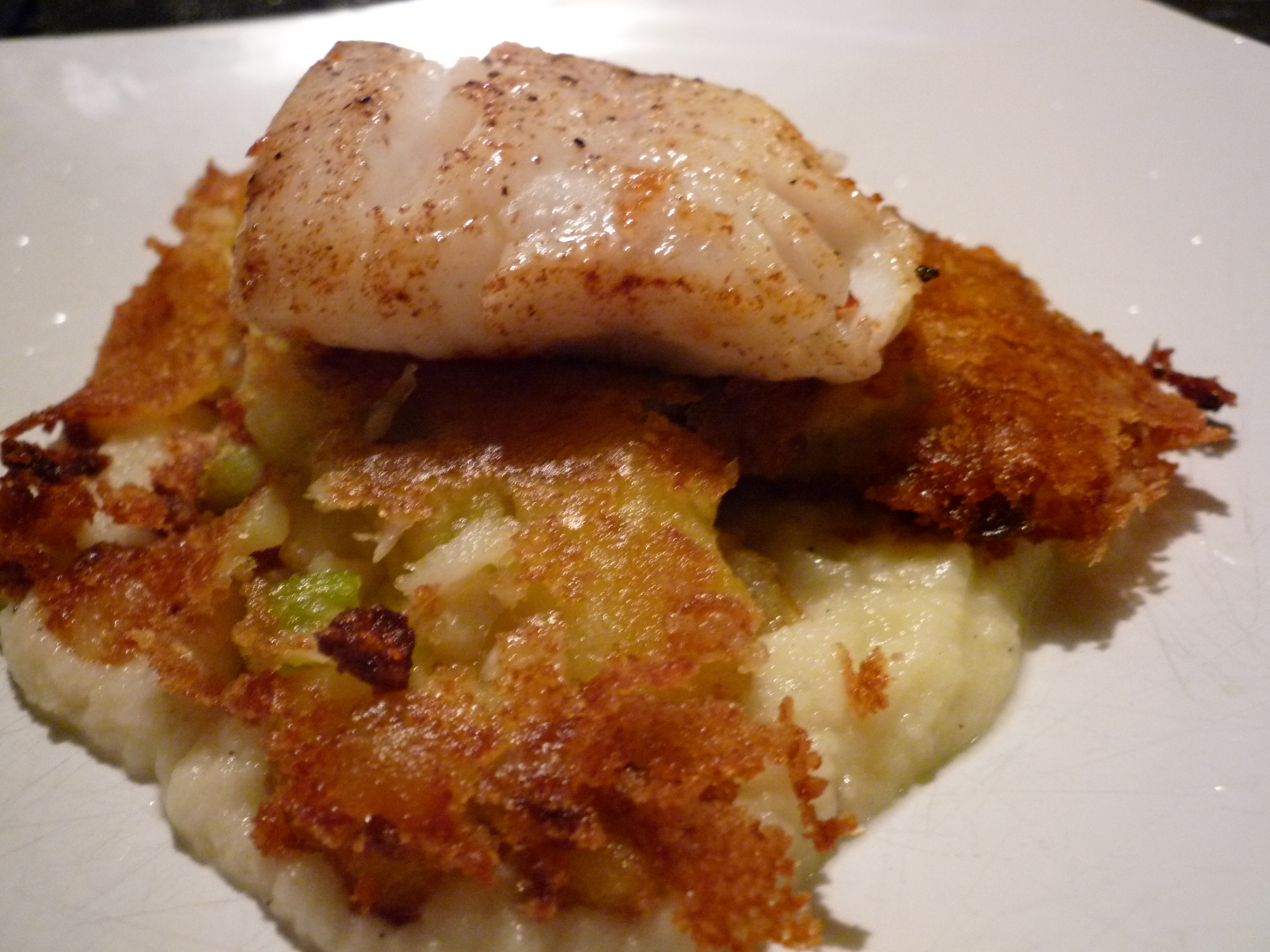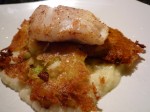 There is a recipe in The French Laundry Cookbook for "Clam Chowder" which, of course, is nothing like clam chowder because it's Thomas Keller's twist on a classic dish. It's cod cakes with cod and clams. It's a fantastic dish, I've made it before, actually following the recipe. It takes hours. It is not a dish for a weeknight after work.
I used it as an inspiration for these cod cakes though. This made 3 servings.
1 1/2 lb cod
4 potatoes
1 large shallot
1/2 bulb fennel
2 cloves garlic
1 stalk celery
2 c. white wine
herbs
peppercorns
1/4 stick butter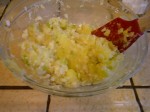 Peel, dice and boil potatoes…preferably yukon golds, I used whatever I'd gotten from my CSA. Drain and mash up in a bowl with 1/4 stick of butter.
Dice and saute in olive oil: shallot, fennel, 1 clove garlic, celery. When soft, add to potatoes.
Trim true cod down so you have small, pretty, rectangular filets. Set those aside.
Cut the trimmings down to 1-2 inch pieces and put in a sauce pan with some herb sprigs (I used marjoram), 6 peppercorns, a clove of smashed garlic and a cup or 2 of white wine. Simmer until fish is cooked. Remove fish from pan and smoosh it up in the bowl w/ the sauteed veggies and potatoes.
Add salt and pepper and put the mixture in the refrigerator for a bit so you can handle it.
Once the mixture is cool, heat up olive oil in a pan and form patties out of the potato-cod mixture.

Place them in the heated olive oil and then walk away…don't touch them until they are truly browned or they will fall apart and become potato-cod hash.
When brown, flip and leave them alone again.
Remove from pan and place on paper towels to absorb extra oil.
While the cod cakes are browning, cook your cod fillets up in olive oil with just salt as seasoning. Cod is beautiful on its own, you don't need anything else.
I served them on top of a kohlrabi puree (like mashed potatoes only better). Or you can serve atop salad with a nice lemony vinaigrette (caesar salad is good, so is a butter lettuce salad with lemon-shallot dressing) – salad, then cod cakes, then cod filet on top.
Preparation time: 45 minute(s)