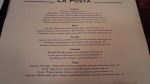 La Posta is one of my favorite places to eat in Santa Cruz so naturally I picked it for my birthday dinner. I've already written it up in the past but I got a new camera and wanted to test it out! And it never hurts to update people on the status of a restaurant. This one has only improved with time!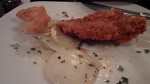 I got the quail and matsutake special appetizer. I can't pass up matsies!! It was a lovely, delicious dish with crisp radishes and shaved turnips. I have to be honest, I still prefer matsutakes prepared with mirin and shoyu baked in parchment. Nothing wrong with this preparation though!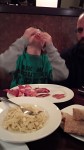 My main was Berkshire pork spezzetino. I had no idea what spezzetino was but it's cubed pork stewed with everything you can imagine: soffritto, tomato, clove, wine, herbs, you name it! Served with polenta verde, it was so harmonized and rich and heavenly. I mopped up every last drop.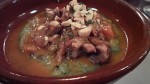 I added a salad last minute because the pork was so rich, I needed something to balance it out. Simple green salad, so fresh, so perfectly dressed.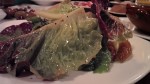 As usual, my son got the Salumi plate, olives and pasta with butter and cheese. My husband got the lasagnette with sausage and candy caps. There wasn't a bite left at the end of the night aside from the bit of prosciutto and olives my son couldn't quite finish that we took home and he had in his lunch the next day. How many 8 year olds take prosciutto and olives in their lunch?!?!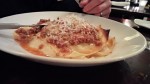 Dessert disappeared too quickly for a picture. I got a vanilla cake with candied mandarin slices and creme fraiche. My son got pear sorbetto and vanilla gelato. My husband had chocolate almond cake with cinnamon cream and caramelized figs.
I was surprised to find out that no one at La Posta knew they'd been featured in Food and Wine Magazine! They were all wondering when they came in!