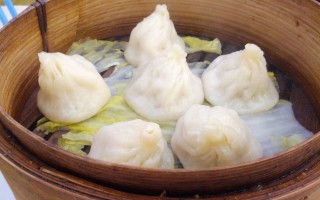 There are huge chunks of the Bay Area that are completely unfamiliar to me. If I haven't worked in the area, chances are I don't know it. Case in point: Belmont. It is one hour from my house and I had to look on a map to find out where it was. So, when my son's climbing competition was over and we were hungry, I didn't know where to go. Thank goodness for Google Maps and Yelp!
My first search was for Vietnamese food. My general approach to unknown restaurants is that if it's bad sushi, you can be sick for days. Bad Indian: Same. Bad pho? Just add more sriracha! So, that's where I start. I was finding an awful lot of Vietnamese restaurants in the area but it was Sunday and they were closed.
I changed my search. I wonder if there are dumplings in the area? Turns out there were dumplings two blocks away. SCORE! I am a sucker for dumplings and noodles. Love them more than most edible things…more than most things in general. And I can't get either in Santa Cruz. So after the ribbon awarding at the competition, we headed to TOWN OF DUMPLING (which in my head sounds like the voice from the Muppets that announced PIGS IN SPACE!).
I have had, what I think, are the best dumplings on the planet at Din Tai Fung in Sydney. I dream about them. My son cries when my husband gets to go there on his business trips. We really like those dumplings. These were not those. BUT, having said that, they were good. We had pork and shrimp, pork and chive and xiao long bao. The xiao long bao were the best by far. The pork and shrimp were my second favorite. And the "Farmer's cucumbers" were yummy as well but lacking heat. Of course, they have a solution for the lack of heat with what seemed to be a habanero puree chili sauce on the table. Holy HOT! But even though it was burning a hole in my tongue and just got hotter and hotter, I couldn't stop eating it.
The biggest issue I have with all the dumplings I've had in the bay area is lack of salinity. Even with the dipping sauce, there's just not enough salt. So that's my complaint but it's a small one. I will eat here again next year after my son's climbing comp. It's not a go-out-of-your-way-to-eat-here kind of place but if you find yourself in Belmont, give it a try.
Oh, and they have a deal where if you check in on Yelp while there, they'll give you a free plate of chicken chow mein. We checked in and had to get the chow mein to go since we were dumplinged out. I had it for dinner. It was fine once I added a little more soy and chili. But the dumplings are definitely better.