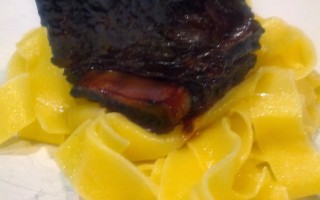 This is less of a recipe than a link to another recipe. I got short ribs from my monthly box of awesome from El Salchichero. It was really only enough for two and that worked out since hubby was away and I was just cooking for my son and I.
I basically cooked the short ribs exactly how I cook my slow roasted pork. Seared each side, added sliced onions, let them cook up the brown bits, added red wine and chicken stock, brought that to a boil, covered and put in a 350° oven for 2 hours.
Put each serving on top of a pile of buttered egg noodles and that's it!
Random tangent: I have this very strong childhood food memory of eating buttered egg noodles with poppy seeds on them. I don't know why we did that but I need to try that again and see if it's any good :)