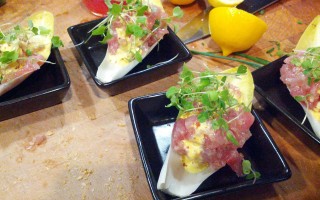 I woke up Saturday morning knowing I was making dinner for 10 people that night and not knowing what the menu was going to be. It was another gathering of our 1999 crew. I needed to pick up a my monthly box from El Salchichero and decided I would just buy what looked good when I got there. Then I'd pop over to the West Side farmer's market for fish and the other ingredients. That was the ideal plan. El Salchichero had lamb noisettes. I've never seen this particular cut/style before and it is beautiful. Like little lamb filet mignon but with plenty of fat. Perfect!
I picked up ahi from the farmer's market along with some blood oranges. Since blood oranges are in season, I decided to make Fang Tinglers as an intro cocktail and Tang Finglers (virgin drinks) for the kids. I didn't want to get everybody plastered though so I made 1/2 portions and I also only have 4 martini glasses (and they're huge) so I served them in jelly jars :)
For the ahi, I followed Eric Ripert's signature Le Bernardin recipe for Tuna and Foie Gras but since I have no easy access to foie, I just used cultured butter on the bagette instead. I pounded and pounded the tuna flat between plastic wrap then sliced it into circles that would fit on my plates. Placed the tuna atop the baguette slice with butter, brushed the tuna with good olive oil, sprinkled with shallots and chives and squeezed a little lemon on it. I totally didn't miss the foie. These really weren't hard to make and they were not only delicious but impressive!
In this process though, there ends up being a lot of tuna trimmings so I took those and chopped them into a tartare. I mixed in lemon juice, shallots, olive oil and salt. I put a large tablespoon of the tartare into an endive leaf. I made a sauce out of 1/4 cup creme fraiche and about 3 teaspoons of Aji Pepper Paste, some lemon juice and salt. I drizzled that on top of the tuna and garnished with micro arugula and Hawaiian red salt. It had a great balance of salty, sour, spicy, bitter and just a little sweetness from the endive. I was happy with this improv.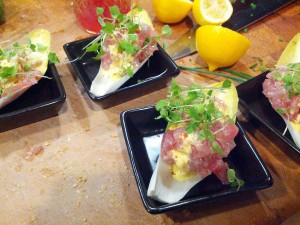 For the main course I didn't have to do much. The lamb stands on its own. I sliced some fingerling potatoes up and cooked them in duck fat until they crisped up. All I did to the lamb was salt and pepper it, sear it in my cast iron pans, and finish it in the oven at 400° until they were 135° inside. Rested them for about 5-7 minutes then served with a chimichurri sauce:
1 1/2 c. parsley
6 garlic cloves
splash of champagne vinegar
Zapped in the food processor until finely chopped
Stir in olive oil until the consistency is a little runnier than paste but not too oily.
The chimichurri added color as well as a brightness to the flavor.
I was really happy with this dinner. Especially since I didn't plan ahead at all. We had a beautiful bottle of 2004 Bandol with the lamb and amazing 2008 Coche Dury white burgundy with the ahi.