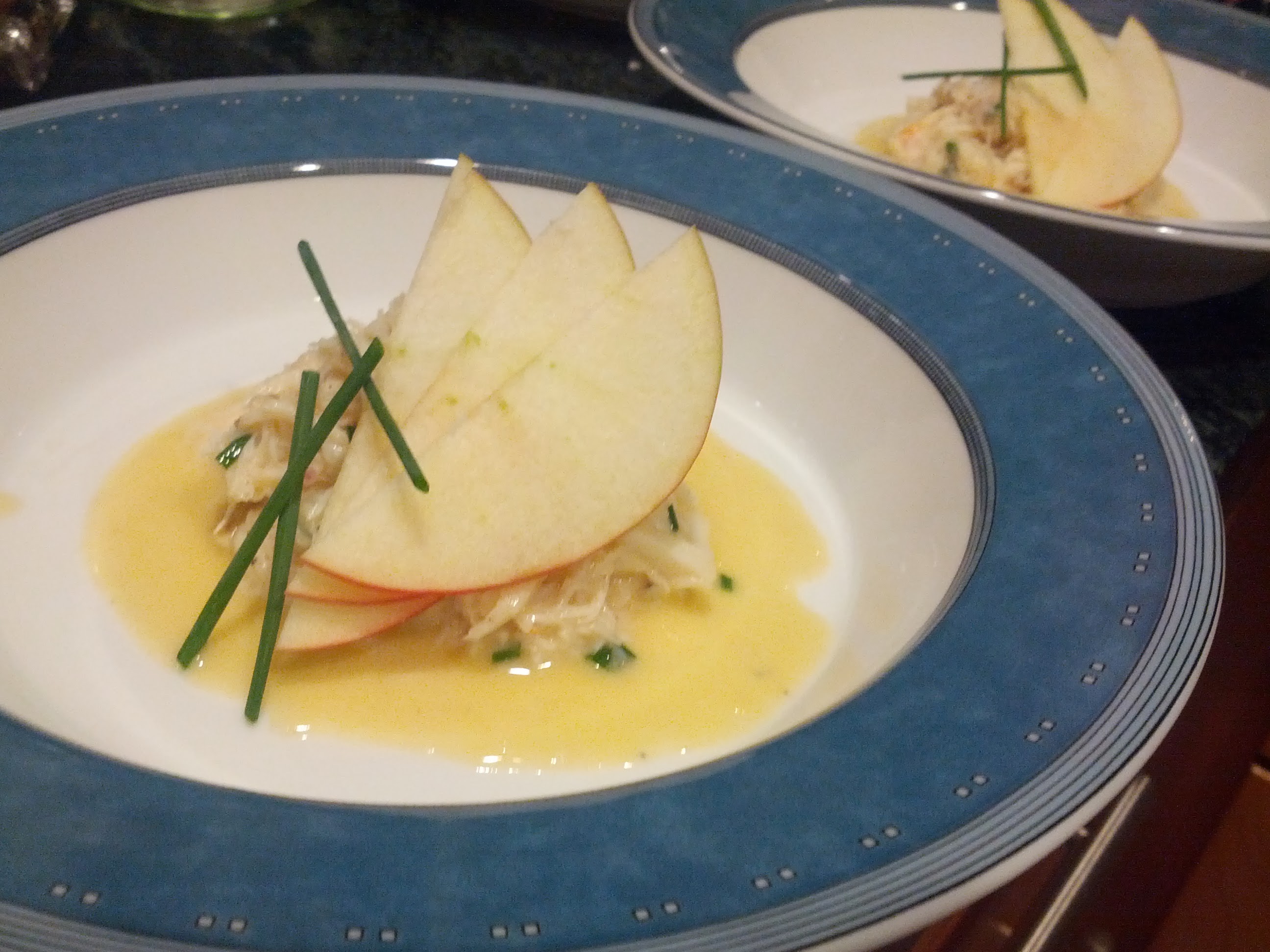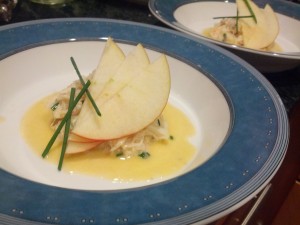 In 1999 we lived in an amazing 1890s Victorian on the West Side of Santa Cruz. It was 3 stories, full of histories, a ghost and lots of good food. It is where FoodPorn.com was born. We lived with another couple and their daughter (aged 3 when we moved in) and our friend rented the unfinished portion of the attic because the rental situation was just that dismal. It looked like a Dexter kill room, although, luckily, Dexter didn't exist yet. We needed to cover the exposed insulation so stapled clear plastic around the whole room. It was classy and cozy…oh, sorry, it was creepy and freezing.
Saturday night we all got back together for dinner at our place. The 3 year old is now a Senior in high school looking at Yale for next year. The attic dweller is living in his own place in Berkeley sans plastic. And our nine year old son has taken the place of the child at the table who enjoys the finer things in life, at least when it comes to food. I went all out for the meal, my husband (the house sommelier) did the same with the wine.
It's crab season. I didn't want to make my standard crab cakes. I wanted to elevate the crab. Of course I turned to Le Bernardin. On the Line
has a recipe for Warm Peekytoe-Maryland Lump "Crab Cakes" with Shaved Cauliflower and Dijon Mustard Emulsion. Well, I've got access to Monterey Bay Dungeness Crab in abundance so that would have to do…and boy did it do! Also, I'm not a fan of cauliflower and don't own a mandoline
. So, thinly, hand-sliced apples topped the crab instead. (Recipe below). It was unbelievably good. It was mostly butter so how bad could it have been really?
Next course was what has quickly become a house favorite: Vietnamazeballs!!! Conversations ceased and moaning began with the first bite of these. Mission accomplished. We had a really lovely sake with these that was a gift from a friend ages ago and we'd been saving it for a worthy occasion. This was worthy.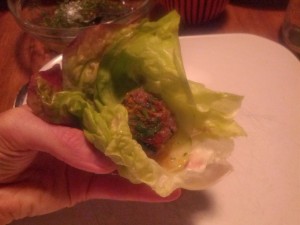 I got the duck recipe from Tetsuya: Recipes from Australia's Most Acclaimed Chef
: Grilled Duck Breast with Apple Ginger Dipping Sauce. I haven't had the pleasure of eating at Tetsuya in Sydney. My husband has. It sounds amazing. The duck was really pretty simple. I made the dipping sauce early in the day so that the flavors had time to meld together. It was soy, rice vinegar, mirin, grated apple, grated ginger, apple juice, grated onion, garlic and pepper.
I didn't get a picture of the duck at all. Not the prep, not the cooking, not the presentation. Oops. I'll have to do it again. It's the first time I've cooked duck since I got the advice from the chef at Abbot's Cellar to start the duck in a cold pan and bring it up to temp like you would bacon to get it crispy. It renders out more of the fat. It worked! No gaboingy fat layer. I pan-seared the duck that way, skin side down. Flipped it over when the skin was browning. Cooked it mostly the rest of the way meat-side down. Flipped them back over, basted the skin with a soy-mirin-brown sugar mix and put it under the broiler for one minute. Took it out, brushed it again and broiled for one more minute. Took the duck out and let it rest on the butcher block, under foil, for 6 minutes. Sliced and served. While resting I cooked up some whole green onions in the duck fat left in the pan. Droool.
We all ate every bite on every plate. We drank every drop from every bottle. I put our son to bed way late, he konked out instantly. Then we pulled out Cards Against Humanity and stayed up until 1:30am playing cards we were all embarrassed to admit we played, they were so incredibly rude and wrong and it was so much frickin' fun.
I am going to make the crab dish for Christmas. I'd make it every night if I wouldn't end up dying of congestive heart failure after the first week of consuming that much butter every day.
---
Warm Dungeness "Crab Cakes" with Apple and Dijon Mustard Emulsion (modified slightly from
On the Line
)
The Dijon Mustard Emulsion
1/4 cup crème fraîche
1 tablespoon Dijon mustard
Fine sea salt and freshly ground pepper
1-1/2 teaspoons thinly sliced chives
The Garnish
1/2 apple very thinly sliced into half-moons
6 chives, cut in half
Maldon sea salt
The "Crab Cakes"
2 tablespoons water
6 tablespoons unsalted butter, cut into 1/2-inch cubes
8 ounces dungeness crab
Sea salt and pepper
1 tablespoon chopped chives
Fresh lemon juice to taste
For the Dijon mustard emulsion, gently heat the crème fraîche in a small saucepan. Whisk in the Dijon mustard and season with salt and white pepper. Set aside.
For the "crab cakes," make a beurre monté by bringing the water to a boil and gradually whisking in the butter. Add 2 tablespoons of the Dijon mustard emulsion and the lump crabmeat. Gently heat for 2 minutes, then add the crabmeat, and cook for another 2 to 3 minutes. Season with salt and pepper. Add the chives and lemon juice. Reheat the mustard emulsion.
To serve, place the crab in the center of each of four small bowls. Stir the chives into the mustard. Garnish each "crab cake" with 4 apple slices, arranging them around and on top of the crab. Place 3 chive halves on top of each mound, and sprinkle with a little Maldon sea salt. Spoon the Dijon emulsion over and around the "crab cakes." Serve immediately.