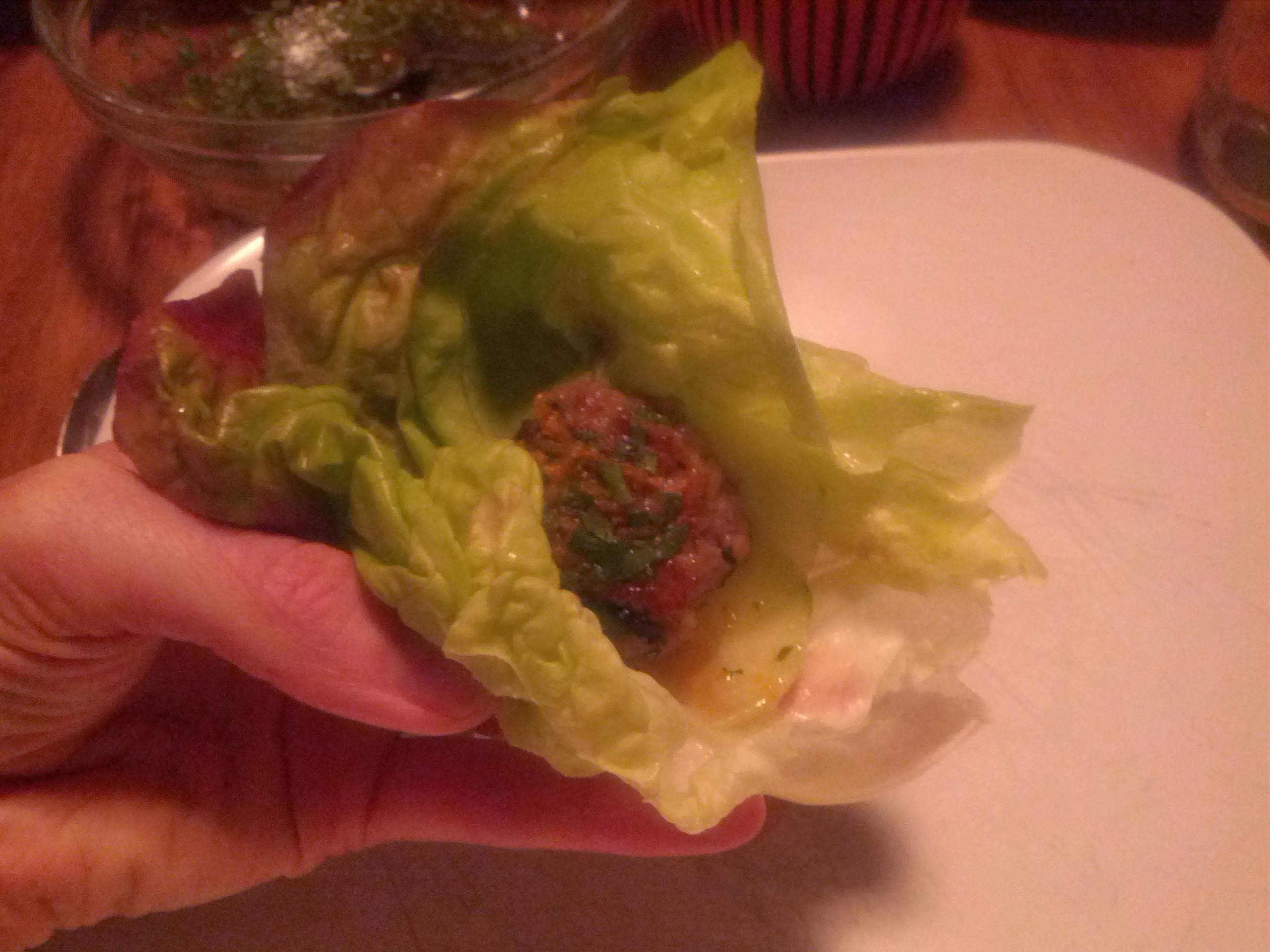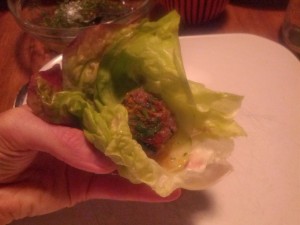 I got ground pork from my CSA. They have amazing pork. Fatty and delicious. I didn't want italian food which is what I usually put the pork in so I started searching around Epicurious for ideas. I found Pork and Lemongrass Meatballs in Lettuce Cups. I had all the ingredients aside from the lemongrass. I decided to go for it anyway. I figured it might be a little bland but with enough lime, it'll be fine. I of course modified the recipe based on what I had and my own tastes.
I put my son to work juicing limes, grating carrots and thinly slicing cucumber. I got out the fish sauce and the pork and got mixing.
The dipping sauce was just fish sauce, lime juice, carrot, cilantro, sugar and oil. I let it sit about 30 minutes merging all that flavor together. I'm just starting to toy with Vietnamese cooking. What I just figured out was that equal parts lime and fish sauce are the key. I tended to under-fish-sauce. It stinks. I couldn't get past the smell to use enough but it's ok to be heavy handed with it!
The meatballs were just pork, shallots, cilantro, fish sauce, garlic, sugar and pepper. I mushed all that together and loosely formed the meatballs (about 1 1/2 inch balls). I didn't want them packed together or they'd be hard.
I heated about a 1/4 inch of canola oil in a pan to, probably 350° and put the meatballs in, they browned pretty quickly in the hot oil then I turned the heat down to medium, turned the meatballs over and let them cook through, then turned the heat back up for a minute to brown the other side.
To eat, just take a lettuce leaf, add a meatball, a slice of cucumber or two, drizzle with the sauce and we drizzled ours with some chili oil. I left the recipe's chili out of the sauce so my son could still eat it.
My husband immediately started looking on FoodPorn for the recipe which of course wasn't here yet since I'd JUST made them…And then he named them VIETNAMAZEBALLS. The lemongrass wasn't missed AT ALL. These were perfect.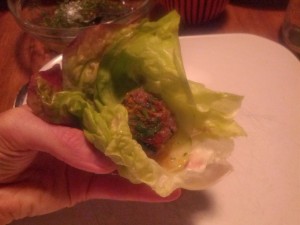 Meatballs:
1 lb ground pork
2T shallots
1/4 c cilantro
2T fish sauce
2 garlic cloves, minced
1T canola oil
1t sugar
pepper
Dipping sauce:
1/4 c lime juice
1/4 c fish sauce
2T chopped cilantro
2T grated carrot
4t brown sugar
2T canola oil