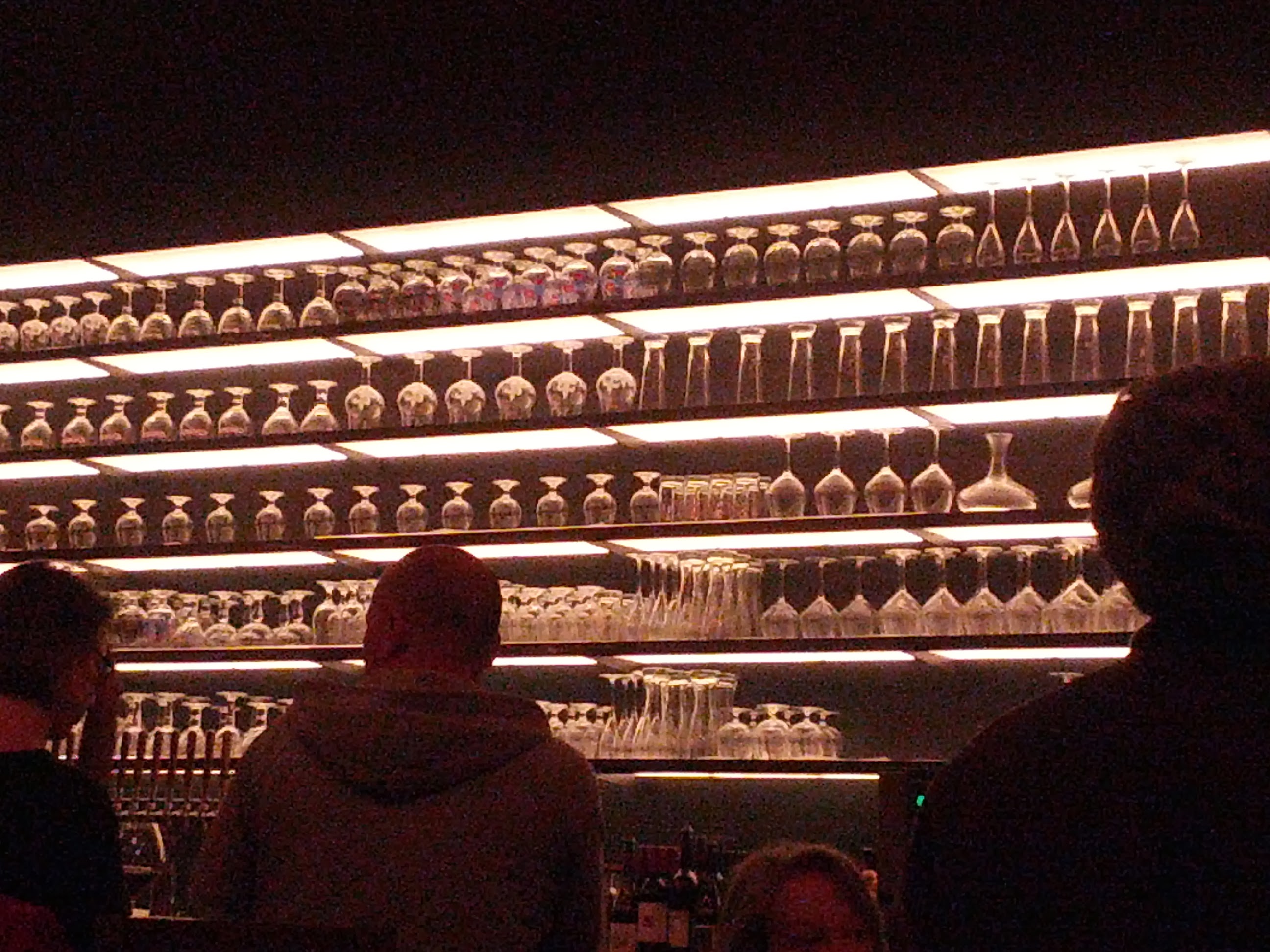 Abbot's Cellar
742 Valencia Street
San Francisco, CA 94110
We had tickets to see Zoe Keating at The Chapel on Valencia on Saturday night. I love Zoe. She's not only an amazing cellist, she's a beautiful person. Someday, when our calendars align, you can read of our food porn adventures, but those haven't yet happened.
Anyway, we needed dinner before her show so I Googled around the neighborhood. Directly across the street I found Abbot's Cellar. I was intrigued. Over 100 different beers on their list, they specialize in beer pairings. The reviews were positive so I booked a table.

The first thing I noticed was their altar to the earthquake gods. We have a much smaller version at our house. We hope the wall of glass appeases them for a long time. The next thing was the beer and wine list that slides into the table. What a cool feature. It's out of the way but always there to consult.
The menu was brief but everything, seriously, EVERYTHING on it looked good. We narrowed it down. We split the Little gem lettuce salad, pickled hericot vert, hazelnuts, blue cheese dressing…well, I got a vinaigrette, hubby had the blue cheese. It was nice but he said the dressing really made it.
Then I had what really could be a main course, not a starter: braised oxtails, oven dried early girl tomatoes, broccoli rabe and farro. It didn't seem like a ton of food but I swear the farro expanded in my stomach. With the help of the, quite delicious, Japanese beer (Genmai) that paired with it, I was getting full after the first course!
The problem with beer pairing is that beer is really a course in itself. It is filling. The first beer I got wasn't a tasting pour either, it was 500ml. Filling up and up and up.
My favorite course was yet to come and I was going to be too full to finish it: Duck and duck fat potatoes with a persimmon reduction. This was, I think, the best duck I've had. It was rare but the fat was rendered, it was flavorful, tender, just perfect. And I couldn't finish it. I stared at my last two strips for a good long while, waiting for room to open up in my stomach and it wasn't happening. Oh, there was another beer: Wee Heavy from Alesmith in San Diego. It was roasty-toasty-yummy. Have I mentioned beer is filling?
On the way out I actually stopped at the open kitchen and asked who made the duck so I could get pointers. I got on a duck kick last year and made it a lot but never got the rendering figured out. The fat stayed too gaboingy. Cold pan…that's the key…just like for crispy bacon. I will try it. I will master duck. The chef seemed pretty stoked that I was asking about and complimenting his duck :)
Next time we eat here I want to go with more people so we can share beers and have real tasting sizes. I've already told multiple people to eat here. I can't wait to go back!