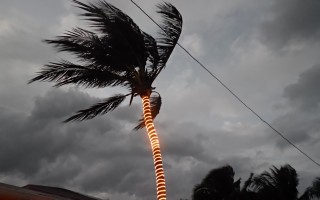 This year's weather has not been cooperative. It's been rainy, or windy, or rainy and windy. There have been some hours of sun here and there. The one saving grace is that it's not too hot! The trip to Stingray City was cancelled due to swells and choppy water. The Burgers in Paradise was moved from Rum Point (the destination of the catamaran after Stingray City) to the beach here at the Ritz. The irony of all this is when we left Santa Cruz it was 75, clear and sunny! You'd think that with all that, we wouldn't be having fun but that is far from true. The food is not affected by the weather, neither are the personalities.
We began our journey just like in years past: a wayyyy too long flight, then a wayyyy too long layover, then another flight. We got into our room, changed rooms due to wanting a king and not a queen bed. Finally unpacked and showered off the airplanes and airports and rewarded our travel woes with sushi at Taikun. Hotel restaurants are usually disappointing but not here. Taikun is fabulous sushi. This time we had all the appetizers. All. Keep 'em comin'. Wahoo, local tuna, wakame, conch, local lobster, tuna tataki (my favorite!). Then some nigiri: wahoo, local tuna, hamachi. Plate after plate and it was all so good. Sushi is my post-travel medicine. It's what I crave when I've put my body through anything taxing. The sake helps.
We came in a couple of days early this year and are staying a couple of days later. This was supposed to give us time to swim and snorkel before and after the event. That isn't happening but when the sun comes out we are jumping in the ocean while we can!
Thursday night while the chefs and many guests were at the opening night wine auction dinner, we went to dinner at Blue. Our nine year old, Ben, has been to many a fancy dinner but never done a degustation menu. He's had a plate or two of something while we've done a tasting but has never jumped in and said, "Sure, I'll eat whatever you put in front of me." This was a big moment for him, he trusts Eric Ripert more than me I think ;-) We ordered oysters to start (Ben had 8, we had 4 each) then Eric's tasting menu: Tuna and Foie, Crab Salad, Lobster, Halibut, Striped Bass, Dover Sole, Apple and White Chocolate. Seven courses plus the extras they kept bringing us. Ben ate it all aside from the halibut which he didn't care for and the sole which he had to excuse himself for since nature called. His dad and I ate those for him. He polished off the rest and THEN had 8 more oysters and two more pieces of bread. I am such a proud mom.
The event officially started for us on Friday with Jose Andres at 10am. He's so much fun. Plus burgers on the beach and Daniel Boulud's sand castle instruction. Stay tuned. Report to come.
Right now I have to get ready for brunch, the oysters and champagne are waiting for me.