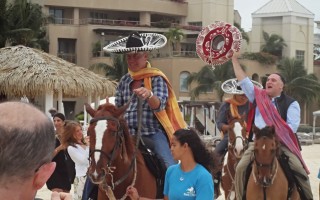 The much anticipated entry of Jose Andres to his Friday morning demo was not disappointing. Long known at the cookout as the Three Amigos, they arrived in character: Jose, Eric and Tony on horseback with sombreros. They are a hoot. They pulled it off quite well! Jose clambered down and started right into making Pisco Punch (excellent!), gazpacho (hubby said it was great, it had bell peppers), and Fideuà which was heavenly. There was all the drama of a typical Jose demo: lots of jokes, lots of info, this time a spilled drink, and unzipped fly….hilarious!!
We polished off our Fideuà and headed to lunch at Blue (by Eric Ripert). Eric gave us a little intro about the chef at Blue and then bolted off to more demos and press events and we had a nice lunch. The wine … well, it left a bit to be desired. The rose tasted like asparagus to me, I stuck with champagne through that one. The cab was fine but I'm not running out to buy a case (it was from Sonoma County). The food was good but the wahoo was overcooked for my taste…I really just love it raw! Still, it was a nice lunch.
Those were the only two events we signed up for on Friday. We really pared down this year. We spent the afternoon at the beach, had dinner at Periwinkle and hit the hay.
Saturday was supposed to be a catamaran sail to Stingray City followed by Burgers in Paradise at Rum Point. Well, it was windy and choppy so they moved the event to the beach at the Ritz. We were really bummed but the upside was that we got to sleep in! We strolled down to the beach, got some smoothies brought to our beach chairs for breakfast and waltzed over the burger area when they opened at 11am. First stop: Eric Ripert of course! He made a crab burger that I ended up having three of! It was perfect. I want to make it but I was too nerve-wracked about asking him the recipe to ever ask him the recipe! I discovered on this trip that if I don't talk to him about food (if I keep the conversation to his family, my family, travel, etc.) I can totally have a normal talk with him. The second the subject turns to food, I get completely intimidated and nervous and lose all social skills.
I found a lovely vodka drink that I had a few of, kept eating Eric's burger, tried a duck burger which was soooo crazy rich that I couldn't finish it, then the 4 brioche buns I just had caught up with me and I was stuffed. I went and collapsed in a beach chair while my kid and the chef's kids built sand animals with very strict instruction by Daniel Boulud. He is just as demanding of 9 and 10 year olds in the sand as he is of his chefs in the kitchen! My son came to me and said, "I don't want to help, there's some guy bossing us all around." That guy was a 3 Michelin star chef! LOL!
We left the sand creatures to listen to Eric and Tony shoot the breeze and razz each other again. Having seen them 4 times now, there's always some repeat but they are just fun to hear. There's always some new info from Tony's adventures around the world and some new jabs at Eric. Tony's least favorite place on the planet? St. Bart's. Horrible, cesspool, evil place full of dictators and $900 burgers. Stay far away!
We decided to try out Calypso Grill for dinner that night. I read last year that it was Eric's favorite place to eat on the island and when we tried to go last year, we didn't know they were closed on Mondays…d'oh! We ordered everything our taxi driver recommended and she was spot on: cracked conch, wahoo ceviche, sticky toffee pudding, tuna sashimi. All really awesome. The wine list wasn't huge but it was impressive, it had a big section of white burgundy! Dinner was definitely worth the trek off the reservation.
The Sunday brunch was fun as usual. I was disappointed to see that they'd replaced the unlimited oysters on the half shell with oyster shooters…shot of vodka with an oyster in it. I thought it was a mignonette, was that a shock! I haven't done shots in years and didn't mean to start at brunch. The competition was fun to watch and the commentary from the chefs is always entertaining.
My husband attended the gala dinner again. I did not. It's too much for me. My social anxiety disorder goes into overdrive. The highlights for him were Rick Bayless's appetizers, Daniel Humm's lobster and Daniel Boulud's lamb. He is actually still talking about the lamb. It blew him away. I was comfortably in my room with my book and Rick Bayless's twitter feed showing me each dish. That worked for me!
On Monday most of the crew left. First the Riperts, then the Andres, and most of the Cookout attendees. It quieted down at the hotel. The weather turned BEAUTIFUL. We went snorkeling on Monday, saw turtles, tarpon, fish, fish and more fish. I held an urchin and it held on back. It was a completely wonderful day, sunny, clear and still. We had dinner at Taikun again and started remembering why this was our third year there. The weather is supposed to be amazing and it hadn't been this year.
Tuesday was STUNNING. We woke up, went straight to the beach and got snorkel gear and swam straight out. The second we put our masks in the water we saw a stingray! I swam until my blood sugar dropped too much for me to stay out and grabbed a beach chair, ordered breakfast and enjoyed the view and sun. Then went back out and snorkeled some more, followed another stingray, got my leg zinged by a small jellyfish, floated in the little rafty thing the hotel has out there. Then came in and had lunch on the beach. Then went back out and snorkeled some more! Then came in and had a gin and tonic on the beach. THIS was my kind of day.
It did decide to rain on us a bit but there was no wind and it was warm. We ended up in the hot tub after our day at sea and who did we get to chat with? Daniel Humm. He's a really great guy and I MUST, MUST, MUST get to Eleven Madison Park!
Our last night there we had a farewell dinner at Blue. This time we didn't do the tasting menu, we did the a la carte. My son got the tuna and foie (again), raw conch and beef. I got tuna and foie, wahoo, seafood ravoili and dourade. My husband got the tuna and foie, crab and…um…another dish! We had an excellent bottle of wine and they gave our son grape juice pairings! It was so awesome. They were all served in their appropriate glassware: gewurztraminer, chardonnay and pinot noir. You couldn't ask for better service, the staff at Blue is amazing.
Alas our week had to come to an end. I think we're probably going to take a break from the cookout. It's a big planet, there is a lot of food out there, I want to try more of it!