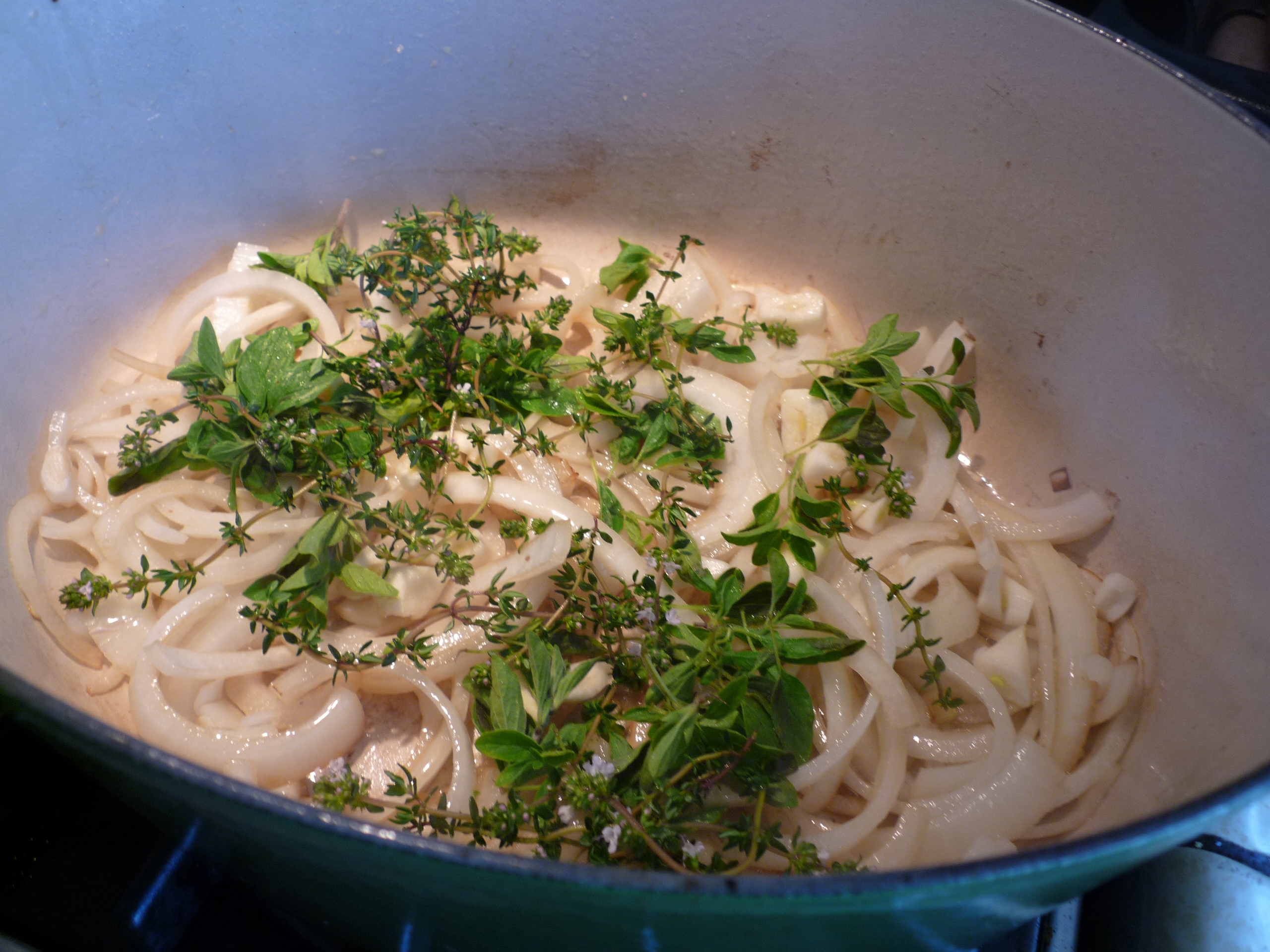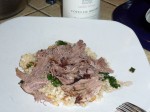 My CSA farm this year is Fogline Farm. We went there last year for an Outstanding in the Field dinner, had the honor of sitting with the farmers at dinner and decided we'd join their CSA next. I've been hopping from farm to farm each year, trying out all the variety in our county. One of the beautiful things about Fogline is they also raise Berkshire pigs. The CSA hasn't started up yet but they are at the farmers' market with beautiful cuts of pork. This week I picked up a nice 2lb-ish pork shoulder and tried cooking that for the first time. Man, did it work out. It was so amazingly good….and easy.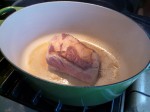 The only thing you need is time. This cooked for about 3 1/2 hours.
First, generously salt and brown the pork, on both sides over high heat, in a heavy bottomed pan that has a cover and can go in the oven.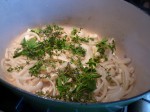 Remove the pork and add a sliced onion, a good amount of herbs…I, of course, used marjoram and thyme…6 roughly chopped cloves of garlic. Stir that around a bit but it doesn't need to soften or anything.
Put the pork back in atop the onion mixture.
Add 2 cups red wine (something good enough to drink, this will be your sauce too) and 2 cups chicken stock.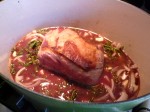 Cover and put in a 350° oven for 3 hours or more. I checked the meat at 2 1/2 hours, added a touch more wine and stock and turned the meat over. Then let it roast another hour.
After the pork is to a fall-apart tender stage, take it out of the pan and cover it with foil.
Carefully strain the liquid out of the pan into a saucepan. Bring to a boil and reduce it to almost half. Stir in fresh parsley.
I put this over israeli couscous…I wanted orzo but didn't have any…and I do think it's disturbing to serve pork over israeli couscous–so sorry. It's what I had!
Anyway, choose your grain or starch you prefer. Spoon some of the wine reduction over it. Shred the pork and put that on top.
Serve with either the wine you braised the pork in or another good, hearty, rustic wine.
---
2 – 2 1/2 lb pork shoulder
1 onion, sliced
6 cloves garlic, roughly chopped
handful of herbs
2 cups red wine
2 cups chicken stock
Preparation time: 10 minute(s)
Cooking time: 3 hour(s) 30 minute(s)