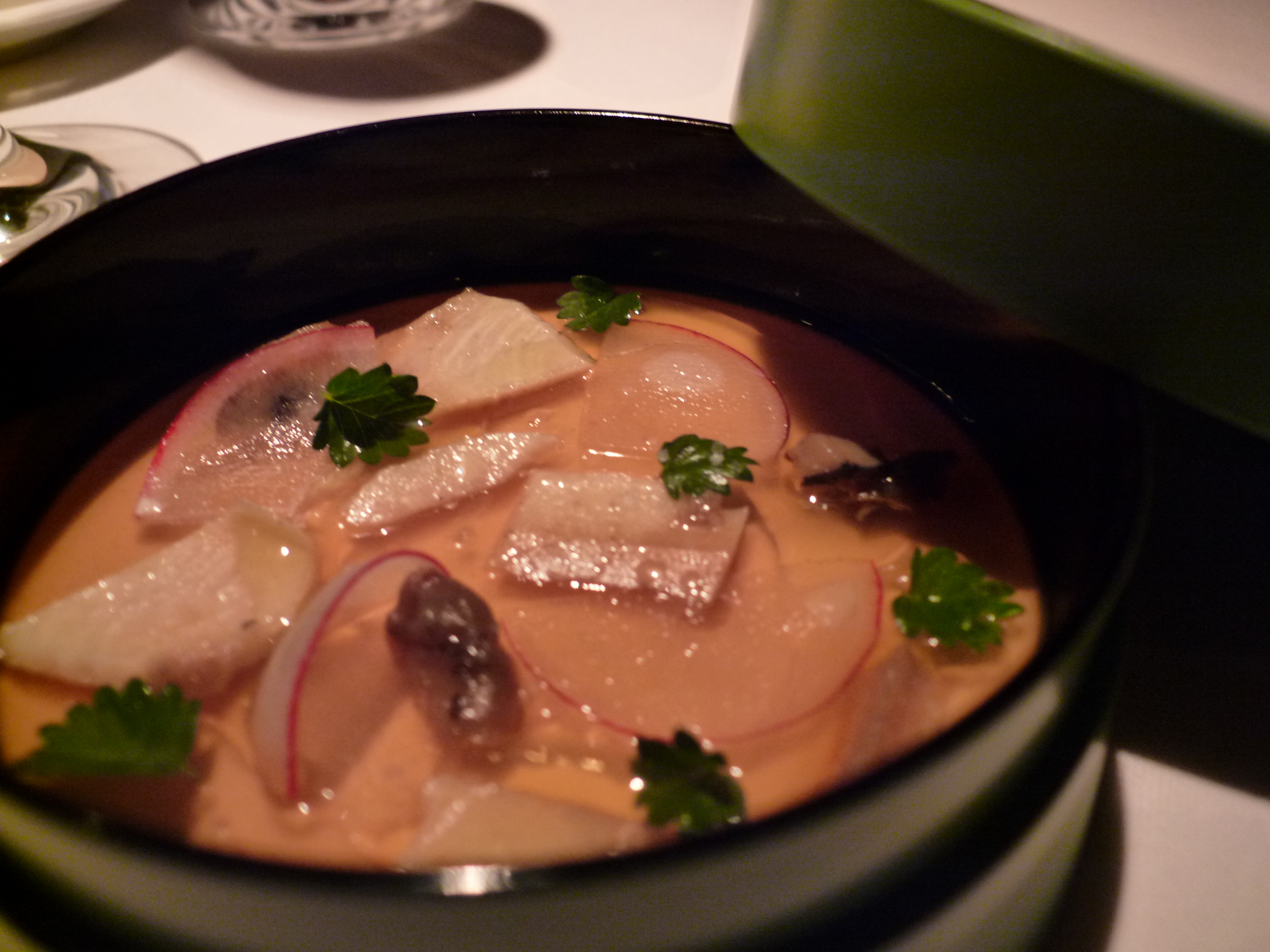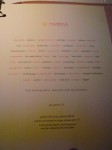 If…I mean when…you go to Manresa, because you should, you'll get two menus. One is a normal menu with dishes listed with ingredients. The other is an alphabetical list of ingredients for the "seasonal and spontaneous" chef's tasting menu. You won't know what will be together, in what dish, in what order, but you will know the general items that will be appearing on your plate over the course of the evening.
My husband's evening started with a roasted red bell pepper pate de fruit with an olive madeleine. That was not for me given that bell peppers and olives are two things I detest but they knew that…I gave them my card! :)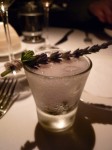 The first thing I got was a mint sorbet in a lavender gelato. It was pretty, it was flavorful but those two flavors for me are gum and soap. It was beautifully executed and I ate/drank the whole thing…all the while saying, "Hmm…gum and soap." This was not a miss in my book, just my weirdness.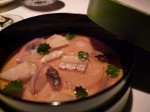 The highlight of the whole dinner, the dish that still has us talking about it, was the Abalone with local milk panna cotta, abalone gelee and radish. I am not a fan of the texture of a huge blob of panna cotta but this was a thin, amazing layer, with a thin amazing layer of gelee (another thing I'm not typically wowed by) and crunchy, thin radishes and delicious thin slices of abalone. It was beautiful, creamy, salty, I wanted to order it for dessert.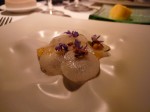 The black radishes with savory granola were served on this gorgeous, wavy plate that had me chasing the dish around these little grooves but I'm not ashamed to used my fingers to mop up the last of the luscious saucy goodness. The granola in this had us longing for it the next morning. I hate sweet granola but I'm thinking maybe I should try my hand at making some savory instead!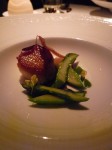 A few years ago, every time I would eat a scallop, all I could taste was a metallic flavor. Like chomping into a piece of tin foil. Logically, that got me to stop ordering or cooking scallops and they used to be a favorite of mine. The only scallops I've had that I've enjoyed since then were raw at fancy sushi bars. That is until Saturday night. This one had that buttery flavor and caramelly sear that I so remembered and didn't think I'd enjoy again. Along with the scallop were gorgeous pieces of asparagus (it must be Spring!!) and a scallop chip that I wanted a whole dish of.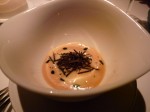 Another dish that completely surprised me that I truly enjoyed was the slow-poached egg with toasted brioche and sweet onion soup. Runny eggs aren't my thing but when added to a soup with the same or similar texture, the yolk just added a … not a depth of flavor, something else that means that!…to it…a richness…destination: another level. Now I understand why people like runny yolks! They're quite sumptuous.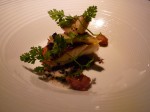 Black cod, aka Sablefish or Butterfish, is one of my favorite local delicacies. David layered every local "black" ingredient: Black cod, black truffle, black trumpet. Earthy and beautiful.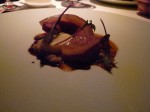 For the next course, the item on the menu was pork belly with blood sausage. I couldn't do it…I might be able to do a blind tasting of blood sausage but I haven't gotten to a point that I can knowingly dive into that yet…give me time, I'll get there. My husband had it and said it was great. Instead I had duck with farro and was not at all disappointed in my substitution! The flavors were amazing. I do however like more fat rendered out and a crispier skin on my duck. Still, I enjoyed the course.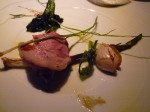 I've always liked the "What grows together, goes together" saying but that goes right out the window when you get Lamb with seaweed. Who knew?! Well, this surfer chef did. Maybe inspired by a beach barbecue? I don't know. But the combination of lamb, seaweed, roasted garlic and charred green onions was great.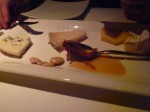 The cheese course came around which I obviously skipped but my husband picked out four and was struck dumb by the combination of Pim's marmalade and the roquefort cheese. He just kept pointing and saying, "That…..that…"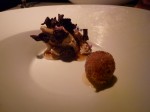 You may know that I am a huge fan of candy cap mushrooms. They're maple goodness makes for the best cookies and ice cream. What I did not know what that you could pair candy cap ice cream with sunchokes (which are in my opinion bitterly vile things) and have it be such a magical combination. The sunchoke chips were bitter, salty and crunchy. The ice cream was rich and creamy, the doughnut hole (sure it had a fancy name, but it was a doughnut hole) was sweet and yeasty. A bite with all three components hit every sensory part of the tongue. Each component made stronger by the presence of the others.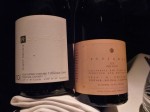 Our waitress, Amanda I believe, was fun and accomodating and would have been as formal as we wanted her to be but of course we don't go for that. The sommelier got the premier pairings spot on. He even helped me decipher a flavor I was getting in one of the wines that was driving me absolutely crazy because I couldn't pinpoint it. We finally decided it was chervil and I'm sticking with that so I don't go insane trying to figure it out. The general manager, Bobi, came and chatted with us for a while. We'll be taking the same class from Pim in a couple of months. He was an excellent host. And Pim tipped David off that we were coming so he graciously came out to our table and talked with us a bit. We got to rave about the abalone and prod him about going to the Cayman Cookout next year. I hope it happens! We need some Bay Area representation there.
We're looking at our calendars to plan our next dinner there. We need to hit another season, we did Spring last trip there too…oops! Summer next!