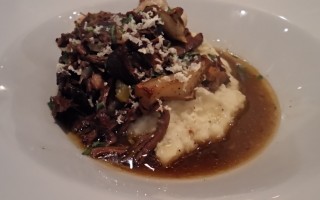 1108 Pacific Ave
Santa Cruz, CA 95060
(831) 824-6100
assembleforfood.com
As soon as it was announced that Assembly was taking reservations, I consulted our calendar and booked. I figured on a Wednesday night, it would be a nice break from the weekly grind, I'd take a night off from cooking dinner, and it would be a mellower night to eat there than a Saturday. Two out of three ain't bad. It was like a weekend in there. PACKED! I was really happy for their success although it did slow down our school-night meal. Nevertheless, the service was wonderful and the food fantastic.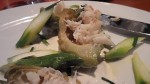 After hemming and hawing over the choices, I finally started with Steamed artichoke, asparagus and crab salad with crab aioli, chives and Belle olive oil. Belle is a local olive oil that you can pick up at the Santa Cruz Farmer's Market. The menu is all locally sourced and changes regularly. The crab was sweet and yummy, the artichoke perfectly cooked, the asparagus crisp, the salinity PERFECT…the whole dish tasted like spring.
My main didn't know spring had sprung, we were still in winter with a plate of Braised beef with roasted turnips, celery root puree, caramelized onion broth, parsley and fresh horseradish. It was so rich and wonderful and comforting. The celery root puree and onion broth really brought the whole dish together. I *almost* finished it. There were 2 bites left and I could barely breath from being so full.
[singlepic id=922 w= h= float=none]
Of course, sorbet doesn't really count as a dessert. It just melts into the empty spaces in your stomach. Plus, you can't pass on dessert at a restaurant run by the Penny Ice Creamery folks! So I got an order of three sorbets: Blood orange, bergamot, and kiwi. The bergamot wasn't the Earl Grey flavor but the bergamot fruit so it was citrus-y and fresh, not perfume-y.
I'm so happy we now have a restaurant that not only serves good food and good wine but can also be a night out or a fancy dinner as well as being family-friendly. It covers the gamut.
Assemble for Food….they nailed it.