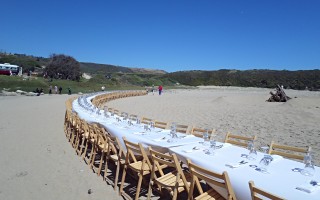 My favorite Outstanding in the Field to attend is the Secret Sea Cove dinner. It's a popular one. You have to be on it to get tickets and I was…right when they went on sale! The food is awesome of course, the people are really fun to chat and eat with but, for someone who doesn't care about ambience at a restaurant, I'm into it here! The pictures speak for themselves…
Lamb tartare in a cucumber…my favorite appetizer:

Beautiful squid salad:

The table looking down the beach…

The table looking up the beach…and nearly into the ocean!

The bus ready to travel around the country:

Plank-roasted salmon. The chef tried this Native American cooking technique for the first time here!

I look forward to this dinner every year and will hopefully get to go again next year. We are planning on attending the mysterious Big Sur Outstanding in the Field dinner this year too. I say mysterious because the location is still a secret!!