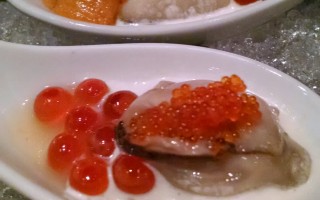 I usually write all the content on FoodPorn but my husband wrote up a post about Pabu and I'm just going to steal it. I couldn't say it better. (I edited it slightly to make it work on the site as opposed to Google+). I present the first guest-post of FoodPorn written by my hubby…
[singlepic id=1030 w= h= float=none]
Our first encounter with Ken Tominaga was at his hidden gem of a restaurant in Rhonert Park, Hana, which Chantrelle found quite by accident. I was up at Sears Point for a track day and she put the word "lunch" into a Google search, the result for which was Hana– which you would never find without being pointed to it, and if you did, its location and lack of curb appeal would probably prompt you to keep looking; inside, however, we found what has become our favorite sushi in the bay area, and despite it being a bit of a haul from Santa Cruz, have found many occasions to return.
Pabu is Ken-san's long awaited co-conspiracy with Michael Mina, and is everything we expected: Ken-san's authenticity and finesse in executing dishes with uncompromisingly good ingredients, matched with Michael Mina's practiced skill in packaging the whole experience to get attention and acclaim from the demanding SF upscale foodie demographic.
As is our habit when trying a new place for the first time, we both went with the omakase/pairings menu, though there was plenty of interesting/tempting stuff on the a la carte menu. The highlight for me was the shabu-shabu polished off with miso-sesame udon — great way to cap off a meal of great sushi, leaving only enough room for a light dessert like sorbet and fruit, which is exactly what they served. Fish-wise, the highlights for me were the best chu-toro I've had, and a couple other slices that were exceptionally good including golden eye snapper and amber jack.
[singlepic id=1023 w= h= float=none]
It was a really well executed meal from start to finish, and if there was a low-light at all, it would probably be the cloud of perfume wafting from the neighboring table that prompted me to keep my nose in my sake glass for much of the evening. Restaurants shouldn't care about jackets and ties, but they should stop the stinkbombs at the door and give them tables outside, or private rooms, or tables under HVAC inlets, or something.
[singlepic id=1022 w= h= float=none]
All told, Pabu checks out, and lives up to the high expectations we had; we look forward to going back and seeing what our son thinks of the omakase menu. For Hana fans and/or folks who don't want to pay the premium for the SF venue and all its pomp, Hana is still in full effect; you just need to find a reason to get to the north bay (as if good sushi isn't reason enough).