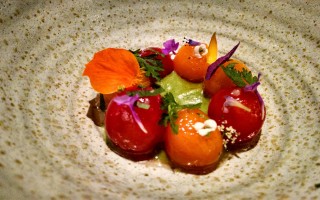 We had our 15th wedding anniversary this year. Our 20th first date anniversary is on the same day….awwwwww! On our actually anniversary we were in Montana not-camping with our son (we got thunderstormed out of our camping adventure). But I had already planned a weekend in San Francisco to celebrate our milestone anniversary. The special dinner? Coi.
I'm going to say up front, with no hesitation, that the quality of the dishes coming out of Daniel Patterson's kitchen is on par with the French Laundry. The attention to detail is amazing. Case in point: the *hand-peeled*, not-blanched first, raw cherry tomatoes. I actually like tomato skin. But what happens when you take that skin away is that you get all the flavor, all at once. There's no delay in the delivery of the awesome. Yes, summer tomatoes are one of my favorite foods on the planet. I truly appreciated the time it took for 4 poor kitchen grunts to peel somewhere upward of 700 of those suckers for service.
Cherry Tomatoes (puree of grilled zucchini and wheatgrass, herbs and flowers

The highlights of the evening for me besides the tomatoes, were the lamb, the chanterelle-potato dumpling (it looked like dessert, tasted like a fancy forest), and did I mention the lamb…GOOD LORD, the lamb was so good! The chilled eggplant soup was like nothing I've had. It didn't taste like eggplant, I ate and enjoyed the green bean (not my favorite veg) and the spice was unique and unusual. Oh, and the salmon. Perfect. The last flavor that we were left with was amazing too: Frozen Dark Chocolate-Yuzu Marshmallow. OK, it was all good!! You'll notice that the pictures taper off. Yes…wine. I'm not a professional journalist, I'm a diner and we were celebrating. We had some absolutely lovely French wine. I didn't write it down. My husband remembers. Whatever it was, as you can see from the kitchen photo at the end of this post, it was great and we had a good amount of it ;-)
Every dish was beautiful, the flavors were spot on, the salinity was perfect. The only dish I wouldn't rush back to get again was just due to my taste, not the execution, and that was a caviar-smoked egg yolk starter. It was lovely but I'm just not a runny-yolk fan and that was the heart of the dish. Still, if the only way I would get let back in was to eat that dish again, I wouldn't hesitate!
The last thing that made me appreciate Coi was a conversation with the manager as we were leaving. As I said, we'd had plenty of wine, so I don't recall exactly how this came up but he told us if we ever wanted to bring our son (who is 10) to eat there, just to contact him ahead of time and they'd make sure they set up a menu that would work for him. I was amazed by that. I've never had a high-end, fancy-pants restaurant offer something like that before. I don't see taking Ben to The French Laundry any time soon but I think he would enjoy and appreciate Coi. I sure do.
California Bowl (fancy guacamole and rice chips)

Sno-cone (plum ice, black lime)

Seared Spot Prawn (watermelon, cucumber, opal basil)

Chilled, Spiced Eggplant Soup (pole beans, charred okra, fermented chile, flowering cilantro)

Wild King Salmon (crayfish bordelaise, tarragon, fennel pollen)

Steamed Chanterelle-Potato Dumpling (brown butter, lovage)

Emigh Ranch Lamb (chard leaves and stems, garum, rosemary)

Not pictured: California Sturgeon Caviar (smoked egg yolk, creme fraiche, chives), Ha'Ogen Melon (olive oil, holy basil), Peach Tart (caramelized honey, yogurt, candied ginger), Frozen Dark Chocolate-Yuzu Marshmallow