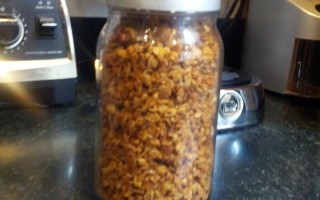 My husband and son both agree that Blue Bottle's granola is the best anywhere. I don't like granola, I'll have to believe them. It's become my challenge to make granola that is as good though. It's always interesting to try to master a recipe for something I don't like. I rely on feedback from my husband and son to tell me more salt, more cinnamon, etc.
The last batch they said is still not as cinnamon-y as Blue Bottles but they also said not to change it…it's good:
5 c oats
1/3 c. dark brown sugar
1 c. chopped nuts (pecans and/or walnuts)
2 t. salt
1 t. cinnamon
1/3 c. canola oil
2/3 c. honey
1 t. vanilla
Preheat oven to 300°
Combine the dry ingredients in a large bowl. Warm the oil and honey on low heat until the honey liquifies. Stir in the vanilla. Add this mixture to the dry ingredients. Mix well.
Put granola mixture on a cookie sheet (or 2) and bake for 40 minutes, making sure that you stir and rotate the pan every 10 minutes or the edges will burn.
Cool completely and store in an airtight container.