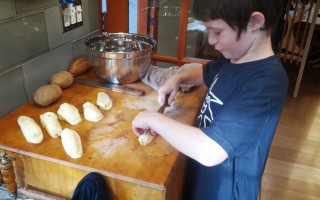 My 9-year-old son had a week after school was out that he didn't have any sort of camp. It was the week immediately following school so we didn't want to have to set an alarm or be anywhere specific any at any specific time. It should be a relaxing week. Still, the kid needs something to do. So I decided and he agreed that I'd teach him to cook. It would be a mom-son chef camp.
We had a blast! And I think I gained ten pounds.
The cool thing was to see his skills improve over the week. At the beginning I'd have to hover to make sure he was using the knife safely. By today, I could say grab the knife and whatever ingredient and chop it. He's still, understandably, wary of hot pans and the oven, but he's got the prep work down!
Here's what our week's menu ended up being:
MONDAY
Breakfast: Crepes with blueberries and pomegranate jelly
Lunch: Skipped after the late breakfast
Dinner: Slow Roasted Pork Shoulder
Homemade Egg Noodles
Modified Caesar with Escarole
Molten chocolate Cake with Mint Chip Ice Cream
TUESDAY
Breakfast: Waffles with Fresh Berries and Whipped Cream
Lunch: Pork Tenderloin Tartine with Salad of Apple, Cucumber and Lemon, Chives and Garlic Aioli
Dinner: Burgers on Brioche Buns
Oven Baked Fries (less dangerous than frying!)
Bouchon Chocolate Chunk Cookies
WEDNESDAY
Breakfast: Frittata with Kale
Lunch: Personal Pizzas (Son's with olives, capers and pepperoni. Mine with red onion and basil)
Dinner: Pho
THURSDAY – Day off
FRIDAY
Breakfast: Crepes (again, they were a favorite)
Lunch: Popovers (I know, not much of a lunch but we kept eating crepes)