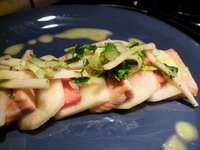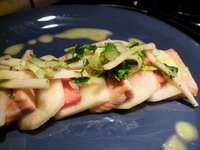 I went to the store to get the ingredients for this great salmon recipe in my On the Line
, Inside the World of Le Bernardin cookbook and, oddly, my fish monger had no salmon! So this went from a Le Bernadin recipe to a Le Bernadin-inspired recipe. This was night two of my exploration of the new cookbook (this is night one).
It is alternating layers of trout, apples, and smoked salmon. It's topped with a salad of julienned apples, celery, celery leaf, parsley, and lemon zest tossed with lemon juice and olive oil. The whole thing is drizzled with a serrano pepper emulsion.
I'd like to try it again with the proper ingredients, but this was amazingly good.