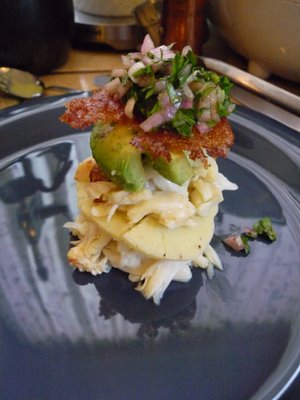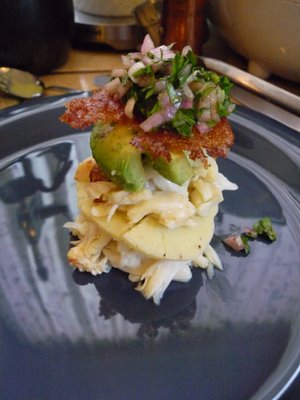 Surprisingly, this large, layered tower remained upright long enough to take a picture and carry it to the table before it slowly got leany and eventually toppled. It's a recipe loosely based on one from On the Line, Inside the World of Le Bernadin. I felt that I wouldn't like certain aspects of the recipe (I'm sure I'd love it if Eric Ripert prepared it for me!). I, however, didn't want to mix mayonnaise into my fresh, local crab.
So what the tower consists of is:
– One layer fresh crabmeat
– One layer sliced avocado
– A drizzle of jalapeno emulsion
– One thinly pressed, chilled, cut out piece of mashed potato ( mixed with lime juice, jalapeno emulsion, olive oil, salt, and pepper)
– One more layer fresh crabmeat
– One more layer sliced avocado
– Another drizzle of jalapeno emulsion
– Atop all that I took some of the mashed potato and put it into a frying pan with some olive oil. I thought I would get some sort of potato chip like thing but that's not exactly what happened. The potatoes dissolved into the oil but I just left them there until they were brown and got a very thin chip-like topping.
At the very top was an onion relish that was pretty close to what was in the book:
2 tablespoons red onion
2 tablespoons red wine vinegar
–let that sit in the fridge for two hours
I drained off the vinegar and added:
A teaspoon or two jalapeno emulsion
A minced shallot
The juice of two limes
A drizzle olive oil
Salt and pepper
Voila! A crab potato tower!!