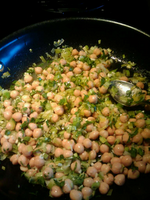 I was putting pictures of this dish on Twitter, but decided it was so good I needed to put a detailed recipe up.
Take one can garbanzo beans, rinse, and stir in two or three tablespoons lemon juice, a minced garlic clove, and some good olive oil. Set that aside and let it marinate for as long as you have time for.
Put 1 1/2 cups quinoa, 2 cups water, and some salt in a pot. Bring to a boil, reduce heat, and let it simmer for about 20 minutes until the quinoa is tender.
Finely chop one medium leek and sauté it in a tablespoon of butter.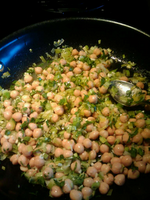 Once the leeks soften a bit add about 1/4 cup of stock. I used chicken, but vegetable stock would work just as well and keep this dish vegetarian. Simmer the leeks in the
stock until the stock is just about gone. Turn off the heat and add the garbanzo bean mixture, to chopped green onions, handful of chopped parsley, salt and pepper.
Stir in the cooked quinoa and season to taste.
I had two servings of the quinoa. I think it turned out great! It could've been its own meal, but I picked up sand dabs at the farmers market so I fried those up in butter and served those alongside the quinoa.