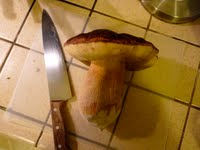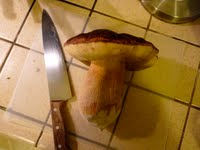 I went to a friend's house yesterday and we went for a walk. Found this beautiful, HUGE, bolete and one other she kept…She was gracious enough to let me take this one home. Just so you know, that knife is my 10″ chef's knife…that is a huge mushroom!

It was pristine. Not a bug in site. Gorgeous.

We savoured it, it may be the last we get of the season!
We grilled the stalk and sauteed the cap with some garlic and tossed it with farmer's market fresh pasta.
Pork bacon?…pshaw…Turkey bacon? No way! FUNGUS bacon is the way to go!! (grilled until almost crispy…drroooolll)