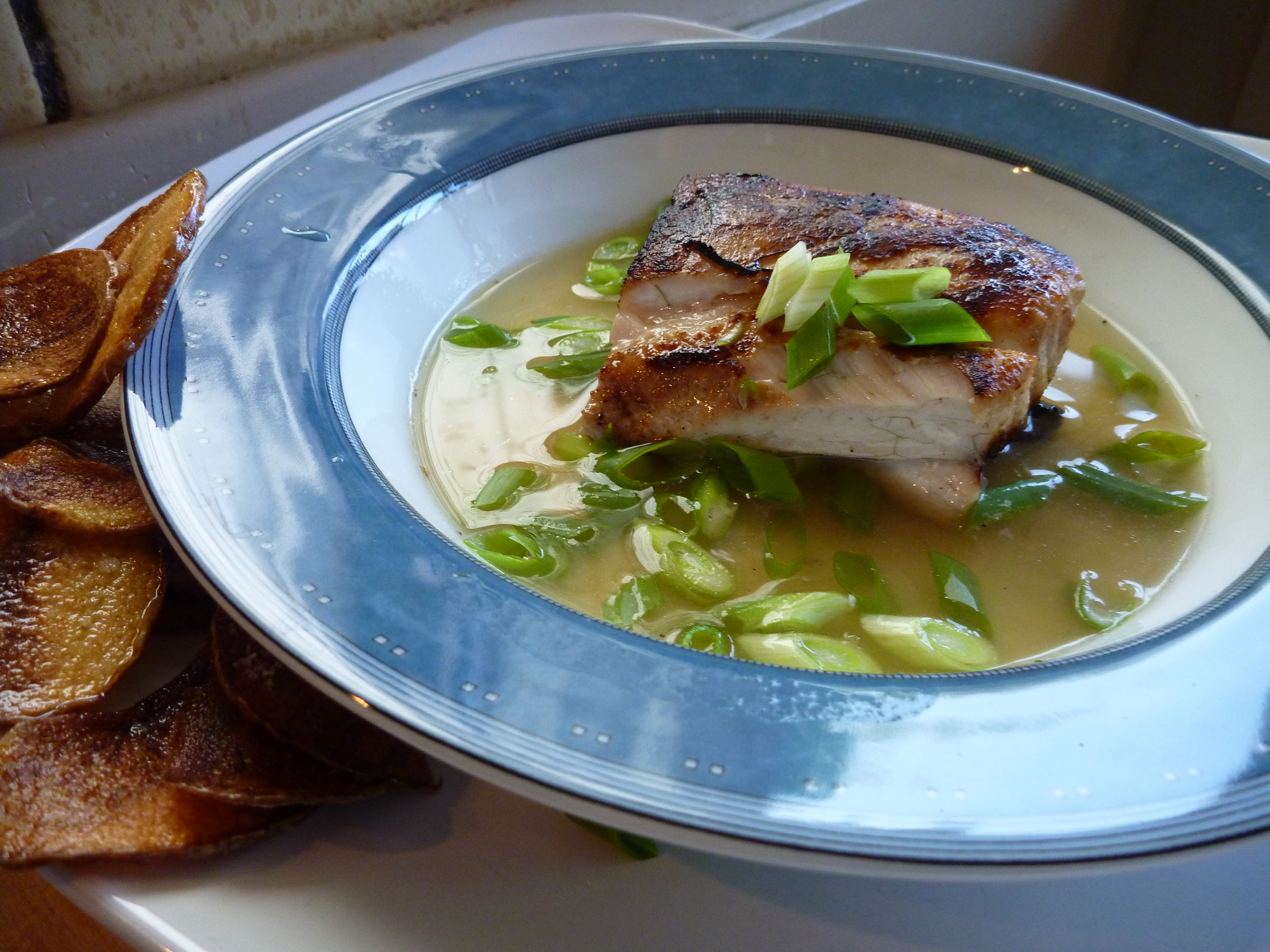 I picked up my fish from my Seafood CSA (CSS – Community Supported Seafood) yesterday. It's fun to have no idea what I'm going to cook until after 1:30 when i pick up my fish! Surprise! I came home and pondered for a while. Stared into my fridge….I had a fennel bulb and a chunk of garlic. I almost always have chicken broth since another CSA I'm in gives me 2 dozen eggs and 2 chickens every 2 weeks. The recipe started coming together in my head.
This serves 2 people and could easily be scaled up.
I put a quart of chicken stock on low heat and simmered it with about 2 inches of ginger root, sliced and one fennel bulb, sliced. That simmered about an hour. Reducing by about 1/4th.
Meanwhile, I took the 2 yellow potatoes I had and sliced them as thinly as I could. I don't have a mandoline. Well, that's not true, I have one and haven't the foggiest idea how to set it up or use it. So I use my wicked sharp knife instead! I put the slices into a bowl of ice water where they remained until I was ready to fry them up.
I whisked together:
1/4 cup white miso
2 T seasoned rice vinegar
2 t soy sauce
a dash of cayenne
I brushed that over the sea bass fillets. This is not chilean sea bass. It's locally caught white sea bass. It's more of a cod texture…actually, it may be a type of cod?? Not sure! Sustainable, green-listed fish :)
Cut the fillet into 1/3-1/2 pound pieces. Brush the miso paste onto the top and bottom of the fillet. Set these aside for a few minutes.
Fill a semi-high-sided pan with about 1″ or so of grapeseed oil (or other high-heat oil). I love the shade of green that the grapeseed oil has. It just looks cool. Bring the temperature of the oil up to 350°. I've had this candy thermometer for years and I don't think I've ever used it. Glad I had it though! While waiting for the oil to heat over medium-high heat, remove the potato slices from the ice water and dry them thoroughly with paper towels. You don't want them wet or you'll get splattered with hot oil! Carefully drop the slices into the hot oil a batch at a time. I put about 10-15 slices in at a time and it didn't drop the temperature of the oil dramatically. Let them dance around in the oil until they are brown. Remove carefully and place on paper towels to drain the oil, I also dabbed the tops with papertowels, then sprinkle with a nice finishing salt. I used Shinkai Deep Sea Salt and it was perfect.
Things got a bit hectic when I was trying to do crisps and fish at the same time. Put the sea bass into a quite-hot pan with a little olive oil. I wanted a nice crust on the outside of the fish and a pretty raw center. This fish was caught the day before, it was beautifully fresh. Sear for 1-2 minutes on each side.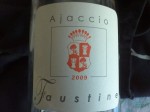 Place the fish in a shallow bowl. Strain the simmering broth into the bowl. Sprinkle with chopped scallions. Serve the crisps on the side.
We drank, oddly, a pink wine with this. I hate pink wine typically but this one was light and citrusy and paired rather well.