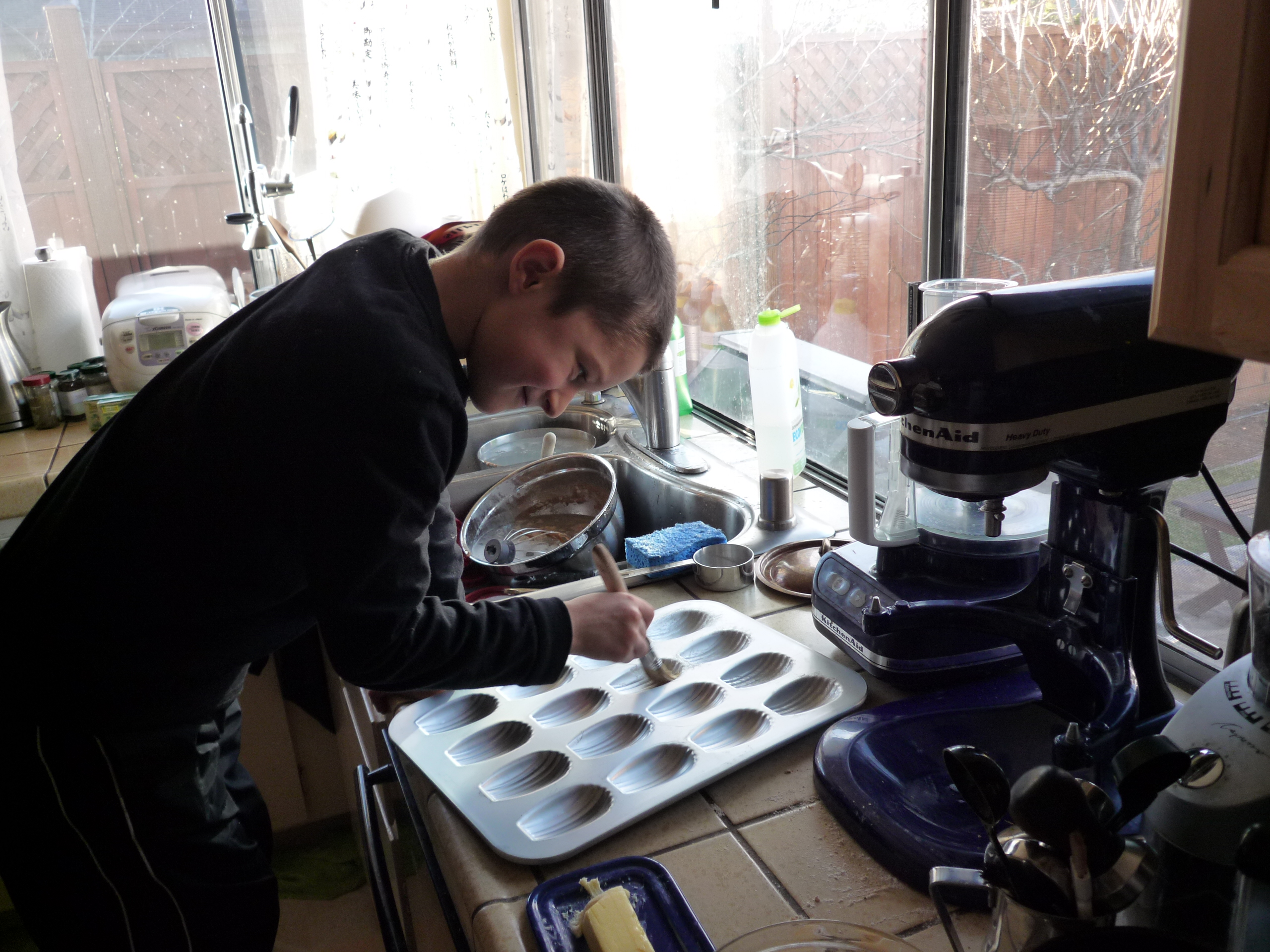 Anyone who knows me or has visited this site…ever…knows my answer to that question. I don't bake. I hated chemistry. I don't measure. I don't plan things in advance enough to let it rise or refrigerate it overnight. I love to cook. I do it by taste and smell and instinct. My husband brews beer and mead and roasts his own coffee. We have the whole meal covered except the sugar and bread. That's where our 7 year old comes in. I am determined to make him our pastry chef and baker and he likes the idea as well (luckily!).
He isn't yet at the point that he can sit through a baking class though so I decided to go to one myself and bring home what I learned to him. I didn't just sign up for any class, I signed up for Pim Techamuanvivit's "Edible Gifts" workshop. It was part of Love Apple Farm's amazing classes. We'd twittered back and forth with each other before, both live in Santa Cruz, but we'd never met. I was excited.
I arrived along with about 20 others, all of whom were taking notes and anxiously awaiting trying these recipes. I watched and thought, my kid should love this. I didn't take notes on everything. I was happy with Pim's recipes and was thrilled that she does everything by weight instead of volume! This turns out to have made the biggest difference in the baking experience in our house.

We watched Pim make a plethora of impressive yet simple treats: Salted honey caramels, alfajores, honey madeleines, pain d'epices, honeycomb and chocolate truffles with armagnac prunes. Each confection was made with precision and expertise in a way that anyone, including me could still make it. Everyone was itching to try all the sweet treats and it only took Pim asking once for people to rush up to cut, wrap, assemble and taste the goodies.
I brought the recipes home (including the super-secret pain d'epices) and got my son to work on our Christmas goodie bags! He had a blast. All I had to do was get the ingredients and bowls out for him and he could measure and mix. I helped with the more dangerous tasks like stirring and pouring boiling sugar, but for the most part this was his project.
We ended up with a beautiful assortment of gifts: Honeycomb that we dipped in dark chocolate, pain d'epices, salted honey caramels and chocolate-dipped madeleines. Plus we added extras from our kitchen: dried sage, chili flakes, pomegranate mead, applesauce and home-roasted coffee beans. I also used Pim's idea of rubber-stamping labels. It looked so darn cute! I want to stamp everything now!
For Christmas I got my son some books that Pim recommended: The Fearless Baker and Ready for Dessert (which he recently made a Chocolate Pavé from and it was divine!). Plus I picked up the Tartine Bread book. All of the Tartine recipes use a natural leaven. He will need to nurse a starter culture daily…it's like a Tamagotchi but real…and yeasty.