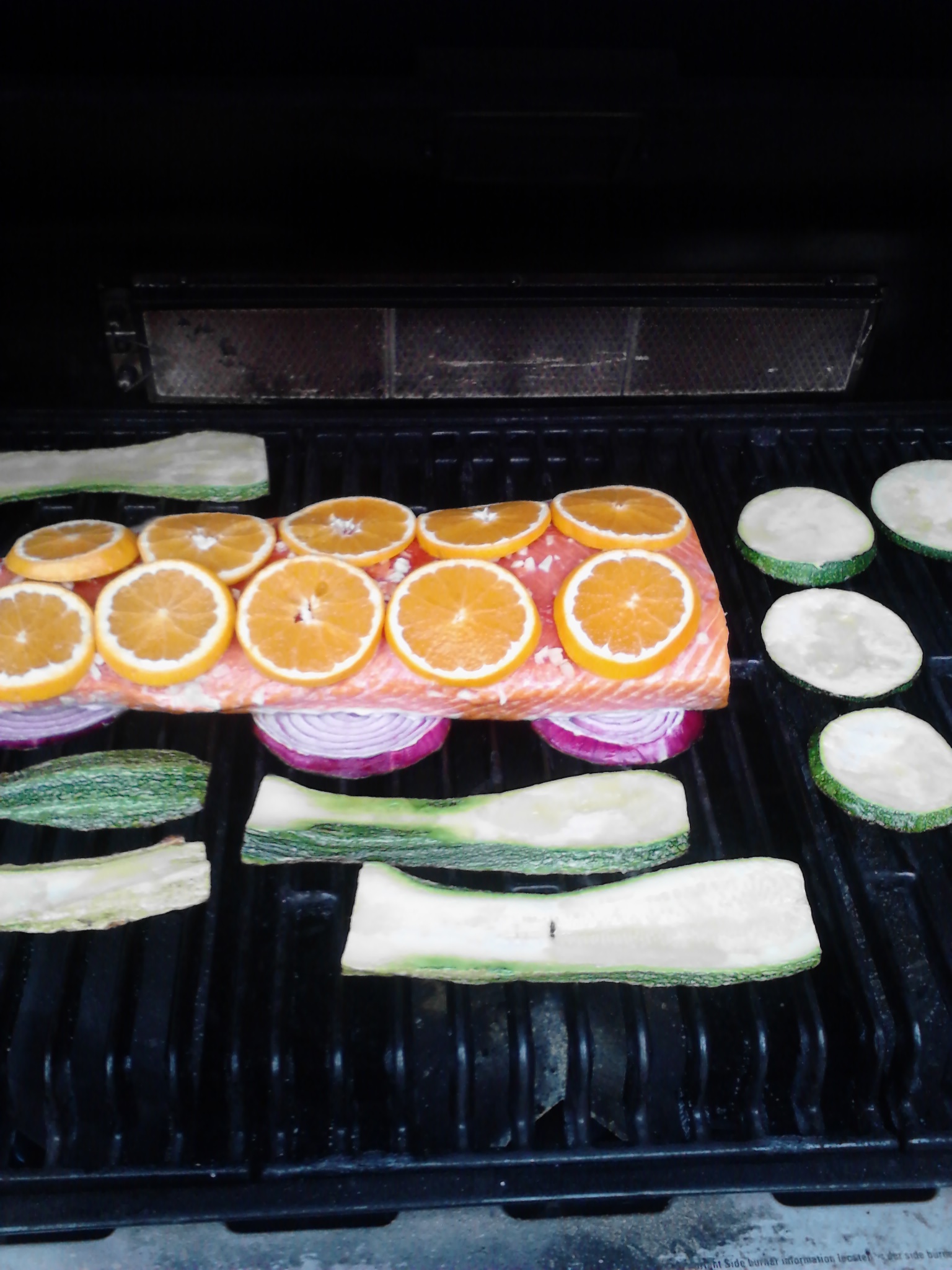 I came home one afternoon to a 15 pound whole salmon in my fridge. It wasn't entirely a surprise or anything. A friend's dad is a commercial fisherman and he said he'd get me a fish. I don't think I fully comprehended how big this fish would be but it was amazing. I'd never butchered a fish that huge before. It was gutted of course but I cleared off my whole butcher block and started slicing away. It's hard to tell the scale of the fish in this picture. This is a huge industrial-sized sink:
I broke the fish down into a few parts. I put the head and tail into the freezer to make fish stock later when I have a real stove again. I took one gorgeous fillet and grilled it for us and some friends:
I took another gorgeous fillet and made gravlax. I took 2 cups salt, 2 cups sugar and a drizzle of vodka and homemade limoncello. Packed all that together, weighted it down and left it in the fridge for 4 days. I flipped the fillets after 2 days (and drained the liquid).
I haven't made gravlax in years but I'm pretty sure these are the best ones I've ever made. The fish was just so amazingly fatty!
It's not salmon every night around here though. We were heading to a potluck at our neighbors so I threw together a simple salad from my CSA box: Assorted lettuces, kohlrabi, cucumber:

Another night I made green curry ceviche but modified it for what I had in my fridge. I substituted basil for cilantro and left out the lemongrass and avocado. It was still so good!

And since most of our meals are made on the grill these days, it was time for burgers. I don't grind my burger meat, I pulse it in the food processor about 15 times. It makes for a much more pleasant, less mealy texture. And serving the burgers on brioche buns can't hurt!
I have been using my cast iron skillet on the grill all the time now since it's the perfect substitute for a cast iron pan on the stove. I grilled the onions and bacon on that and the burgers on the main grill part.
The adventures continue! I've only used my microwave once (for leftovers) and I've been without a kitchen for a month! Things are going well!