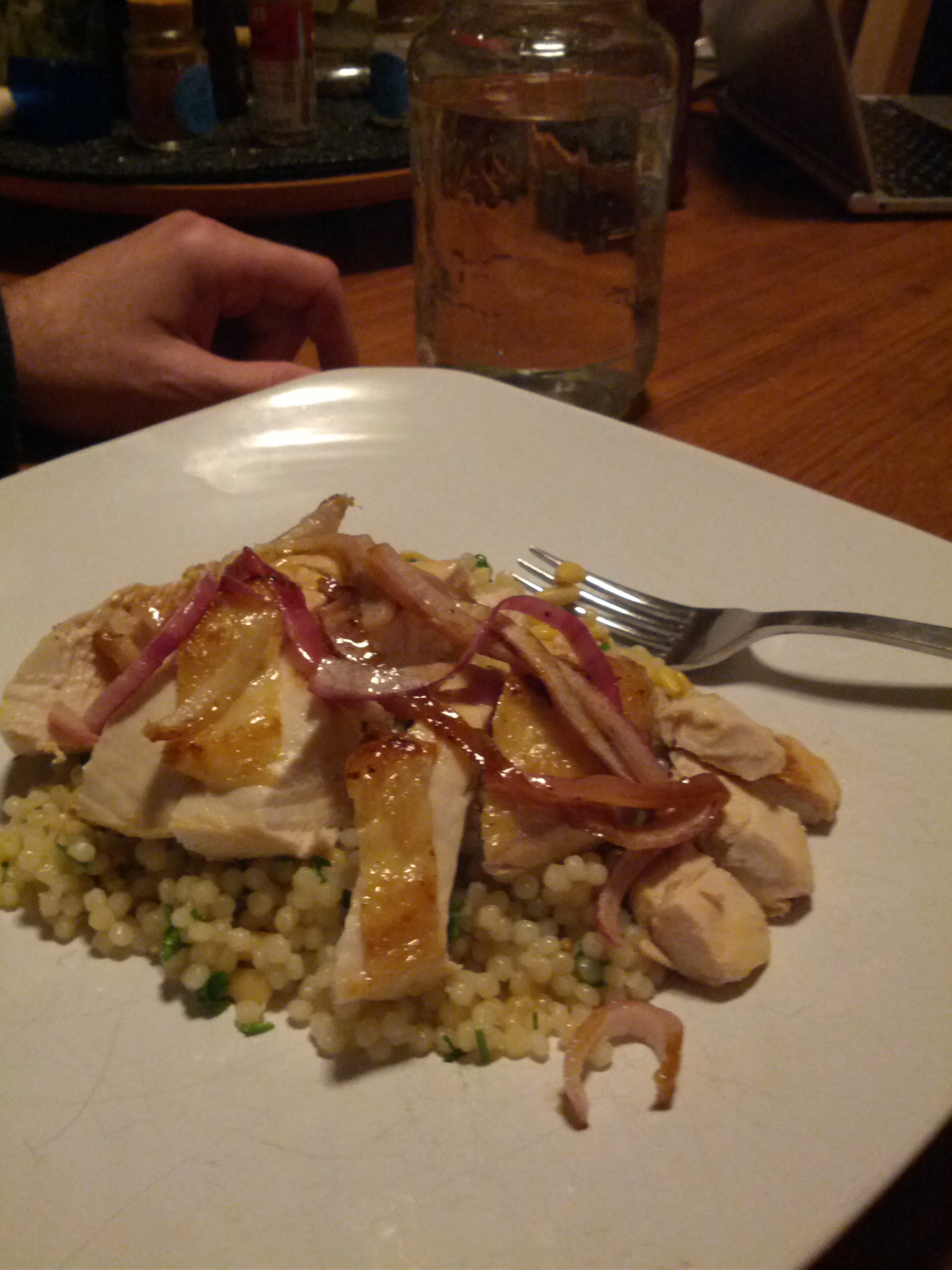 We had a bit of a hectic schedule. It was the first day back to school for my son after the winter break. I was back to work at his school as well after not working for 3 ½ months since my husband's motorcycle accident and I stayed home as a 24-7 nurse. I raced home from the day at school, prepped the chicken, tossed it in the marinade then put it in the fridge so we could head out to my son's drum lessons.
We ran back into the house at 5:30 and I got started. I was planning on barbecuing but it was cold out and I didn't want to spend time outside! So I grabbed my cast iron skillet and turned on the oven.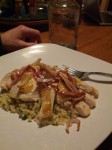 Chicken:
1 whole chicken, cut into pieces
2 cups white wine
1 red onion, sliced
1 T whole grain mustard
1 lemon, sliced
Couscous:
2 cups israeli couscous
2 cups chicken stock
parsley
½ cup pine nuts
Put all the ingredients into a ziploc and marinate for at least one hour.
Preheat oven to 400?.
Remove from marinade (reserve it for later in the recipe), salt, and sear skin side down in a hot (preferably cast iron) pan until skin is brown and crispy. Turn the chicken over. Top with the red onions from the marinade. Put in the oven for about 10 minutes or until the chicken is cooked through.
Meanwhile, put 2 cups of israeli couscous in a pot with 2 cups chicken stock and ½ a cup of the marinade liquid. Bring to a boil then simmer for about 10 minutes until tender. Stir in toasted pine nuts and chopped parsley.
The timing should work out perfectly if you let your chicken rest for about 5 minutes. Serve the chicken atop the couscous and enjoy!!