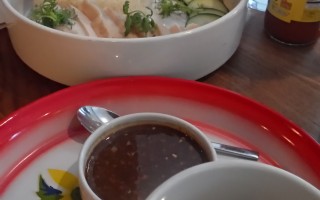 I've been wanting to go to Kin Khao since it opened in February. I'm a big fan of Pim's cooking, I've been lucky enough to get some samples in classes I've taken from her. I knew this would be a good meal but it was even better than that. We have a lot of mediocre, cheap Thai food around here. You can always find some Pad Thai or Chicken Satay. This is a completely new experience with food that you aren't likely to find outside of Thailand.
We ordered a little of everything off the menu: Bites, rice, meat, seafood, greens, sides. The only thing we overlooked was a curry dish but we had way too much food anyway so that'll have to wait for next time. We started with the crunchy foodgroup: Khao Tung Na Tun (Rice cakes with a pork-shrimp-peanut dip), I added a little of the not-Sriracha to each bite. Also chicharrónes with a lovely ground chili pepper to dip them in. Crunchy…check!
The cocktails were unlike any I've ever had anywhere. Mine had gin, vermouth, galangal, lime, lemongrass, bitters, kaffir lime leaves…I had two, or was it three? My husband's had sherry, black grouse, turmeric, lime, white pepper. It was savory. He loved it. I hate whiskey so it was not my cup of tea. He thought it was amazing though. My son had a mocktail (I had one of his with the vodka in it…refreshing!) which was lemonade but with "blue flowers" which I honestly don't know the origin of but the glass came out with blue in the bottom, some sparkling water on top, the server added lemon juice which should turn the drink green…yellow and blue make green, right?…well, it turned purple. WHAT?! Tasty and magical. SCIENCE!
Clay pot pork belly. CLAY POT PORK BELLY!!! Need I say more?
The food never slowed down. There was no wait between dishes, they were coming out rapid fire which I think was good since if I slowed down, my stomach would realize it was full. The Yum Yai salad was a fresh, not as filling, break between dishes. It has a bit of a Manresa vibe to it. A combination of raw, cooked and lightly fried veggies. It was light and tasted like spring.
My favorite dish of the night, if I was forced to choose, would be the Plah Pla Muek, also known as the spiciest squid I've ever had in my life. I could not feel my tongue, my eyes were watering and I couldn't stop eating it. This called for another cocktail. Funny thing was my 9 year old son had a couple of bites and kept insisting it wasn't that hot. He rocks. The chili jam clams looked like they'd be firecracker hot but weren't. Pim's chili jam is heavenly. I wanted to soak up all the broth with rice and not leave a drop but luckily the dish was whisked away when I wasn't looking or I would have filled up on rice and wouldn't have had room for….RICE!
Chicken Fat Rice. Yep, that's what it is. Perfectly juicy chicken, rice fried up in chicken fat so it's shiny and oh so good and some of Pim's secret sauce. This was my son's favorite despite the fact that he accidentally ate an entire Thai chili. That blue flower lemonade disappeared fast.
What an amazing job Pim has done with this place. I've already got our next visit in the calendar. The staff is knowledgable. The food is amazing. The drinks are unique. The price is reasonable. Pim should be proud of what she's done here.