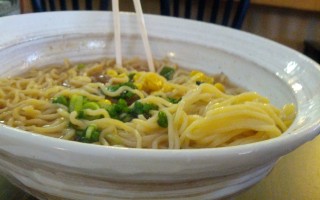 I am a noodle whore. A noodle addict. I love noodles. In any form, but especially from the general Asian part of the world and floating in pork-based broth. Ramen makes me so happy. For my 40th birthday, we waited nearly 2 hours for ramen at Orenchi and I was so thrilled to do it. One of my dream vacations is to attend the Ramen Festival in Japan. The horrible thing about my addiction is that it has been hard to feed. There was no ramen in Santa Cruz. Unless I took the two days to make it and destroyed my kitchen in the process, there was no ramen to be had….until now.
Rumor started circulating a few months ago that a ramen joint was moving into the old Pink Godzilla space on 41st Ave. in Capitola. I kept checking on the web site and it wasn't open. It was just a picture of a beach with some Engrish explaining they'd be opening soon. Well, the time came last weekend and we had lunch there yesterday.
I'M SO HAPPY!!
It was actually good. It's not the best ramen you'll find in the bay area but it's good and it's RAMEN IN SANTA CRUZ!
They put corn in it…I find that weird. And only one slice of pork. No egg but I think you can request that. Next time I'll get Tonkotsu with extra pork and no corn. Maybe next week. I can't wait too long to go back!