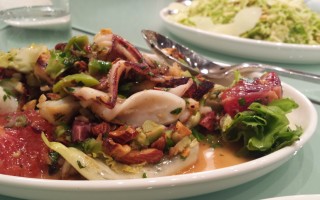 Italic
123 W. 6th St.
Austin, Texas
512-660-5390
I didn't come to Austin for the food (although many people do). I also didn't come to Austin for very long. I landed at 4pm on Tuesday, taxi'd to the hotel, got my computer onto the wi-fi and I got an email saying I could check into my flight. It's a 24 hour trip.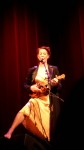 I came to Austin to see Amanda Palmer. My husband says I fly to see angry women with pianos (Amanda and Tori Amos), he's right! The show was fantastic and totally worth the flight.
I sent out a feeler on Twitter asking for food advice. A friend of a friend recommended Arro as well as a couple of others. Arro was just a few blocks away so I looked into that and was about to head down there when I found an Eater article about a new Italian restaurant by the Arro folks called Italic and it was literally a block away. That seemed even better! Then I sent out another tweet, tagging Amanda, asking if anyone needed dinner plans. Two fellow Amanda fans took me up on it and we had a great time eating the great food and getting to know each other. There's not many fanbases that can support each other like that.
Anyway, back to the food. Italic opened just 2 weeks ago but you can tell this is not their first rodeo. Everything ran smoothly. I started with a very refreshing Aperol spritz. We had to move tables to accommodate another person who replied on Twitter and our waiter was just awesome about it. Then 2 other Amanda fans coincidentally sat right next to us so we had a little AFP party. Once we all broke away from conversation long enough, we attacked the menu.
We started with shared plates of Seared Calamari with olives, blood oranges, mint, escarole, and almonds. These weren't your bar-bites-fried-bits of squid, they were perfectly cooked, not breaded, dressed beautifully bits of squid. The orange and almonds were a wonderful touch of acid and crunch. This was actually my favorite dish of the night. My tablemates got the Shaved Brussels Sprouts parmigiano, walnuts, fresh herbs and devoured a rather large portion so I'm assuming those worked well too!
I was going to get a white bean soup but my attentive waiter found out that there was parmesean rind cooked into the soup so I opted out. I moved on from my spritz and got a glass of 2007 La Gerla-Brunello di Montalcino. It was gorgeous. It had a decent amount of age on it and was drinking beautifully. I had it with the Fregola & Shellfish with mussels, cockles, fennel, chili, and tomato broth. I don't think I left a drop of the broth. Licked that plate clean!
We skipped dessert since we were, one, full and, two, pressed for time. The show was going to start so we paid and headed out but if I come back to Austin for some odd reason, I will go there again.
Before I left this morning I wandered around downtown. I walked down to the Capitol building, which is just beautiful, except for the presence of the Tea Party rally out front. I fled. Part of me wanted to confront these people but I didn't. Mostly because I'm not that brazen but also because I knew it would ruin my day to get that angry. My taxi driver to the airport said I made the right choice and reminded me about Texas's open carry law. Yeah, Don't Mess with Texas.
I'm goin' home! ;-)