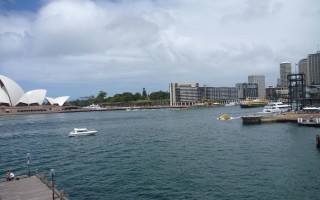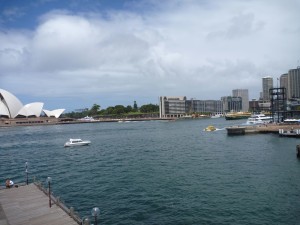 My husband has to travel to Sydney a twice a year for work so whenever people are heading there, we have plenty of recommendations. Finally, here they are, compiled for easy reference!
Tetsuya's in downtown SYD (if you can get in; this is the French Laundry of Australia with a Japanese twist and is as popular as it is expensive)
Jugemu Shimbashi in Neutral Bay, just across the SYD bridge (house made soba from their own buckwheat mill, okonomiyaki (try the genki dama), top shelf sushi…ocean trout!!!)
Ryo in Crows Nest (authentic Ramen experience — authentically good bowl of noodles, authentically long wait, authentically scantily clad young Japanese girls waiting the tables)
Shiki in the rocks (touristy sushi bar, but with some interesting twists: they put a small amount of dashi in their soy sauce to make it a little smokey, and they have wagyu you can cook on himalayan salt blocks at your table)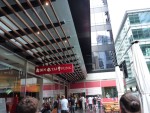 Din Tai Fung (world square, and elsewhere) — Shanghai style dumplings, the only chain restaurant in the world to earn a Michelin star. This place rocks. I go there from the airport when I land and on the way out as well; usually several times between. Xiao Long Bao like no one else can do it.
Stuyvesant's House — (Note: not sure what's happening here now, there was just a fire.) run by Rudy and Max Dietz since the early 70s, this place serves very authentic German food — not fancy, but good, but the reason to go here is their unbelievable wine list. These guys were buying bordeaux and burgundy by the case before Asia cranked the prices up and their inventory is now worth tens of millions. The list is a book an inch thick, and represents the local stuff quite well, while covering the planet pretty thoroughly. One caveat: this is dinner *and* a movie — Rudy works the front of the house and is a rather raunchy fellow who is not shy; easily offended people should not eat here.
Mecca — on King St makes a decent cup of coffee.
La Renaissance patisserie — Get your coffee at mecca, get your fatty French carbs here.
Deus Ex Machina — coffee, motorbikes, good cafe grub… Worth going a bit out of your way if you like any of those things.
Nazdrowie — authentic polish cuisine with interesting vodka selections
General recommendations:
EAT MANGOES….constantly. They're amazing down there. Kingston Pride variety if you can get them (short season, and short shelf life limit supply)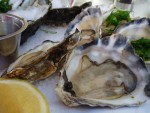 EAT OYSTERS…if you like them. If you haven't had them before, Sydney rock oysters are a much mellower flavor than pacific oysters, and are really light textured; people who like oysters *love* sydney rock oysters, and many people who thought they didn't like oysters are swayed by this variety.
Avoid local beer except for James Squire or anything at the Lord Nelson (oldest pub in SYD); no idea why this is, but Australians insist on drinking light lagers with no flavor.
Avoid restaurants on the Circular Quay or Darling Harbor. They are tourist traps that charge for the view and don't pay enough attention to the food.