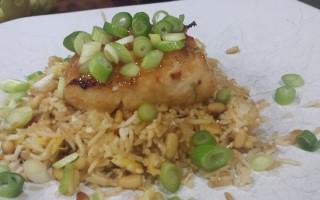 I've made Miso'd cod in the past and it was good. This was better.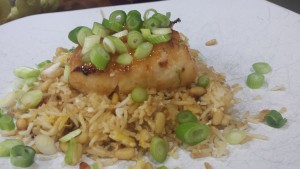 1lb cod cut into 2-3 fillets depending on your appetite
1/4 c white miso
1/4 c mirin
1T rice vinegar
2t sesame oil
1T Gochujang (Korean fermented red pepper paste)

1″ ginger, grated
Whisk together and pour over cod fillets. Turn fish and spoon marinade around so it covers all surfaces of the fish. Let the fish marinate for 30-40 minutes. Let the fish sit at room temperature for 20 minutes or so before cooking.
Heat a (preferably cast iron) skillet to medium-high heat. Add 1T canola oil and coat evenly. Place fillets carefully in pan, the miso mixture may pop and spatter. Cook for 5 minutes or so on each side of the fish until it is just barely cooked through (warm in the middle but not dry). When you flip the fish, spread a little more of the miso on top.
For the fried rice:
1 medium-large shallot, sliced
4 cloves garlic
1/2 c pine nuts
4-6 cups cooked rice
1T soy sauce
1 egg
Soften shallots in a large skillet. Add garlic and pine nuts. Add rice and soy sauce and then the egg, stirring continuously to evenly distribute and cook egg. Add a handful of chopped green onions.
Serve the fish atop the rice and add green onions atop both.