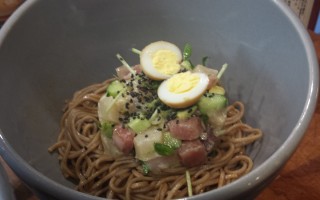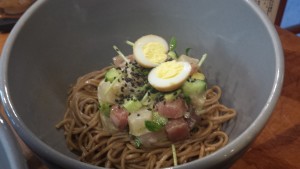 Yesterday was not a cheery day. I am in the middle of a self-imposed, home office, crazy rearrangement of life. The office is a disaster. I'm trying to make it less so. In the process I moved out the old air conditioning unit from the closet, sorted out the rest of the junk on that shelf then got too busy and had to leave it for a week. Yesterday I returned to the project to remove the "shelf" (two boards on milk crates just like college!) and found the A/C had been leaking and the boxes underneath along with the carpet and wall were covered in black mold. Joy. I changed into junky clothes, got gloves, tied a bandana around my face and pulled out the boxes, cleaned the wall and ripped out the carpet. GROSS GROSS GROSS!
Anyway, all this is leading up to this dinner. After the gross afternoon, I wanted something beautiful. Oddly, this dinner was basically leftovers. I went to my favorite market on Sunday, Mitsuwa in San Jose. I got sushi fish, pickles, sake, the essentials. I made sushi on Sunday night but only used about half of the fish. Instead of just making sushi again (1st world boring problem), I wanted something different.
It was all inspired by these Sesame Quail Eggs. I'd also bought quail eggs with no plan and no intention of eating them raw. I googled, I found. It's a Korean recipe. I have Korean chili paste. It fell into place from there.
Serves 4
3 "bunches" of soba noodles, cooked and rinsed with cold water
Sauce for the noodles
1/8 c soy sauce
1/8 c usukuchi soy sauce
1T gochujang (Korean chili paste)
2t sesame oil
a bit of water to mellow it if needed
Mixed fish crudo
1 lb assorted sushi grade fish, large dice
1/2 cucumber, large dice
1 avocodo, large dice
1 medium shallot, diced
handful of roughly chopped pea shoots
1 clove garlic, minced
juice of 1 lemon
1t sesame oil
1-2t chili oil (i used olive oil based chili oil. If you use sesame-based oil, omit the plain sesame oil)
salt to taste
a sprinkle of sesame seeds on top
Toss the soba noodles with 2T of sauce per serving. Place in bowl, top with crudo and a quail egg from the above mentioned recipe.
Devour.
That's what you do with leftovers ;)