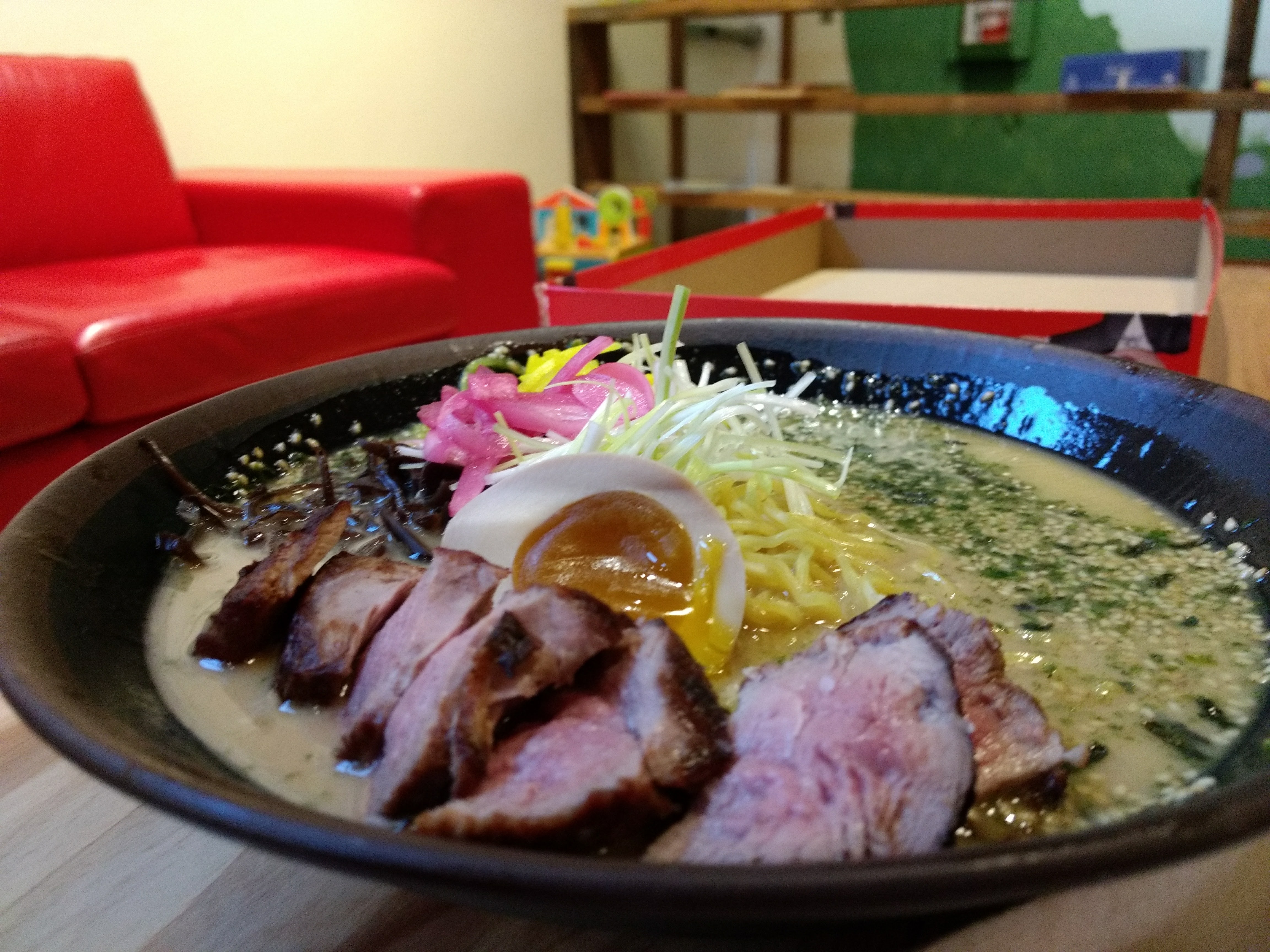 Oasis Tasting Room & Kitchen
415 A River Street
Santa Cruz, CA 95060
831-621-8040
We tend to not go out to eat that often anymore. We are booked all the time with work and school commitments and we usually just want to be at home. When we do go out, we tend to stick with the familiar favorites: Engfer's, La Posta, Kin Khao.
So when I turned left on River St instead of the right turn I typically make and I saw the El Salchicero restaurant had opened (in May…oops, missed that!), I shared the menu link with my 13 year old and his response was "WOW!". We headed there for dinner that night.
The space is welcoming and fun. You order at the counter. The menu is incredible. I wished there had been more than two of us so we could order one of everything. Alas, we had to limit ourselves and we got the Duck Gyoza, Housemade Pickles and Tonkotsu Ramen with added Duck Confit. We grabbed our drinks, I got a pint of Brown Ale and my son got Yuzu-Lemon-Basil soda, and headed to the big red couches, grabbed Monopoly and settled in.
Before we even passed Go and collected $200 we had our gyoza. Crispy, rich, savory…sitting in a umami cloud of duck, soy, green onion. My mouth is watering right now. In between the duck bites we could cleanse and cool our palates with crispity crunchety pickles. The squash pickles were oddly good! I like the unexpected pickly surprise.
We were splitting everything. With the pickles and gyoza, we could easy pass the dishes back and forth. We didn't sit at a table but at an end table on the couches. To quote my son, "Why would we sit at a table? COUCHES!" But the couches have wide arms to hold whatever dish you have so we would take a turn with the ramen, then switch seats. Musical Monopoly.
I'm not sure why duck isn't served in every bowl of ramen everywhere. O…M…G. I detected possibly some chinese five spice? But not too much. The broth was rich, creamy. What I truly loved about this was that it was a completely different style of ramen from mine. I make shoyu ramen, I learned from Pim. I love my ramen. But this had pickled veggies, mushrooms, furikake. And did I mention the duck? Oh I did? THE DUCK!!!!
I'm sure this will end up on our list of familiar favorites. Plus my husband was out of town so he hasn't gotten to try it yet.
I really wish I would have had a restaurant like this when my son was little. It's got a large area with toys to keep your toddler busy while you wait for your food or while your partner eats and you chase him/her around…then switch! It's so much better than trying to keep the wiggle worm in a high chair! For older ones (and of course adults) there are board games galore. AND THERE'S BEER!