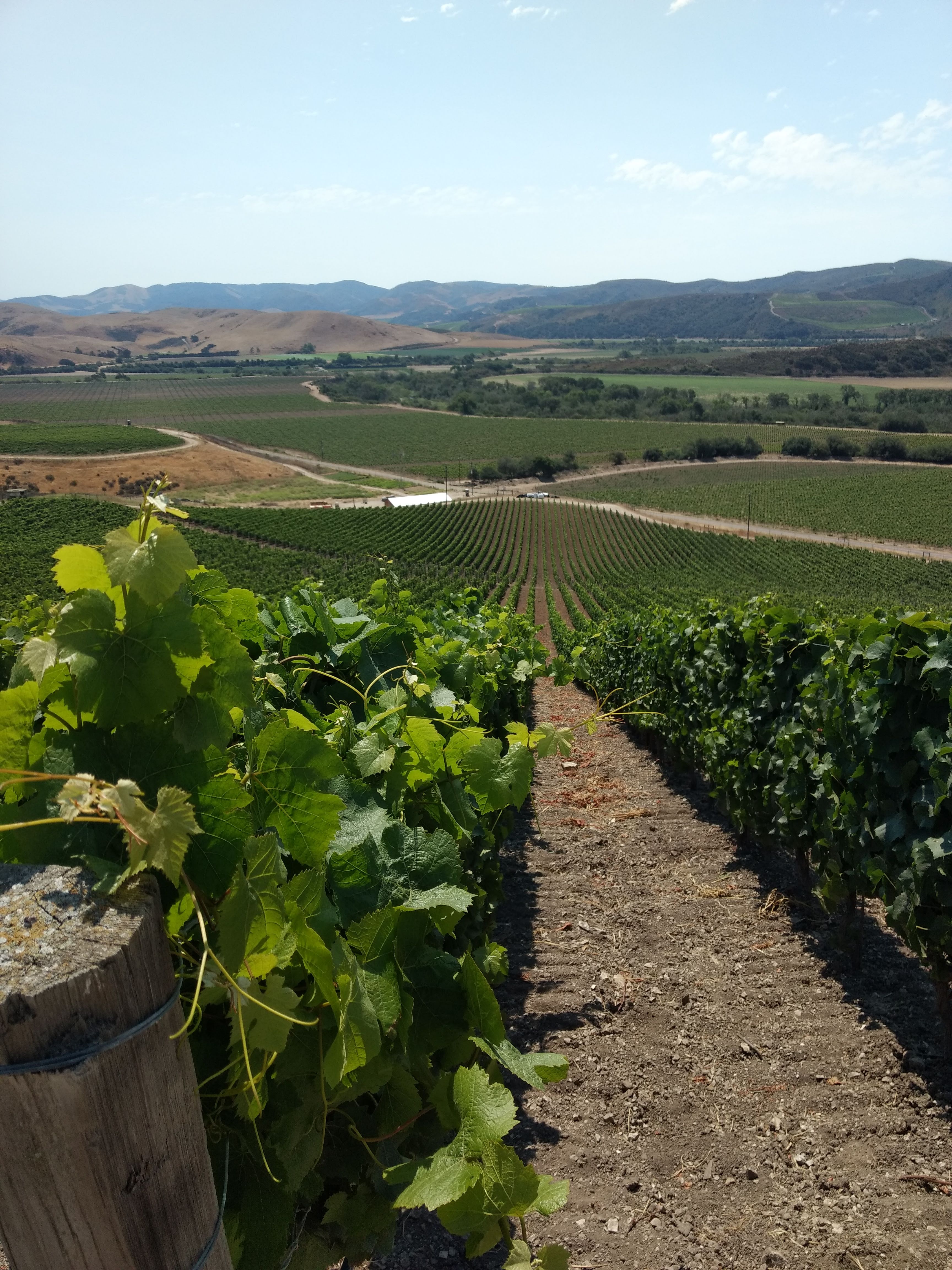 We booked an AirBnB while our son was going to be at UCSB volleyball camp. The camp only ran from Saturday to Tuesday so it wasn't worth driving the 4 hours each way twice. We made a nice long weekend in Santa Barbara out of it.
Before we left I texted our Somm friend Bernie who I knew had spent time down in the area. I also trust him implicitly with pouring things we like into my wine glass. He knows our taste. We are in sync. I asked who was making wine down here in the French style and not just cranking out vanilla oak berry bombs. I got an immediate reply and a private tasting set up. Bernie's the man.
We cruised up the coast to the shimmering city of Lompoc. There was a whole lotta nothing around then all of a sudden the "Wine Ghetto". I love that they actually have signs in the town directing people to the Wine Ghetto. We circled the warehouses and were waved down by our host for the tasting, Julia. I didn't do any research on the winery beyond the address. I knew they didn't have a public tasting room and I thought we'd just huddle in the warehouse winery and taste a few things.
Julia came out and had us hop in her car and we drove the quick few minutes out of the wine ghetto and into the vineyards. We made a quick stop at the giant hillside of diatomaceous earth which was fascinating. A cliff of desiccating, chalk-like, former ancient sea creatures that weigh nothing. A football sized chunk of this rock was *maybe* a pound? After handling it I felt like I'd just been to the climbing gym–looked it too, my shoes covered in a white layer.
We continued on past the rock walls that increased their iron content until we got to the hillside the grapes were planted on. Here is where we started getting some history of the winery and I found out that it's owned by Rajat Parr. I know that guy! Well, I know *of* that guy. I follow him on Twitter and ages ago we met him when RN74 first opened. I have a tremendous amount of respect for him, his accomplishments and his palate…good lord, he's some kind of sorcerer.
My husband had a great time nerding out about Burgundy wine making techniques, soil, rules and how DDLC is replicating all that as much as they can. I have to say, whatever they're doing here is working.
We headed back to the winery and dove into some bottles. Right out of the chute, the first white we tried blew us away. It was on par with our favorite Mersaults. The Pinots were beautiful. The Syrahs had a lot going on, huge–huge wines that were almost salty. It was crazy. And all so good.
We walked out with some chardonnay (no oak, bright, lemony, and crisp) and some pinot (round, tangy, and tannic). I mean, we paid for it, we didn't just walk out with it. We're not criminals.
The morning was far beyond what I thought we were signed up for. Thanks to Bernie and Julia for a great experience and a new discovery. Turns out we don't hate ALL California wines after all.