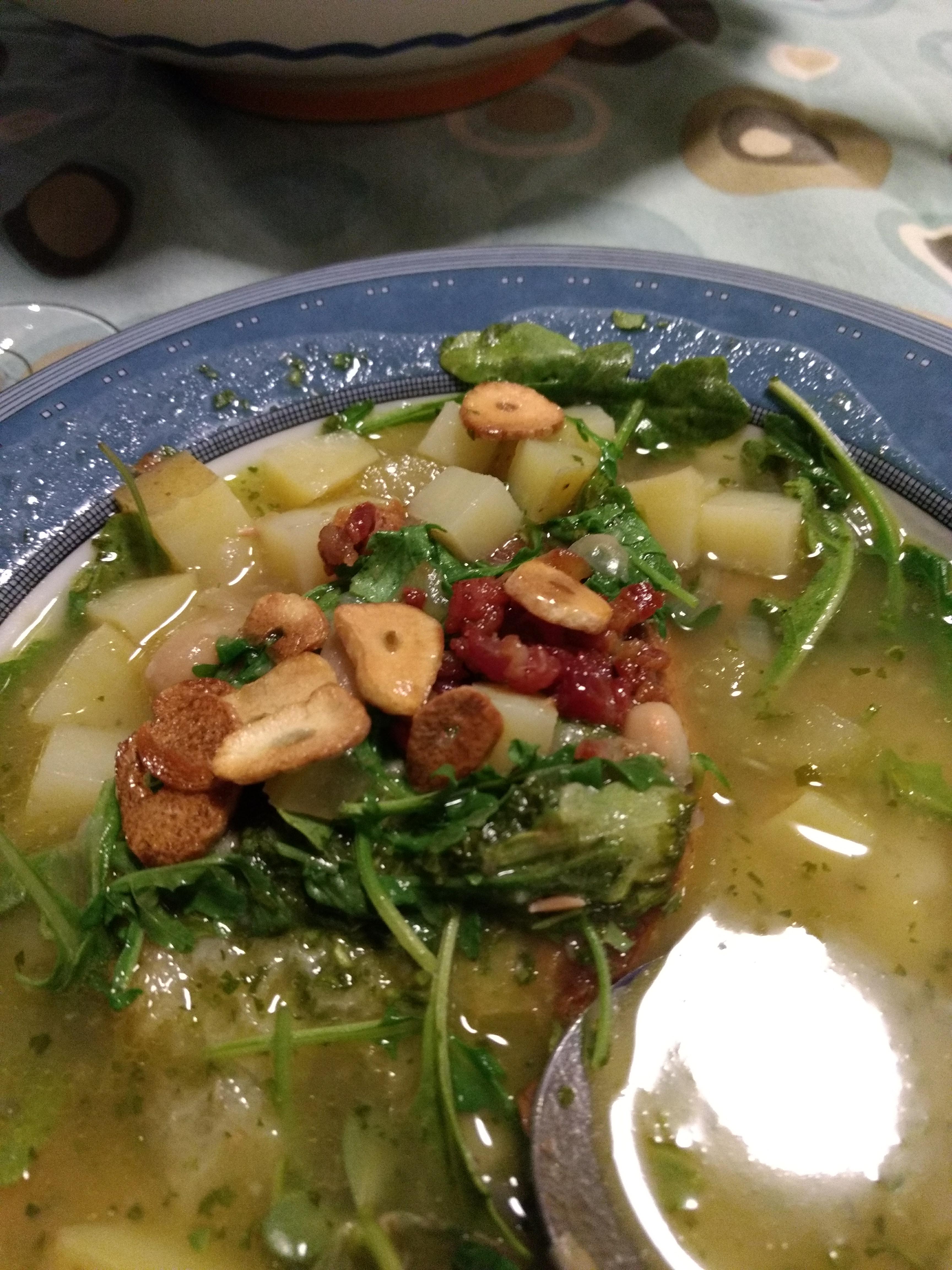 Serves 4-6
Soup:
1 onion, minced
1 celery stalk, minced
2 lbs yukon gold potatoes, diced
1 cup cannellini beans, cooked
6-8 cups chicken stock
Pesto:
1 cup parsley
1 clove garlic
1 lemon, juiced
salt
olive oil
For serving:
baguette, sliced and toasted
arugula
crispy fried pancetta
crispy fried garlic
Saute the onion and celery with some salt in olive oil over low heat with the lid on the pot until they are practically melted. And hour if you have the time. Do not let them brown, just dissolve them.
Add potatoes, beans and chicken stock. Bring to and keep at a simmer for 15-20 minutes until potatoes are cooked. Take a cup or two of the soup and blend it in a blender or food processor then stir it back into the soup to thicken.
While the soup is simmering, put all the pesto ingredients except the olive oil in a food processor. Blend until smooth, drizzle in olive oil until it reaches the right consistency.
Place pancetta in a cold pan and place over medium to medium high heat. Let cook until panetta is crispy then drain on paper towels.
Slice whole garlic cloves into thin rounds. Saute in olive oil stirring often over medium heat until just starting to turn golden but not too brown or it will be bitter.
To serve, place a slice of baguette in each bowl. Put a dollop of pesto on the baguette. Add a handful of arugula. Ladle soup into the bowl and top with some of the pancetta and some of the crispy garlic.
This could easily be made vegan with veggie stock and omitting the pancetta topping. It gets so much flavor from the slow cooked onions, the pesto and the crispy garlic.
This is one of my favorites out of all the 56 soup nights!