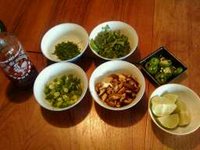 Update (February 2013)
I've changed my approach to pho, now with more pork because that's always better!
Take 3-4 lbs of pork bones and roast them in the oven at 400° until they are golden. Put that in a pot with 6-8 cups of water instead of the chicken stock mentioned below. The rest of the recipe is the same except I also add 6 cardamom pods.
For the protein topping I get a top sirloin, freeze it for about 15 minutes then slice it really thinly (that's easier if it's partially frozen). The hot broth cooks the meat when you ladle it over the top.
---
Heat up a grill or broiler and put on it:
1/2 onion, unpeeled
2-3 inch piece of unpeeled ginger
Grill until skin is blackened.


Meanwhile, in a stock pot heat up:
6 cups chicken stock
four cloves
one star anise
2 teaspoons sugar
one tablespoon fish sauce
the grilled onion peeled and quartered
the grilled ginger cut into chunks
a handful of cilantro on the stems
the stems of the shiitakes you're about to sauté
Let all that simmer together for about an hour (but don't boil!)
Put a pot of water on because you need to boil rice noodles (1 lb or so) and rinse them well in cold water after they're cooked.
Now the fun part, the many toppings you get to put on at the table. Here's what I used:
<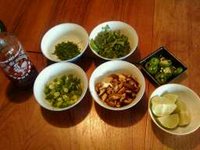 Sliced shiitakes sautéed in olive oil (with a little salt)
Chopped green onions
Cilantro leaves
Parsley leaves
Limes
Chopped chives
Sliced jalapeno
Sriracha (a.k.a. rooster sauce)
Strain the broth through a fine mesh strainer or cheesecloth. Salt to taste.

In a large bowl place rice noodles, poor broth over them, top with your favorite protein (we used seared, local albacore) and serve alongside the many bowls of toppings.
This is a really fun dish for kids because they get to top it with whatever they like. And a really fun dish for adults because you get to control the heat level with the jalapenos and Sriracha.