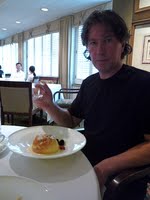 I had such a rock star week. It began with seeing Tori Amos two nights, one of which was from front row center seats. It continued with catching up with Neil Gaiman and meeting Amanda Palmer, and immediately leaving them and going to pick up my lunch date interviewee, Alan Anton of the fantabulous Cowboy Junkies. I could get used to this lifestyle. Since the band was playing Villa Montalvo that night, I made reservations at Le Papillon in Saratoga which I'd never been to but had heard good things about.
We were having a lovely conversation when the waiter brought our amuse bouche: Halibut Green Curry Mousse Garnished With Mango Chutney, which went over very well with many "mmmmmms." Alan and his family left Toronto a while back and now live on Vancouver Island, one of my favorite places on the planet. I reminisced with him about Sooke Harbour House and Point No Point. I must go back!


We settled on ordering the chefs tasting menu and got back into our conversation:
Alan: "Do you ever make terrines and things like that?"

Me: "No, I tend not to do the stuff that takes that much processing."

Alan: "I used to but then I ran out of time for that kind of stuff. I loved making sauces but it was such a process."

Me: "I tend to do the grab-the-stuff-out-of-the-garden-and-throw-it-together kind of menu"

Alan: "Do you know Mark Bittman? I really like his stuff. He's got a video site where he shows the basic steps for recipes. He's got a great sort of New York, laid-back attitude and everything looks so easy, and it is. He reduces everything down, 'You don't need this, forget about this, most people say do this but it just takes too much time…' and he comes up with some really great flavors that you'd never think of."

Me: "I've been finding that with Eric Ripert's Le Bernadin cookbook. Seafood is our main protein most of the time. It's all really simple stuff. There are a few elements to each dish that you still taste the fish. You're not piling so many things on it. His recipes are all very simple and precise but not complicated."

Alan: "It's hard to find a place that cooks fish right, they tend to overcook it. A friend of mine has a boat and we go fishing at home and eating it two hours later out of the water is unbelievable. You don't need to do anything to it, a little salt and pepper, it's unbelievable."

Me: "At the farmers market they'll have locally caught sardines, which are basically bait. My son absolutely loves them and I'm sure not going to discourage that! I love having a four-year-old that runs up and yells 'Hey mommy, they have sardines, let's get some!!'"

Alan: "Does he eat avocado?"

Me: "I think every kid in California eats avocado. It's a great first food."

Alan: "Oh right, it's a California thing."

Me: "We get these marinated white anchovies, the brand is Dinon, they have them at Whole Foods but we get them at our local market. He just loves them! It always freaks out anybody that comes to our house for dinner parties."

Alan: "Living in the city, not on the West Coast, in Toronto, you're just surrounded by processed foods. It's what your kid is exposed to at school and it becomes so hard to get them to taste stuff. Anything with flavor and texture they don't want.

Me: "I basically consider food my religion so it goes against everything I believe to go to fast food. I'm a Slow Food person. My son doesn't like anything breaded. He doesn't even like things like gyoza, he just wants what's inside. He doesn't like breaded chicken, he just wants chicken. It's great. He tells McDonald's "The M. place, pleh!" We just go there to use the bathroom on road trips. It makes me proud as a foodie."

Alan: "The whole food issue in this country is pathetic. It's got the worst food, and the cheapest food so you've got a third of the population living on that. McDonald's, or whatever, which leads to obesity which leads to heart disease."

Me: "And these people would never consider picking up fresh vegetables or anything like that. Why would you do that when you can get a hamburger for $.59?

Alan: "I don't know if you saw Michael Moore's movie Sicko but it talks about how a large portion of this country's health issue would go away if we started to eat right which means taking on the huge agribusiness guys. Which can be done starting on a local basis, starting on a small basis, even in the cities. Make sure your kids don't take crap to school. Get the food out of a good organic situation, or a local situation."

Me: "I think local is even more important than anything. Organic or not it's better if it's coming from up the road than being shipped around the world."

Alan: "Right, and you've got the energy issue in that as well."
We went on to talk about heat waves, global warming, the fact that neither of our towns have air conditioning. I felt as if we were old friends.
Alan: " I went to a scotch bar that a friend of mine owns in Denver when we were just there on this tour. It's got, he claims, the largest selection of scotch in the country by the glass. 260 bottles. While I was in there looking at the list there's one that is $850 a shot. And I said, 'Wow, do you ever sell any of these?' And five minutes later these guys walk in. They'd driven from two hours away with their little books. You know how birders have their books to check off all the birds they see? They had one of these for Scotch. Each of them opened up their books and started looking at the menu and sure enough one of them bought the $850 shot! It was really weird, he said he hadn't sold one in six months. He paid $10,000 for this bottle. He'd had it for about seven years or so. It was really weird, as soon as I said, 'Who buys this stuff?' The guy walks in and buys one.
While we're waiting for our first course, I pulled out my questions.
Me: "What's your favorite comfort food?"

Alan: "Any kind of sausage. I love the sausage. Smoked chorizo. Something hard, smoked, little slices. If I'm in a bad mood I have one of those and it's all gone."

Me: "What's your best childhood food memory?"

Alan: "There are so many. I grew up with parents that were East European: Croatia and Serbia. My grandmother moved in with us when we were little and she did all the cooking. I had this authentic cooking from a woman who was doing all the cooking at the turn-of-the-century for her family. She would put an enormous spread on the table every night. Way too much food for everybody. She had seven or eight standard weekly meals and every weekend she would make strudel on this huge table. She'd be stretching the dough until it was paperthin. Waving it in the air and laying it down. She'd make cheese and apple strudel every weekend. We had it all week long. During the week it was tons of meats, stuffed peppers or cabbage rolls. All beautifully done, very rich, heavy stuff. There were always sausages hanging, ham hocks hanging."

Me: "I guess this is where your sausage comfort food comes from?"

Alan: "For sure, yeah. Every second weekend my dad and I would go to the local Serbian meat store. Everything would come from over there, so it was all smoked and made a certain way. I learned all about the different meats and how they did it. I had my favorites. We'd walk back with a basket full of smoked stuff to get us through the next couple of weeks. I grew up with very rich, heavy, delicious food…nothing like this."

…Our first course arrived: Hokkaido Scallop Ceviche with Lemon, Sunflower Salad and Browned Butter Powder. A very fresh, sweet scallop, thinly sliced. A wonderful start.
Alan: "I grew up in an environment where my friends were all pretty much eating processed foods so I never had them over for dinner because they didn't like what I was eating and I didn't like eating what they were eating."

Me: "It's so important that you expose your kids to real food. We always had a garden when I was growing up, I could just go into the backyard and pick stuff. I've got this really vivid memory of me, really really little, just sitting in the dirt in the garden eating peas."

Alan: "That's one thing I haven't gotten around to yet, having a garden at home. It's a lot of work. We have a lot of animals around so you have to build a huge enclosure, it's a big deal or else it's all eaten. You have to keep the birds out too. Birds just appear, anytime of the year, just a million of them, they'll land on your stuff and five minutes later they disappear and everything's eaten. Lots of deer. And we have a bear right now."

Me: "That's got to be scary!

If you were limited to eating food from only one region for the rest of your life, where would you choose?"

Alan: "Anywhere in the world? Any country? Somewhere in Italy for sure. I don't know where exactly. Not the south, anywhere in the upper half. Is that good enough? Can I have the whole upper half?"

Me: "Sure, I'd say the same thing actually. But I'm torn, because if I choose northern Italy I can't have sushi."

Alan: "I'm not really a sushi guy."

Me: "I go back and forth. David Sedaris said Northern Italy as well."

Alan: "Well there you go! It's a popular spot. I think that anyone that goes there and eats just falls in love. It's amazing."

Me: "What would you want your last meal to be?"

Alan: "That's a bit depressing. A much more pleasant way to think about that would be: 'You're about to embark on a space mission to another planet so it's your last chance to eat on Earth.' That's a tough one. I think I'd need a week to design the menu and the wines to go with it. It would be a lot of food, many courses, and many wines. I'll get you a list."
[I will post the last meal menu when I get it from Alan.]


A second course is delivered: Gulf Prawn and Linguine "Turban" with Brandy-Truffle Cream. I'm always leery of truffle dishes. The truffle tends to overpower. Alan agrees:
Alan: "Truffle is a hard thing to get right. I've had really bad truffle in restaurants. This is very good."

Me: "It's rich but I thought it would be richer from the looks of it. Yum."

Alan: "Do you know of any good raw food restaurants?"

Me: "No, haven't been to any."

Alan: "There's a really good one in Vancouver called Salt that I went to recently. There's no kitchen, you just look around and pick out what you want. They do a lot of meat which is great, sausages and things like that. Cheese, meat, and vegetables."
Note to self: try that place!!!
Course three is presented: Grilled Medallion of Durham Ranch Buffalo with Syrah Jus, Parsnip Puree And Cocoa Nibs. This was a course I was slightly concerned with since I'd never had buffalo before but it is a hit. In a blind tasting, neither of us would be able to tell this from beef and it is very, very tender.
Alan: "I was trying to think of musicians that are into food, there's not a lot of them."

Me: "No, when you tour you don't get to be. Do you guys get to eat relatively well when you're touring?"

Alan: "It's hard. On our days off we look for the good restaurant but the days of shows there's no time. We're stuck with either catering or a local restaurant."

Me: "Do you guys have your rider demands of decent food?"

Alan: "We have a little rider but there's just not that much stuff."

Me: "No brown M&Ms?"

Alan: "Yeah."

Me: "When it's your turn to cook dinner, what are you making?"

Alan: "It depends on the season."

Me: "You may answer seasonally. Let's say it's right now, July."

Alan: "July is good. It would probably be a grilled thing. Definitely be a grilled thing. Outdoor. I have to say it would be probably halibut. All the big halibut catches happen in July at home. I get phone call right away, it's a rare thing. Halibut are huge fish and they chop them up right away, right on the dock. And whoever is down their first gets to buy some. It takes about six or eight hours before the thing's sold. Its great, we go down and buy, probably, 100 pounds. If we can, if we get there early enough. The fish will come in at between 400 and 1,000 pounds. Then we freeze them."

Me: "How do you make them, because it's really easy to dry out halibut?"

Alan: "We have a great little pot this guy gave to me. It's really thin. We use it instead of aluminum foil. We pack, like, a 5 or 6 pound piece in there, fill it up. Add just a little bit of water and then just pack in all the garlic and seasonings and cook it for maybe two minutes."

Me: "Nice. I never ever order halibut because it is always overcooked"

Alan: "Salmon is always overcooked as well, even when you ask for it rare."

Me: "I've made some really nice salmon for family before and had them request that I cook it all the way through and that just kills me!"

Alan: "Another good thing… Have you ever done corn on the barbecue where you soak it in water for a while then you put it on the barbecue for two or three minutes. Then you put butter on it and put it back on the grill. Roll it around the grill until it starts getting caramelized and the sugars come out of the corn and the butter starts getting browned. It's great"

Me: "Corn is just coming into season, I'll have to try that."
Our soufflé arrives. They are enormous! Dessert was supposed to be a chocolate-coconut dish. Neither of us like coconut so they substituted dessert for us.
Me: "I plan vacations around restaurants. That's how I ended up at Sooke Harbour House. When we were in Minnesota earlier this summer, we were heading out to lunch and my husband asked me where we should go…when I didn't know he was very surprised. I always research the restaurants in towns we're visiting! We had a terrible lunch. So I went back to the hotel room and researched dinner. Found a wonderful place so I was redeemed."

Alan: "You never hear of musicians opening up restaurants. Every second movie star does that, every second sports hero does that. I guess writers don't either."

Me: "Maynard from Tool opened a winery."

Alan: "Yeah, I guess there's wineries. Sting has a winery now too."

Me: "We have a bottle of Maynard's wine we haven't tried it yet. It's, I think, a 2007 cab so it will little be a while before we drink that."
Time was running out so we wrapped up lunch and headed off to sound check. I got to drive right up to where the tour bus was parked by using phrases like, "I'm with the band." I'm such a fan girl!! The show that night was wonderful as usual. You can't beat a day with excellent food, excellent company, and excellent music. Hopefully when we are in the same town, Alan and I will get together to grab a bite or just chat. He was a lovely lunch companion.