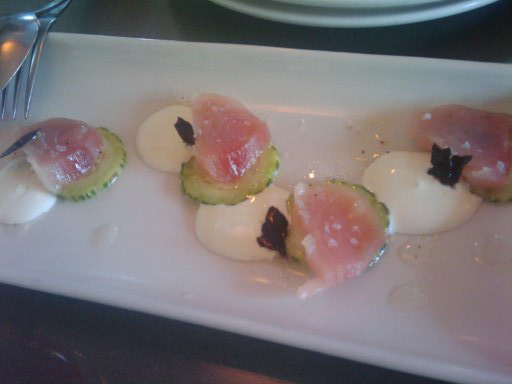 Main Street Garden & Cafe
3101 N. Main St.
Soquel, Ca. 95073
831-477-9265
We were looking for a place for our anniversary dinner. We tried Cellar Door first and they were booked (yes, we were calling at 5:15pm for a 6-ish reso!). I started poking around some blogs trying to decide where to go. I found on Christina Waters' blog that Brad Briske had moved from Gabriella to Main Street (the restaurant formerly known as Theo's). We called, got a table and drove straight there!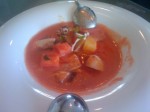 We started the sunny summer evening by peeking into the garden. When an old friend worked at Theo's, he took some of hubby's hops and planted them in the Theo's garden. They are still there and are happy and flourishing. Then we returned to our table to peruse the menu of, seemingly, all local fare. We started with the Happy Boy Farm Watermelon Gazpacho with Monterey Bay Squid, Garden Pancetta and Calabrian Chili Oil. No, they aren't growing pancetta in the garden, the italicized "gardens" on the menu all refer to things they cure or grow themselves. The gazpacho was wonderful. I could not decipher the ingredients. It wasn't too sweet so there was something in there with the watermelon, but whatever it was, it was mild and just added some slight savoriness. The pancetta was crispy, the squid was tender, the chili oil was perfectly proportioned. It was a wonderful balance of salty, spicy, sweet and creamy.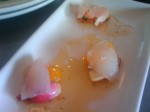 You can't go wrong with slices of raw, fresh, yummy fish. I don't like halibut cooked. I never order it. It's too easy to dry out and I'm just not interested. However, it was on the menu here as a California Halibut Crudo with Garden Sun Gold Tomato Conserva and Garden Radishes. It tasted like summer. Fresh, crunchy, not fishy at all. It was good.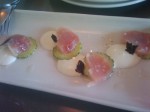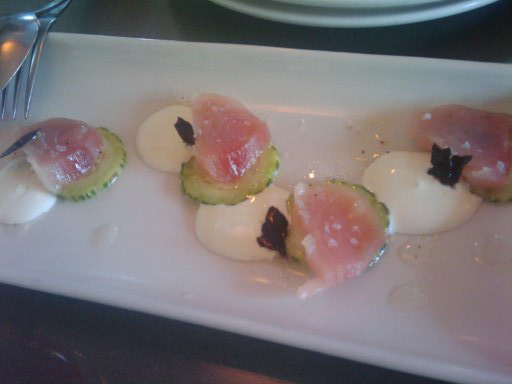 But even better was the California Albacore Crudo with Armenian Cucumber and Cucumber Water Aioli. And this wasn't better because of the fish but because of the ailoi. It was so flavorful, it really made the dish.
We ordered the 2 salads on the menu: Lindencroft Farm Lettuces with Fennel, Almonds, Everett Farm Raspberry Vinaigrette. This was lovely. Nothing new and earth-shattering about it but it wasn't over dressed, the dressing was well balanced and it was crisp and nice.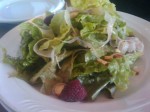 The 2nd salad is one of my favorite summer flavor combinations: Arugula Panzanella with Albacore Conserva, Garden Tomato & Cucumber with Golden Balsamic Vinaigrette. You cannot go wrong with bread and tomatoes…and basil, and vinegar and really, very mild arugula. I have said this before but, I LOVE SUMMER!!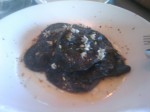 The only main course we got (we got 5 of the 6 appetizers) was a lovely plate of Squid Ink Ravioli with House Cured Salt Cod, Potato, Cured Tuna and Garden Chive Blossoms. I know squid ink doesn't really do anything for the flavor of pasta but it looks damn cool to get a plate of black food! It's creepy and halloweeny and they still taste awesome. The chive blossoms looked so cool on top and I thought they'd be a bit of an innocuous flavor but they were sharp addition that I wanted in each bite.
For dessert we had chocolate overload. A Caramel-Chocolate Pot-de-Creme and a Flourless Chocolate Torte. Both were rich and lovely and creamy and rich…oh, and rich. Did I mention they were rich? There was no chocolate missing there…I think maybe we should have shared one dessert, neither of us could finish either chocolate death dish.
We will return. Our only criticism at this point is the wine list. It's very, very slim. It's all local which is great but there are many, many amazing wineries around here. I hope they get the capital to expand the list. Until then we did enjoy a wonderful Windy Oaks Pinot Noir. No complaints about that one.
See you soon Main Street!