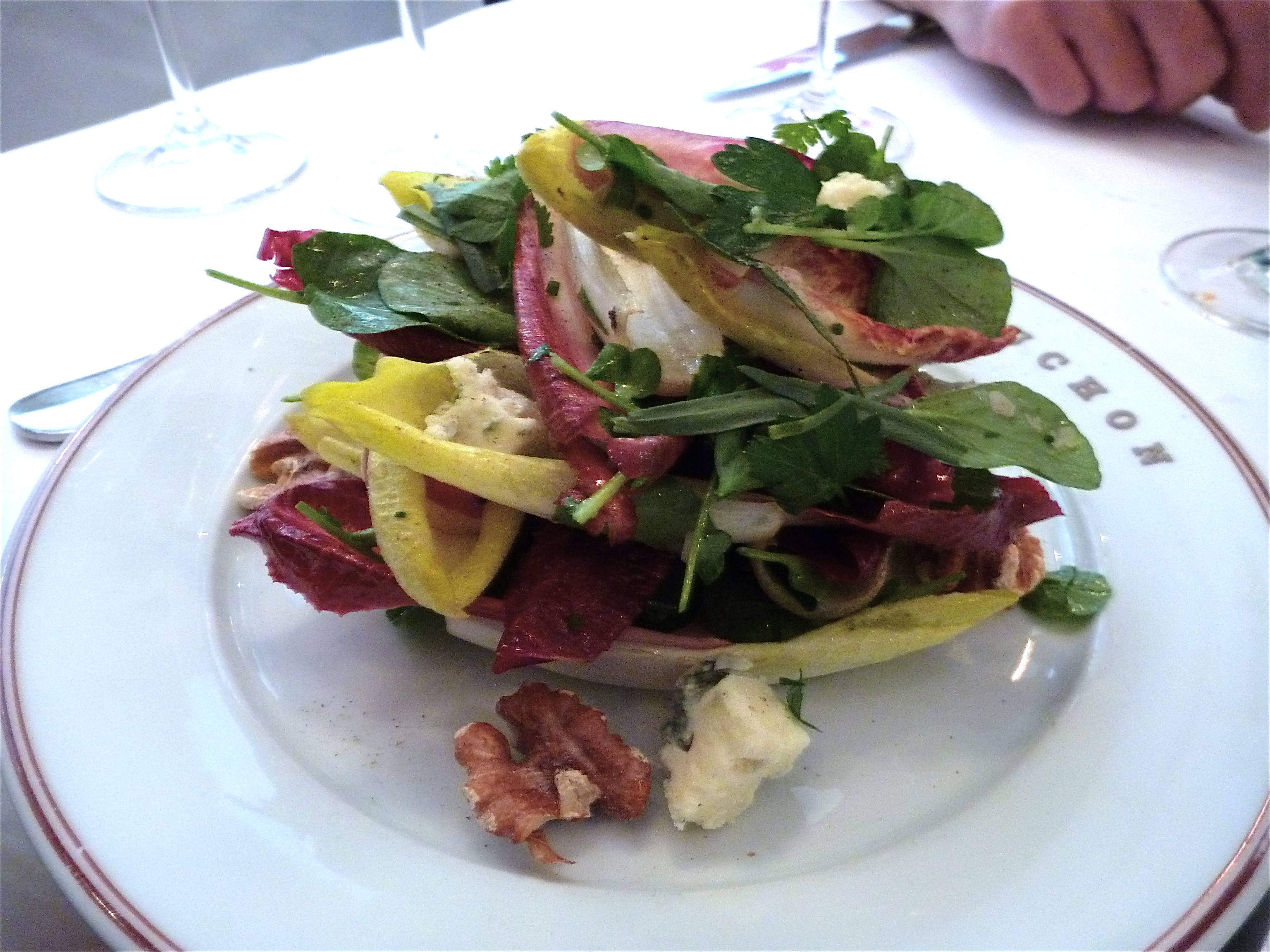 Bouchon
6534 Washington Street
Yountville, California 94599
707-944-8037
The Cowboy Junkies had a scheduled tour date on Friday night in Napa. We're too far from there for it to be a day trip but I decided to use this show as a handy excuse for a wine country weekend. We drove up Friday morning and picked up Alan (who I interviewed last year) and made our way up to Yountville for lunch.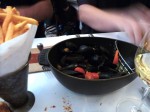 A couple of other friends met up with us so we had a table for 5 and appetites for about 10.
We all shared a wonderful bowl of mussels. We ate a Bouchon about 3 years ago and had the mussels then and never forgot them. They are just as good as the first day we tried them. The broth left in the bowl is heavenly to soak up with the crunchy bread from the bakery next door. And they are *not* shy with the frites. First with the mussels and then later in the meal with the steak frites. Even between the 5 of us, we didn't finish them!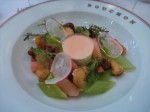 I got a salad to start. Salade de Legumes Marinées: salad of marinated garden cucumber, radish and pickled mushrooms wwith crab beignets and mint mousse. Every bit of this salad was interesting. The mushrooms were baby chantrelles; a little vinegary, not chewy…I love mushrooms but not usually pickled ones and these may have been my favorite part of the salad. Well, maybe the crab beignets. They looked like croutons, they puffed into flavor when bitten. A bowl of those would be ok with me!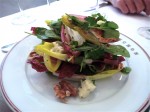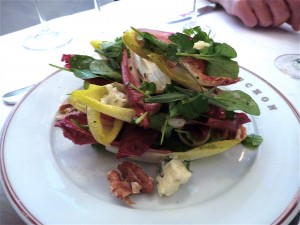 I can't speak to the Salade de Cresson et d'Endives au Roquefort, Pommes et Noix: watercress & endive salad with Roquefort, orchard apples, toasted walnuts & walnut vinaiagrette but everyone at the table completely freaked out over the roquefort. Quotes like, "That's the whole barnyard in there" and "The cheese is tasting you back." Sounds horrid to me but they all seemed pleased!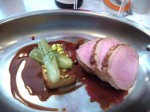 For a main course, I got the Carré de Porc: pork loin with brown butter pain perdu, toasted pistachios, young fennel and roasted beets with sauce laurier. I just recently jumped into the world of pork products. I cooked pork chops for the first time just about a month ago. Now it was time for me to see how pork should really taste. Wow. Somehow it was light and rich at the same time. I didn't feel like I was eating a heavy meat but the flavor was staggering. Just to make sure the richness was fully appreciated, it was accompanied by a savory piece of french toast…I mean pain perdu. Really, it's french toast. Fluffy, intoxicating butter disguised as bread.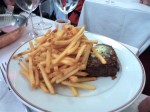 Last time we were at Bouchon I got the steak frites and, happily, two of my companions did this time. They were not disappointed except for in the fact that they couldn't finish it. Bouchon does not follow Thomas Keller's law of diminishing return philosophy. It's all about abundance!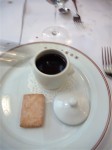 When we sat down, my friend Nicole and I both noticed the dessert special on the chalkboard behind us: Pot de creme – Peanut butter and jelly. Oh yeah. I went there. Do you remember how good PB&J sandwiches were when you were a kid? PB&J on fluffy white Wonderbread with the crusts cut off. Have you tried that as an adult? It's pretty foul. Not the childhood flavor. This dessert was that childhood memory. The custard was mild, the peanut butter creamy, the jelly grape. It was unbelievable—especially since I typically hate peanuts in desserts (cheap filler) and grape jelly (Denny's jelly packets).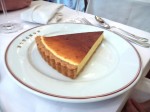 What was I saying about abundance? Oh yes…this slice of lemon tart was the size of the plate. It wasn't a small plate. I think they probably just wanted to finish off the tart since we were the last ones in there from lunch. It was HUGE! When I saw Thomas Keller on his Bouchon cookbook tour, he said the first two things you should cook and master from the cookbook are the roast chicken and the lemon tart. I think I'll just drive back up to Yountville and have another piece of this one!
I almost forgot the trainwreck comic relief next to us. There was a man eating alone with his huge expensive camera, taking pictures of every dish. Yes, I do too but I have a point and shoot pocket camera and would rather enjoy my meal than get the perfect picture (yep, the photos show that too). He got half way through what I think may have been the leg of lamb and sent it back saying it was too tough. Seriously—HALF WAY THROUGH. He got another main course, the cod I believe, and when he finished, left only a $5 tip. We were appalled! After we finished our food, the waiter came to clear the plates (now practically licked clean) and my husband said, "I'd like to send this back" and we all chuckled. The waiter said, "Oh, was it too tough?" What a good sport he was! He said people have expectations and if they don't meet them, they'll do what it takes to make up for it. I'm amazed the man was disappointed. I'm even more amazed the waitstaff handles it so well. True class.
I can't wait to go back!