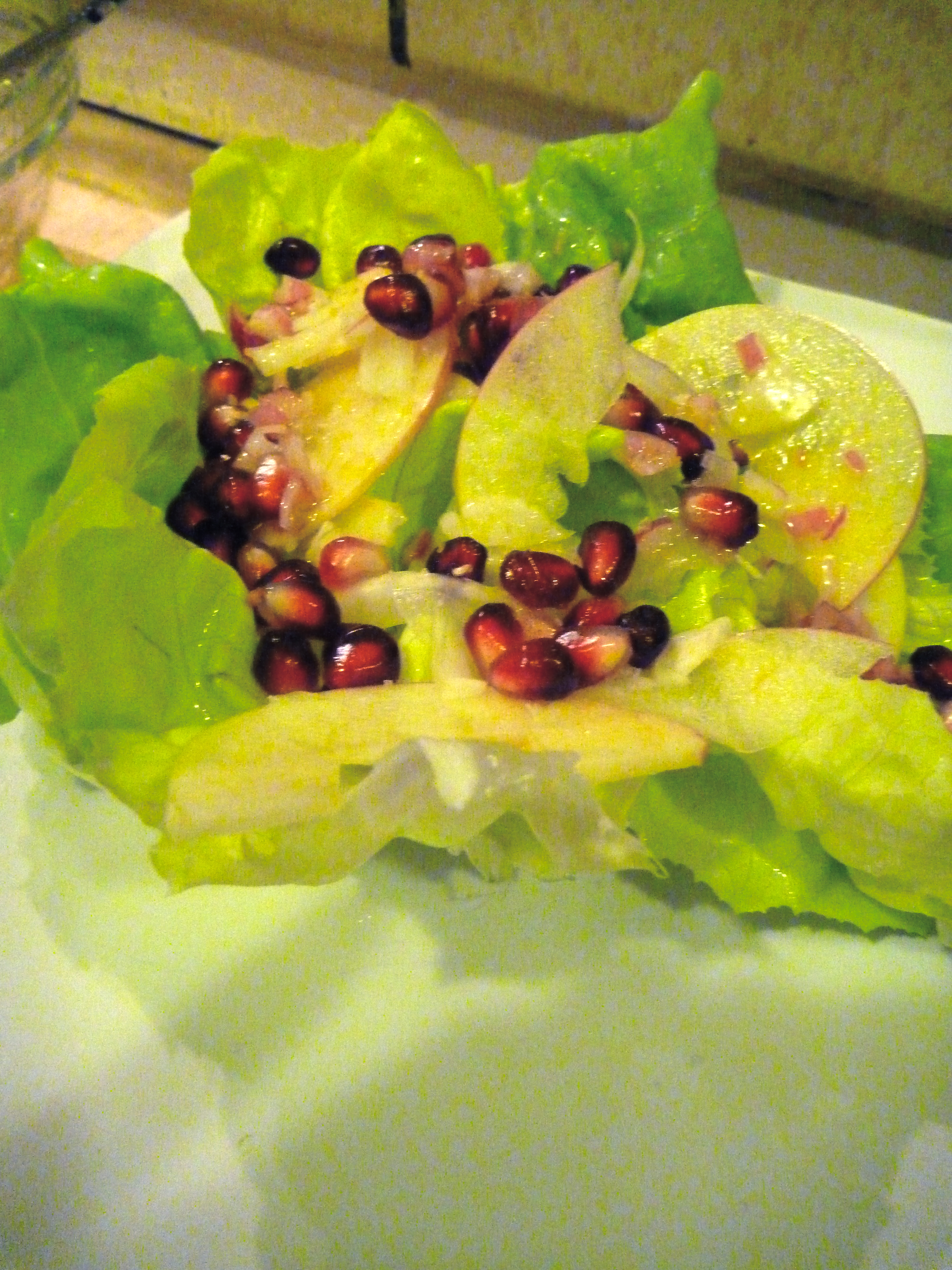 Some friends came over for dinner last night and I decided I would go all out and make a multi-course extravaganza. We've been touting the excellence of Mark Bitterman's new book, Salted: A Manifesto on the World's Most Essential Mineral, with Recipes
, to anyone who will listen so I made sure to highlight salts in the meal.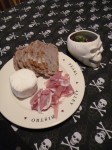 To get people started, just a little plate of nibblies: prosciutto, olives, Mt. Tam triple cream brie from Cowgirl Creamery and some walnut levain.
Then we got serious. My ever popular and damn good Ahi Tartare that I have made countless times at this point. It never fails to impress those who have never had it though. I think I finally figured out the right balance of shallots, herbs, lemon, salt. I'm happy with this nearly every time now. I used Shinkai Deep Sea Salt in the tartare and topped this with Turkish Black Pyramid salt.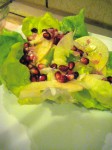 Thanks to the huge number of pomegranates I got from my dad, I came up with this salad: Butter lettuce with shaved fennel and apples (from our tree) and pomegranate seeds. I made a dressing with just minced shallot, salt, champagne vinaigrette and olive oil. I let the shallots soak in the vinegar and salt for at least an hour or maybe two so they were soft and the flavor permeated through. I topped the salad with a sprinkle of Murray River Salt. Simple and delicious.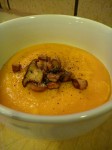 I got a huge squash from my CSA this week so into the oven it went for squash soup based on this recipe. The only difference was the squash type and I used leeks in addition to onion. The squash, according to my CSA newsletter was a Orange "sunshine" Kabocha. It was a "thicker" squash when pureed into the soup. I think it has a bit less water in it that a butternut which produced a thick, creamy soup. I fried up some king trumpet mushrooms in butter and topped the soup with those for a roasty, nutty addition. This one I topped with some Big Sur Fleur de Sel that we picked up somewhere locally. Any semi-coarse sea salt would work well, I just wanted something that wouldn't just dissolve in the soup but give a little crunch every few bites.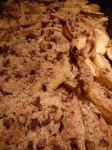 Nevermind the main protein course. I had an epic fail with my meat thermometer and over cooked the beef. It was still edible, but very much well done and not how I like my cow. So disappointing. But we had already had so much food it really wasn't a complete disaster.
Instead we moved on to the dessert which is the spawn of too many apples on our tree and me not liking to really bake. Simple apple crisp with, guess what, POMEGRANATE! I made the syrup last week and have it in a squeeze bottle in the fridge for just such occasions. To make the crisp, just slice apples up, put them in a baking pan and top them with a mixture of:
3/4 cup flour
1/4 cup brown sugar
1/4 cup white sugar
1/2 teaspoon ground cinnamon
1/2 teaspoon salt
8 tablespoons cold butter, cut into pieces
1/4 cup chopped pecans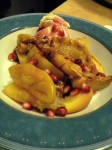 Bake at 350° for 1 hour. Serve warm (I baked it ahead and put it back in the oven for 15 minutes before serving it). Top with some pomegranate seeds, a generous drizzle of pomegranate syrup and your favorite vanilla ice cream.
It was a stellar evening, much good wine was also consumed of course. Champagne with the tartare and salad. Burgundy with the soup. Solera with the apple crisp. A happy night was had by all.