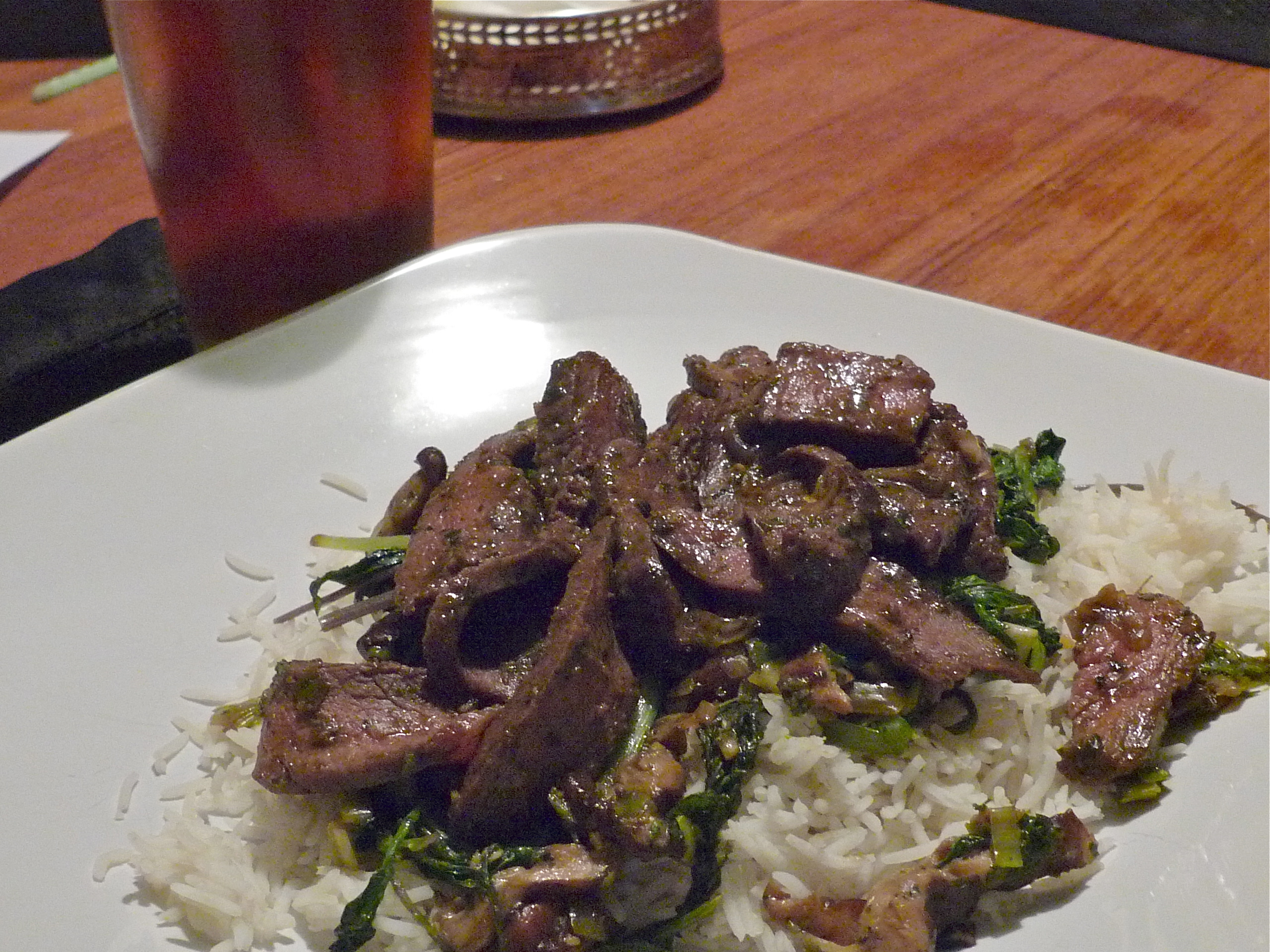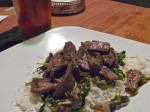 One night I opened the fridge to find a wilted (but not rotten) 1/2 bunch of cilantro, some ginger and not much else. I had a rib-eye in the freezer. I always have garlic, shallots, onions in the drawer and chiles from my dad's garden in the freezer. I threw what I had in the food processor and made this dish that turned out FREAKING amazing. Unfortunately, I didn't write down what I did.
That's why I have this site, if I didn't post my recipes, I could never reproduce anything I cook! So, I tried to remember what I did. And I elaborated on it with the extra items in my fridge (greens and mushrooms). It, once again, was so delish. And I took notes. Having totally improvised this though, I left it open to interpretation with the recipe title.
Recipe: Asian Beef with Stuff
Ingredients
Marinade/Sauce:
2T soy sauce
2T fish sauce
3T canola oil
Handful of cilantro (stems and all)
2t peppercorns
3 cloves garlic
1T brown sugar
2 inches ginger (peeled and roughly chopped)
2-3 small chiles



~1lb of your favorite cut of beef (I usually use rib eye)



Big pile of saute greens
1 c. chopped shiitakes
2 shallots thinly sliced
Instructions
Put all the marinade ingredients in a food processor or blender. Zap until it's a soupy paste. Pour that over your steak(s). Let that sit for as long as you have. In the fridge if you have a long time. If I have an hour or less, I let it sit on the counter, covered.
Once you're ready to cook, shake some of the marinade off the steak(s) and cook them on the stovetop until it's the desired doneness. I like mine still mooing. Remove the steak and let it rest on a cutting board.
Add shiitakes and greens to the pan with a little water, if needed, to loosen the crusty steak-bits. Cook for a couple of minutes then pour in the remaining marinade. Toss once in a while until mushrooms and greens are cooked.
Remove mushrooms and greens from the pan, squeezing them with tongs or slotted spoon to remove as much of the liquid/sauce as you can. Set aside.


Add sliced shallots to pan and reduce the remaining sauce.
When it's the sauce syrupy and, well, saucy, thinly slice your steak and toss it back into the sauce.
To serve, put a mound of rice, a scoop of greens/mushrooms and top with the beef.
Quick Notes
I can't decide if the shiitakes worked or not. Try it both ways and let me know!
Number of servings (yield): 2
Meal type: dinner
Microformatting by hRecipe.