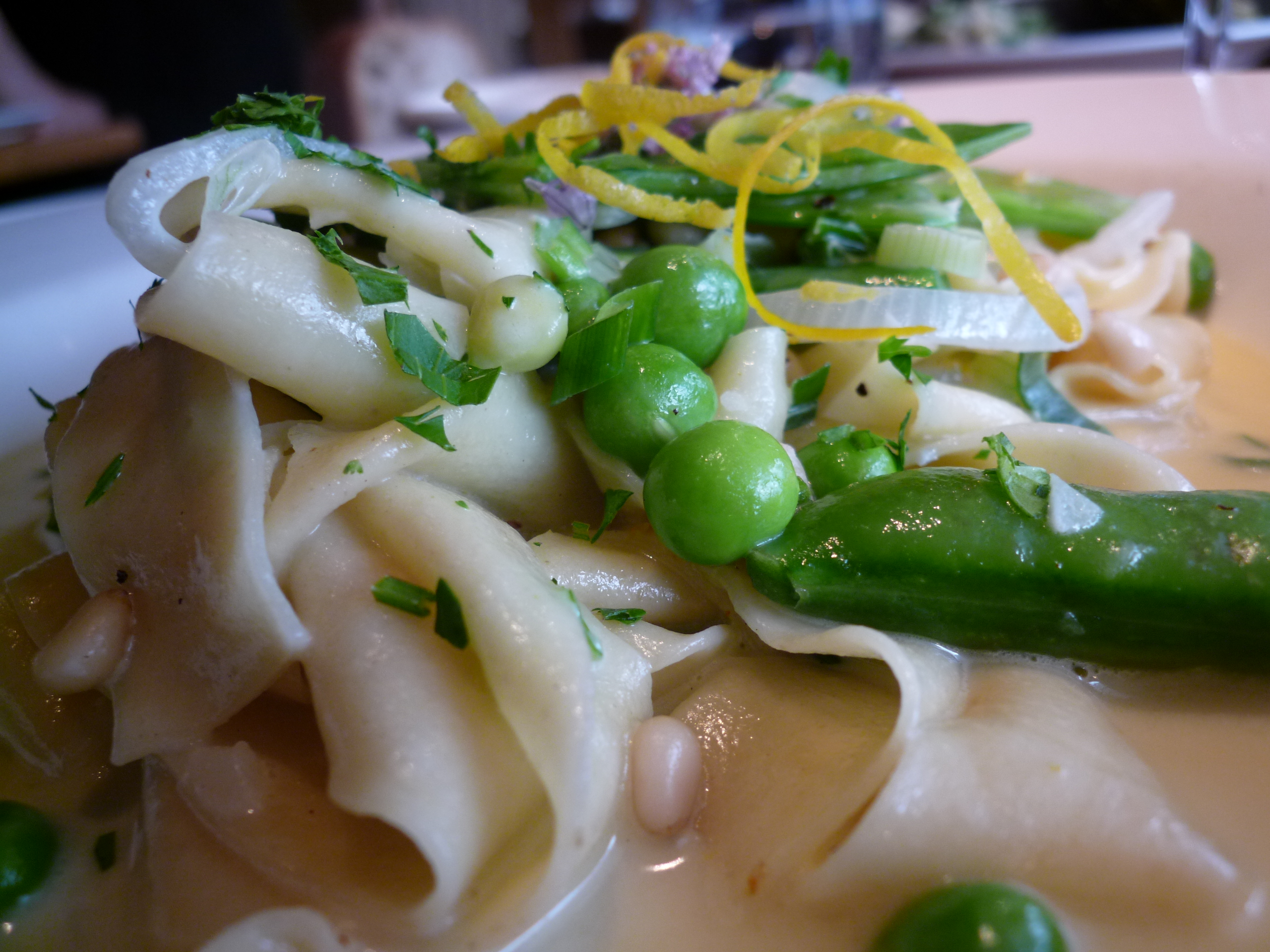 Greens
Fort Mason, Building A
San Francisco, CA 94123
415-771-6222
A friend and I were meeting up to see Tim Minchin at the Palace of Fine Arts…Brilliant show by the way. We needed food first so she got us into Greens at the last minute. I thought I hadn't been there but as soon as I parked and started heading past the harbor boats I had a de ja vu. Yeah, I'd been there but it had been years and years and I think we were there for lunch. I really don't recall anything about the meal then so this was a brand new experience!
We ordered a number of things and split them all, starting with the Spring Rolls (with grilled tofu, carrots, jicama, Thai basil, mint and rice noodles. Served with hoisin, grilled shiitake, beech mushroom and radish salad). These were good but I'm going to rename them Mint Spring Rolls…not a subtle flavor.
The sampler was great because we could easily split the things between what I like and don't like! My friend got the beet salad, olives and marinated Yarra Valley feta, we shared the taboulleh, grilled artichoke, mummous and pita. All very tasty.
The Green Gulch Lettuce and Little Gems salad (with Hidden Star Orchard cherries, Point Reyes Original Blue, slow roasted almonds and golden balsamic vinaigrette) was lovely and the cherries were a nice addition.
The Pappardelle with snap, snow and English peas, pine nuts, spring onions, meyer lemon butter and chives tasted like spring. I know it's July but we had winter here through June so we're just getting our spring! It was wonderful to have pine nuts again. I haven't had them in ages since there is apparently a shortage although that's hard to believe when I drive around California surrounded by pine trees! I know, they're from a certain type of pine…but still! I miss them.
The dishes at Greens aren't complicated. They aren't piled with a million conflicting flavors. They are vegetarian. They are flavorful, fresh, seasonal, beautiful. You can't beat the view—the boats in the harbor with a peek at the Golden Gate behind them if the fog lifts enough.
Parking can be a challenge if there is event at Fort Mason but if there's not, the large parking lot should have a space available somewhere. I love that Greens set the standard for locally source, vegetarian fare *years* ago and it still going strong. It's a classic.