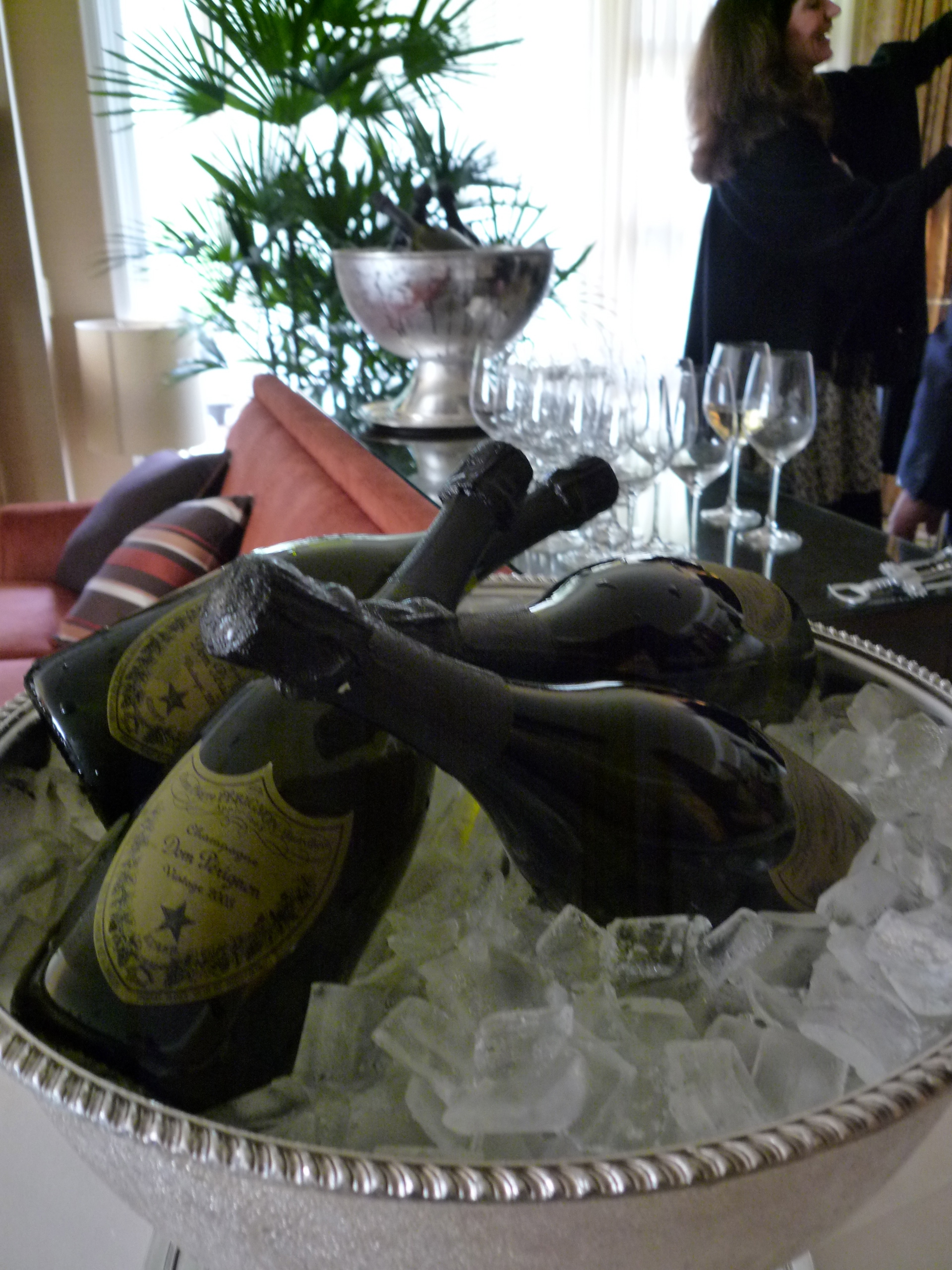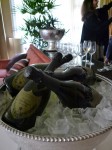 You really can't knock starting a foggy spring Sunday morning with a glass of 2003 Dom Perignon. I don't typically drink DP, unless it's given to me. I don't think it's bad champagne by any means but it's not what I tend to buy. 2003, if you recall, was the year that hundreds of people died in France from the crazy heat wave. The summer was scorching but the spring had unprecedented freezing temperatures. This did not treat grapes well. DP lost 70% of their Chardonnay. This is why I was so interested in attending this tasting. That and the description of the wine made me chuckle: "The intensity of this wine is unique and paradoxical, hovering between austerity and generosity." I really wanted to try what hovering between austerity and generosity tasted like. Turns out it tastes like lovely champagne. Minerality, slight sweetness, quite enjoyable. I had a pleasant chat with the winemaker as well, lamenting my horrible experience in Paris and praising the French countryside.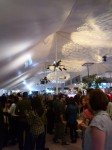 After finishing my glass of champagne and turning down a second, I made my way over to the Equestrian Center for the Lexus Grand Tasting. It was a huge, crowded tent full of who knows how many people, 200 wineries and 25 chefs. Along with some random Lexuses…Lexi…shiny cars…because, you know, when you're drinking lots of wine, you should make decisions about car buying. There were also Fiji girls walking around handing out water, like old-school cigarette girls or umbrella girls at MotoGP. There were many face lifts and fashionable yet impossible to walk in heels. A lot of the Pebble Beach Food and Wine festival is too much Pebble Beach and not enough Food and Wine but that doesn't mean that the food and wine that's there isn't great!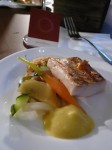 My first bite was from Michael Cimarusti from Providence in LA. Beautiful crispy-skinned fish with a plethora of pickled veggies. It was hard to get things together in one bite but all together the tart and tangy pickles with the mustard sauce and the perfectly cooked fish was a great plate of food. It was one of my favorite plates of the afternoon.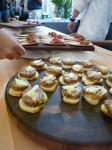 I then went next door to Gabriele Ask from Montage Beverly Hills. He had a bison ribeye tartare that absolutely loaded with truffles. I commented on that and he said, "Yes, we spent a lot of money!" I surely didn't mind…oddly…since usually truffles are overwhelming for me but I very much enjoyed the tartare. He was also serving a duck confit with foie gras but I passed since foie is not for me. Everyone raved about it though.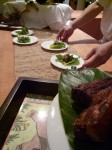 My favorite plate of the day was the Pig's Tail with herbs and fish sauce in gem lettuce served by Bryant Ng of The Spiced Table in LA. I didn't even know you could eat the tail of a pig! I don't picture there being much there. This was braised in slightly spicy, beautifully balanced sauce and had a generous amount of fish sauce but it wasn't so much that it was offensive. It was a wonderfully composed dish. If you look at the picture, the things in the lower right corner…those are pig tails…mmmm…tail.
I saw Fabio Viviani by his table and I stopped by to say hello. I admit that I really love watching Top Chef and have since Season 2 when I discovered it. I saw Fabio at MotoGP at Laguna Seca a couple of years ago and could not figure out why I knew him for the longest time. I thought I actually personally knew the guy. I was convinced he worked with my husband or something and that I'd had a conversation with him because I could picture him laughing. No, I just watched him on TV so much I thought I knew him! I told him that; he was really nice.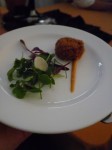 I saw a table for Restaurant 1833 in Monterey and I've really been wanting to go there. It looks like such an interesting space and now I really want to try it. The dish Levi Mezick was presenting was a crispy pork with "BBQ" sauce which was more like a spicy mustard sauce. It was crispy, hot, spicy, tangy. My first bite from 1833 definitely moved the priority of getting a reservation there up.
I tried a few other dishes that were fine but not as good as the four I described so we'll just move on to the few wines I dropped in on. The first was Almaviva. The lost grape. I was surprised to see them because I never see the bottles anywhere but my husband orders them from somewhere and I really love that wine. I had a taste of their '09 and, although young, was drinking well and obviously could be put down for a few years.
I had to stop by Ridge. We're members of their wine club and love almost everything they produce. I found it quite telling of the crowd there that they kept running out of Chardonnay. To be completely blunt, I don't like Ridge for their white wine. To me they are all about Zin and their Petite Sirah is heavenly. Their big wine is the Monte Bello Cab blend. We have many bottles of that we won't open for years. I wanted to get a peek at what I have waiting for me so I had the '06 Monte Bello. Damn. That's good. Can't wait to open it! But I will. It will be even better later.
My last stop was for a glass of '07 Alexander Valley Silver Oak Cab. I always love Silver Oak. They are consistently good and consistently not cheap. They were also pouring an '07 Napa Valley Cab but from doing tastings at the winery I've found I prefer the Alexander. The other reason I picked it was because the Napa was in a fancier bottle and I went for the more austere…Oh, blending austerity and generosity! HA!
As I was leaving, there was a woman passing out free lettuce. She asked the gentleman in front of me, "Would you like some artisan lettuce to take with you?" He said, "What kind of lettuce?" She said, "Artisan lettuce." He said, "You mean lettuce." She said, "Artisan lettuce." He said, "Does it grow in the dirt?" She said, "Yes." He said, "Then it's LETTUCE!" It was really funny and summed up the Pebble Beach portion of the event!
I had a nice time at this event and would love to attend on a press pass again but truly the Cayman Cookout spoiled me for any future food event. The intimacy of that gathering can't be beat. Please send any donations to get me back to the Cayman Cookout next year to chantrelle@foodporn.com ;-)